Tough Old Bird are venturing from their home in the Allegheny region and taking to the road this month and next. The Northeast run began on March 15 at The Bug Jar. Local support for this show came from indie folk duo Bitter Bells and alt-country outfit Brindamor.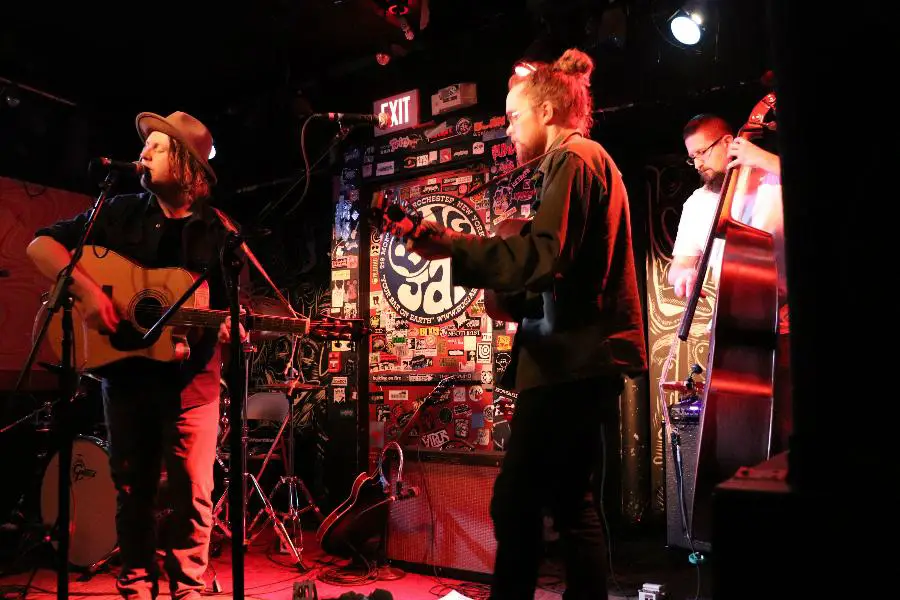 Bitter Bells is Ben Proctor and Rita Harris Proctor, who are better known for their work with the band The Crooked North. Songwriter Ben Proctor alternated between guitar and banjo, and they both sang. Their beautifully harmonized vocals resonated as they performed a selection of sad songs, followed by even sadder songs, with themes about loss, like unrequited love, tragedy, and being far from home. The mood was lightened by their playful banter, and a running jest about refraining from banjo jokes.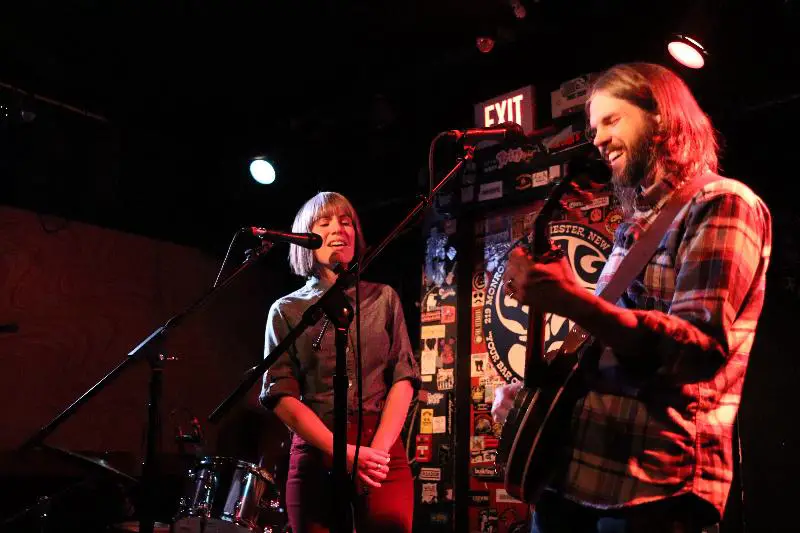 Tough Old Bird took the stage next. Hailing from Fillmore, New York, songwriting brothers Matthew and Nathan Corrigan were joined on stage by Jay Corwin on upright bass. From the first strum on the banjo, the music seemed to transport the listener through time and space, and everything from the psychedelic decor on the walls to the digital camera in my hand seemed oddly out of place.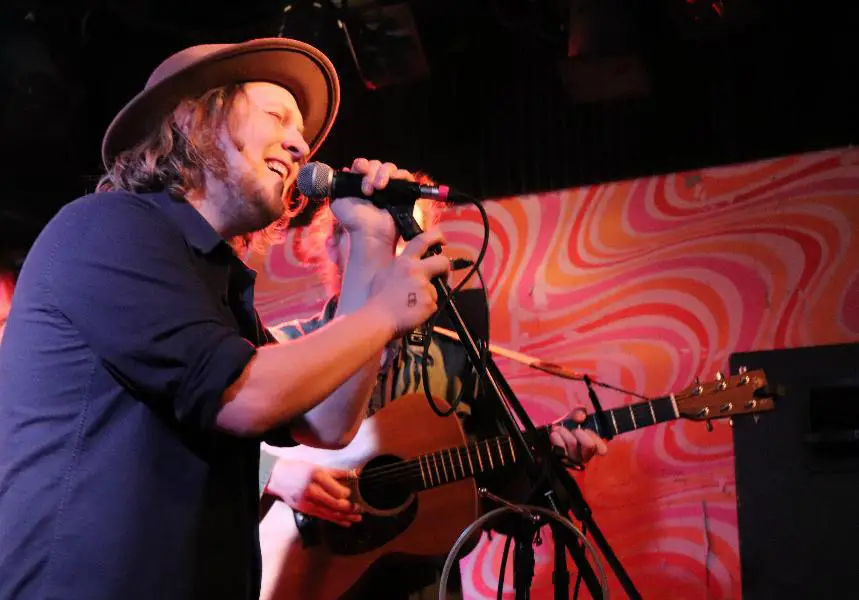 Their music taps into the time-honed tradition of roots music, plucking at the heartstrings and reviving forgotten innate rhythms. The intriguing story lines in the lyrics carry listeners on a journey through the instrumental landscape. In addition to a selection of songs they've written over the past five years, their set included a stunning rendition of Tom Wait's "Cold Cold Ground."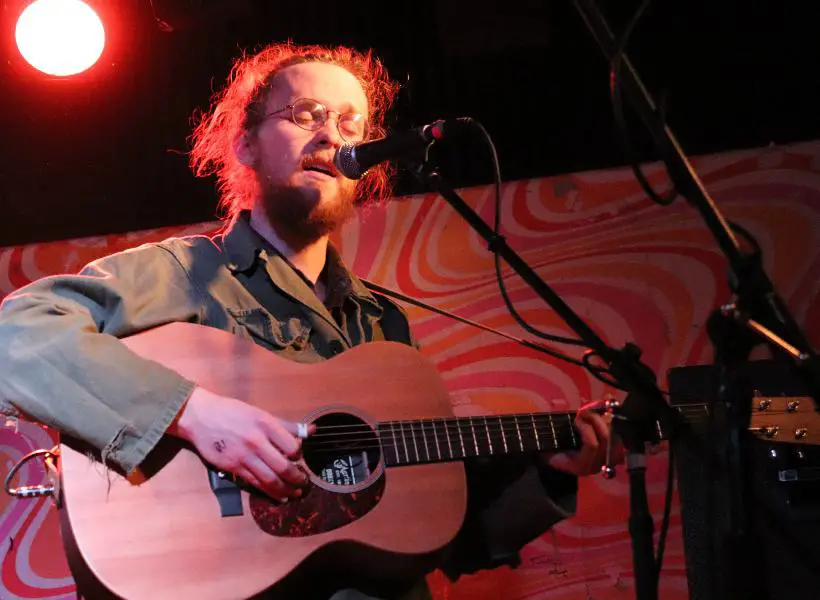 This was the first of many dates they have lined up over the next several weeks, as they trek along the Eastern Seaboard and venture into the Midwest. I picked up a copy of their latest CD, Where The Great Beasts Are Buried at the show, but their music can also be bought online.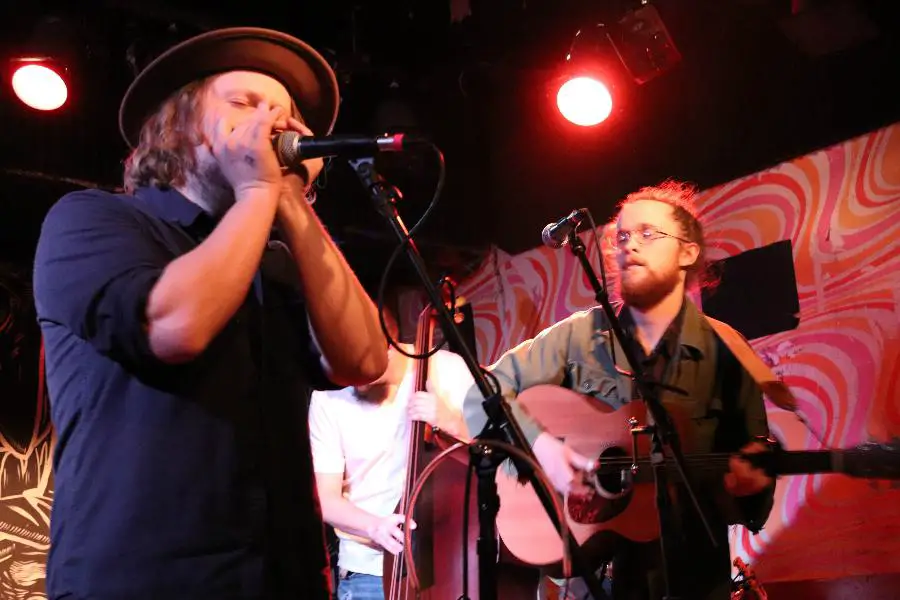 Brindamor closed out the night. They brought copies of their brand new CD released that day, and handed out copies throughout the night. The songs on the EP are titled "About You" and "Betsy, Before I Forget," and they were recorded nearby at 1809 Studios with Dave Drago. That was all I knew about them before the quartet took the stage. Even though we were heading into late hours on a weeknight, I was intrigued and I stuck around a bit later than planned. I'm glad I did. Brindamor's sound is grand and seems larger than the sum of its four members. The music straddles the lines of indie folk and contemporary alt-country, giving it broad appeal.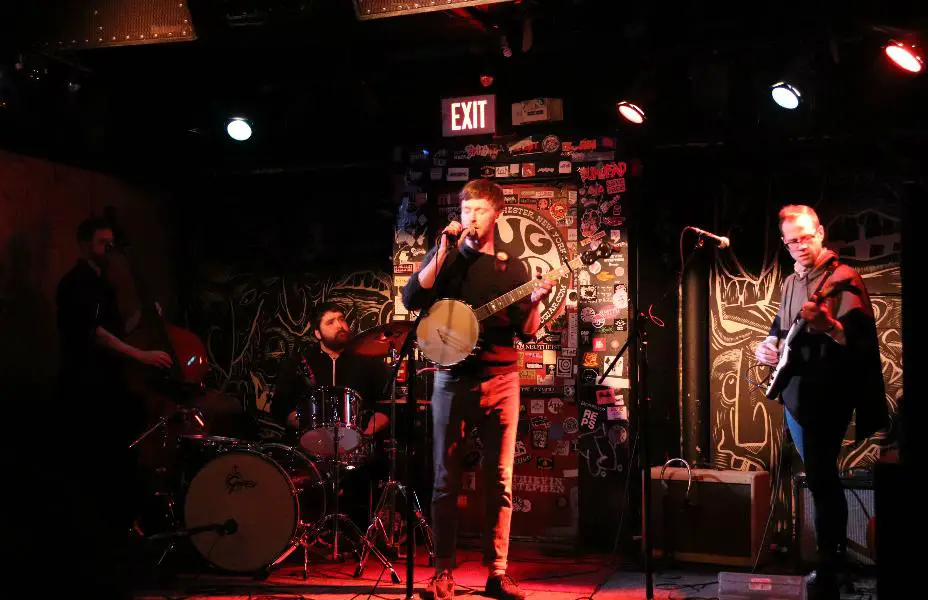 Tough Old Bird's Upcoming Show Dates:
MAR 18 – Bourbon & Branch w/ Deep City Healers – Philadelphia, PA
MAR 19 – PIANOS – New York, NY
MAR 20 – The Bebop w/ Aaron Wardwell Lindsey Sampson – Boston, MA
MAR 31 – Hot Mama's Canteen – Buffalo, NY
APR 6 – Postcrypt Coffeehouse – Manhattan, NY
APR 7 – Cafe Veritas – Rochester, NY
APR 14 – The Geneseo Riviera w/ Straw Hat – Geneseo, NY
APR 18 – Hotel Crittenden – Coudersport, PA
APR 19 – The Funhouse At Mr. Smalls – Millvale, PA
APR 20 – The Listing Loon w/ Warrick & Lowell Moriah Haven – Cincinnati, OH
APR 21 – Evangeline's – St Louis, MO
APR 23 – Blue Canoe – Tupelo, MS
APR 24 – Alley Cat – Carrollton, GA
APR 26 – The Grove – Fayetteville, WV
APR 27 – Twisted Branch Tea Bazaar w/ Jordan Ashby Gio – Charlottesville, VA
APR 28 – The Purple Fiddle – Thomas, WV
APR 29 – The Purple Fiddle – Thomas, WV