Returning to New York for the first time since his fall from a stage prop tipping over on him at the Hammerstein Ballroom in September, Marilyn Manson is once again making headlines while performing in the Empire State.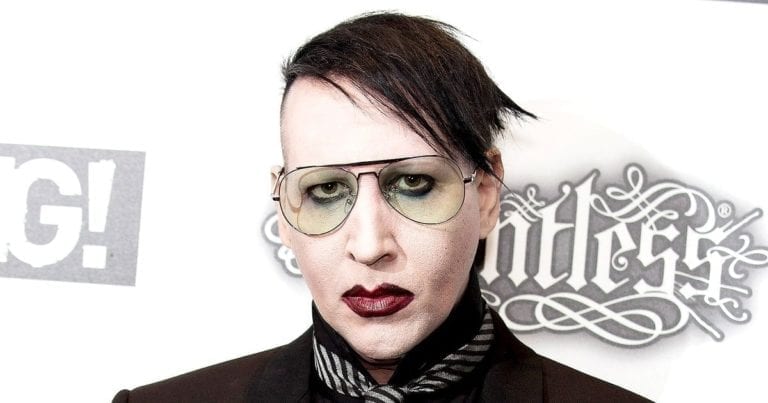 As described by concert goers in attendance at The Paramount, an intoxicated Manson took the stage, performed a few songs, and rambled incoherently before walking off stage early.
People.com reports that Manson used his past injury as part of his stage act at the beginning of his set, as he was pushed out on stage in a wheelchair by guys in hospital scrubs. While keeping his back to the crowd for most of his brief performance, he started and stopped songs several times, and incoherently played the guitar for several agonizing minutes.
Some fans are going as far a saying that 49-year-old Manson had a meltdown on stage. He threw his mic down, pushed over equipment on stage and demanded fans tell him that they love him. As he walked off the stage for good, fans chanted "Fuck you, Manson."
Fans flooded to the venue's Instagram to voice their displeasure of the night's event on a post advertising the show, with many asking the venue and organizers to issue a refund. One fan stated on their site, "The worst event I ever experienced. He should be held accountable for his actions and not get paid for this." Another fan posted, "3 songs in and the dude had a mental breakdown or was a drunk dick. Remember @marilynmanson we pay $$$ to see you, I'm getting a fucking refund. Pissed! Waste of time."
One fan who had a meet and greet before the show with Satan's favorite son, took to Reddit and shared his experience before the show."There's no more to it. I had the meet and greet. He was wasted. He was worse on stage. Rambled on and on about us loving him. Here's the set Reflecting Deep six Rambling on and on for minutes Disposable teens (cut short) He's off stage for 5-10 Back and rambles for 20 min about who knows what Saturnalia (poorly played riff over and over for 10+min into lunchbox riff with him doing spoken word for 15 min. Stumbled off stage. Band finished lunchbox the right way. Gods gonna cut you down house music."
The show at The Paramount was originally slated to take place on Oct 9, 2017, but Manson's stage injury put him on the shelf for nine months, canceling and rescheduling several tour dates.