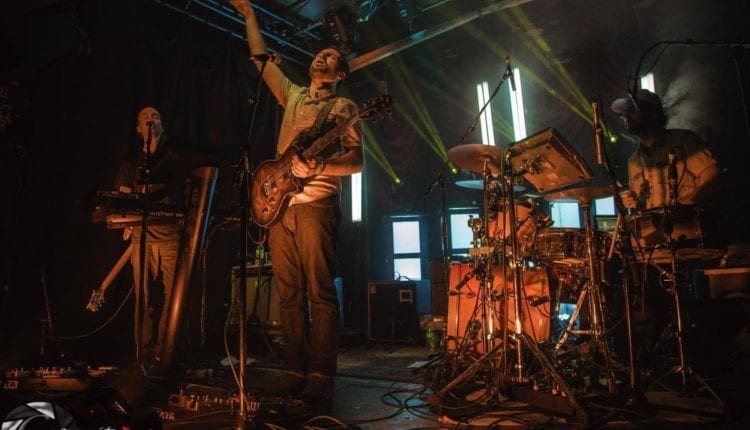 Jimkata Says Farewell at American Beauty
Ten Years, six albums, and hundreds of shows ago, three friends from Oneonta formed the electro-rock band Jimkata. After kicking off in Ithaca and accumulating a dedicated fan base across New York State and beyond over the past decade, Evan Friedell, Packy Lunn, Aaron Gorsch packed up the synths said farewell with a five show/eight night run across New York State. The tour came to an end on Saturday October 28 at American Beauty in Midtown Manhattan.
The sold out room could barely contain the energy as Halloween costume adorned fans flooded the room. "I knew them back at Ithaca University…" One fan reminisced just before the start of the show. "…I would see them all the time, and when they announced their last show would be in the city I couldn't miss it." The conversation was abruptly interrupted when "Jurassic Park Theme" by composer John Williams was played as the band emerged from the green room and took the stage together. With no plans for a return, fans cheered and sang along for what could be the last time.
Photo Gallery By Chris Capaci/Capacity Images
[ngg_images source="galleries" container_ids="1846″ exclusions="16583,16584″ sortorder="16583,16584,16595,16594,16593,16586,16587,16599,16588,16589,16590,16591,16592,16585,16596,16597,16598,16601,16602,16600″ display_type="photocrati-nextgen_pro_horizontal_filmstrip" image_crop="0″ image_pan="1″ show_playback_controls="1″ show_captions="0″ caption_class="caption_overlay_bottom" caption_height="70″ aspect_ratio="1.5″ width="100″ width_unit="%" transition="fade" transition_speed="1″ slideshow_speed="5″ border_size="0″ border_color="#ffffff" override_thumbnail_settings="1″ thumbnail_width="120″ thumbnail_height="90″ thumbnail_crop="0″ ngg_triggers_display="always" order_by="sortorder" order_direction="ASC" returns="included" maximum_entity_count="500″]