With the last of the supposed "dark horse" weekday shows taking place on Wednesday, Phish has now completed 10 of its historic 13 show residency at Madison Square Garden.  As the last mid-week show, Wednesday escalated the general malaise associated with the relatively mellow Tuesday show from the night before and served as a valid reminder why every show these days falls into "can't miss" territory when it comes to the legendary Vermont jam outfit.  In keeping up with the daily tradition of The Baker's Dozen, Wednesday's assigned donut theme was "Holes," which came in the form of Munchkin-like peanut butter coated donuts handed out before the show and classic, spellbinding Phish tunes during it.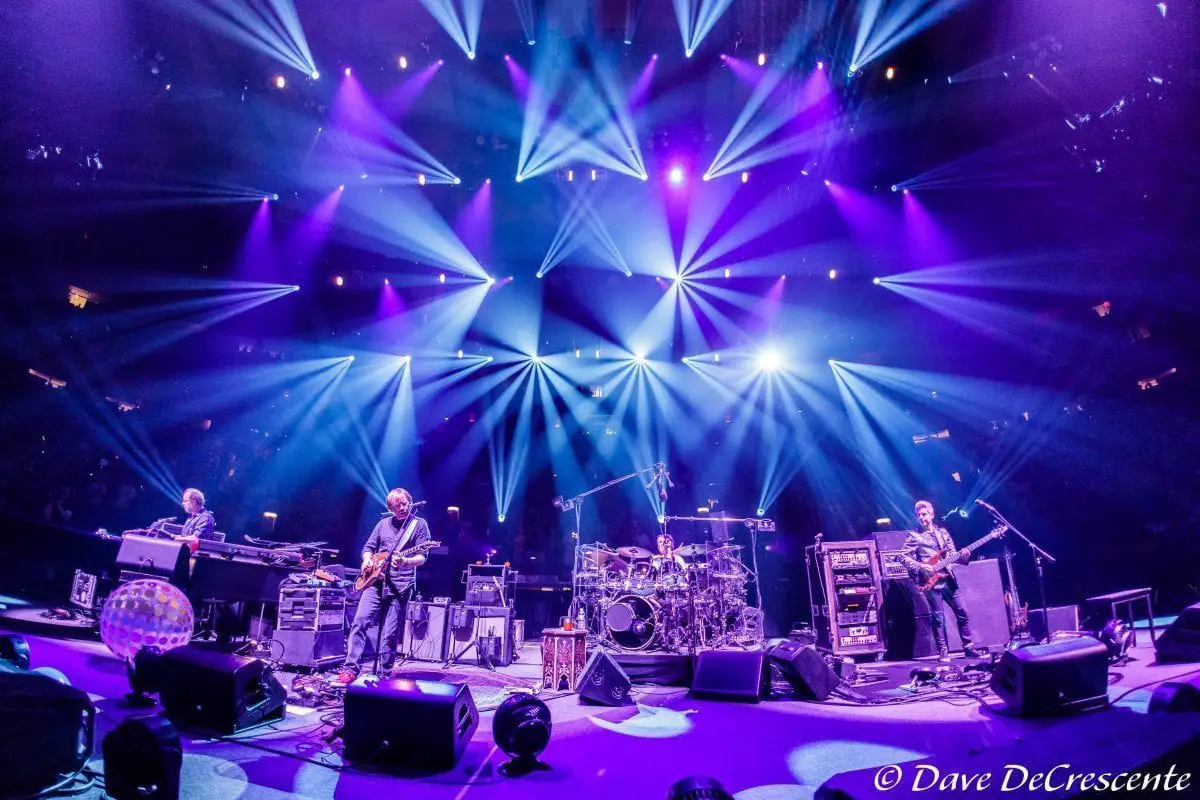 If recent history has been any indication, Phish has not waited long to tip its collective cap towards the daily donut theme and tonight was no different as yet another debut song surfaced as the opener with a cover of Tom Waits' "Way Down In The Hole," known to many as the theme song from the popular TV show The Wire.  As if it was even possible, an MSG bust out of sorts occurred next with the first "Buried Alive" ever performed by Phish at MSG.  A more traditional show opener, this song served its purpose and seemed to finally get everyone up and moving in celebrating a unique "first" at The Garden, regardless of the semi-comical false start necessitated by drummer Jon Fishman.  Slotting perfectly into its traditional early first set slot, "Kill Devil Falls" confirmed all in attendance were actively engaged as the entire arena lent its collective vocal support to the wailing lyrics before a long awaited and seemingly forgotten "Guyute" made an appearance for the first time in 50 shows.
Phish then rattled off a stream of typical first set selections with "I Didn't Know," which featured the first vacuum performance from Fishman this tour, a straightforward yet lively "NICU" and a nicely jammed out, hearty version of "Meat" that saw some serious extended improv on the back end.  Sensing a peak of sorts in the opening set, the band kept the pedal down and then launched into "Maze" complete with its signature standout solos from guitarist Trey Anastasio and keyboardist Page McConnell.
After the two impressive "M" songs and the intensity brought by each, a breather of sorts was instituted in the form of a traditional bluegrass cover of "Ginseng Sullivan" and a mellow, laid back take on "Waiting All Night," a newer song from the band's recent album Fuego.  "Heavy Things," replete with its "two holes in my face" lyric then began to pick things back up a little before a raging "Run Like An Antelope," a much anticipated song that had yet to be played at The Garden this year,  closed things out in extremely enjoyable, traditional fashion.  For those keeping count, 19 sets of music at MSG were now in the books without a single repeat in sight.
Phish has made its mark this tour with a patient approach to some of its storied jam vehicles and this second set would prove no different, starting with a monstrous "Mike's Song" that featured the once common but now rare "second jam."  Another popular pre-show guess by fans, this "Mike's" went above and beyond and thrilled show goers from the 400 level all the way down to the floor.
A spellbinding jam soon made its way into a spacey, ambient section that gave the band a chance to remind everyone of tonight's theme again, courtesy of a completely unexpected vocal take while ensconced in smoke on the traditional Christmas tune "O Holy Night."  Before everyone could fully comprehend this, McConnell's signature piano intro to "Taste" began and off the band went again on another improvisational journey that stretched to almost 20 minutes – a staple of Phish in 2017 it seems. This segued almost perfectly into "Wingsuit" which gave the crowd somewhat of a chance to rest and gear up for the high powered closing section of "Sneaking Sally Through the Alley" with its accompanying funk jam and the expected "Weekapaug Groove" set closer that had MSG, once again, bouncing and gyrating in euphoric unison.
The ever clever jam legends then encored with The Beatles' classic "A Day in the Life," with a little emphasis on the "4,000 holes in Blackburn Lancashire" line given.  Night 10 was now in the books and kept in line with The Baker's Dozen tradition of mixing long, extended jam sections with well thought out and intelligent song selections.  With three nights to go before the residency's end, it's clear anything and everything is on the table going into the home stretch.  Unless it involves a repeated song.
Setlist courtesy of phish.net
August 2, 2017 Madison Square Garden, New York, NY
Set 1: Way Down in the Hole*, Buried Alive, Kill Devil Falls, Guyute, I Didn't Know, NICU, Meat, Maze, Ginseng Sullivan, Waiting All Night, Heavy Things, Run Like an Antelope
Set 2: Mike's Song > O Holy Night* > Taste > Wingsuit > Sneakin' Sally Through the Alley > Weekapaug Groove
Encore: A Day in the Life
Notes: *Phish debut