Chocolate donut night on the sixth night of the Baker's Dozen MSG residency brought Phish to cover an American Idol contestant's viral hit, bringing "Chocolate Rain" to life, along with "Ass Handed," tying the theme to the music once again before letting loose with a set of rarities and surprise jams. "Free" and "Sand'" marked the high points of Set 1's jamming, with 'Weigh' and 'Destiny Unbound' garnering the loudest cheers as fans crossed songs off their bucket list for yet another night. During "Divided Sky," Trey held 'the note' for such a long time that Chris Kuroda lit up the arena, with one spotlight shining down on Trey as he slowly looked around the entire arena, in as much awe of his surroundings as the crowd was.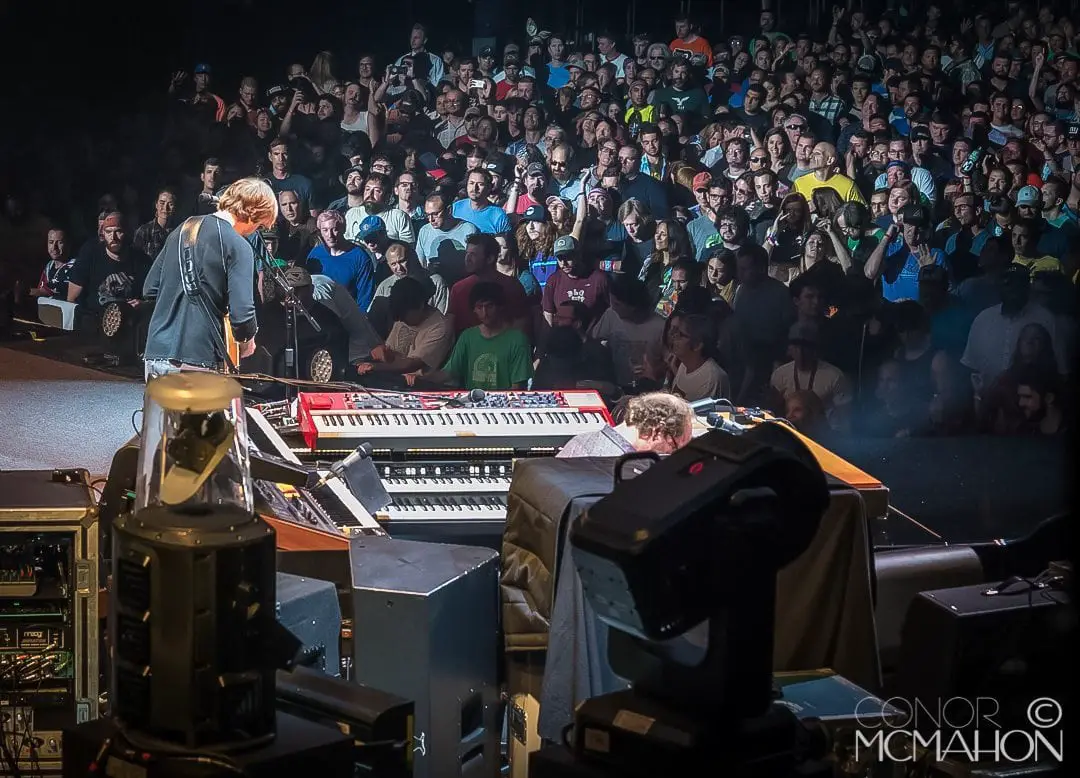 The ever rare "Have Mercy" was the bustout to start set 2, opening the way for "Chalkdust Torture" which clocked in at 24 minutes and stood out as the jam of the evening. Ascending jams that rose and rose with full band builds with no let up highlighted "Chalkdust," creating a jam vehicle that found its way towards Hot Chocolate's "You Sexy Thing." Hearing the opening notes of the funk from this 70s classic, the audience erupted in the glee of an out of left field bust out that led to a funk jam for the ages.
"Mercury," while fresh and left off Big Boat, bridged the ending of "You Sexy Thing," a jam the band sought to return to at the first opportunity. By the time the funk ended, the audience welcomed "Backwards Down the Number Line" with as much energy as they could muster and with "Rock and Roll" following, the crowd went into a frenzy listening to that New York Station. An encore of the ever rare "Fee" and "Space Oddity" capped the night as Phish continued to raise the bar during their historic run at Madison Square Garden.
Setlist via Phish.net
Set 1: Chocolate Rain[1], Ass Handed, Free, Weigh > Undermind > The Oh Kee Pa Ceremony, The Dogs, Destiny Unbound, Divided Sky, Things People Do, Sand
Set 2: Have Mercy, Chalk Dust Torture[2], You Sexy Thing[3] > Mercury -> You Sexy Thing > Backwards Down the Number Line > Rock and Roll
Encore: Fee[4], Space Oddity
[1] Phish debut; a cappella, with Page on a midi controller keyboard.
[2] Unfinished.
[3] Phish debut.
[4] Lyrics changed to "have a chocolate donut and catch your breath."
Phish returned to the comfy confines of Madison Square Garden for Night 7 of the Baker's Dozen residency on Saturday with a show that had all the Phishy elements fans love, starting off with with the energetic scorcher "Llama," fastening in the crowd for a memorable, cinnamon flavored night.
Many fans who didn't figure out their ticket situation in advance were left with their finger in the air come show time as it seemed many were shut out. Inside the venue, a recording came on urging the crowd to "not eat the brown donuts," as they are not so good, surely a play on the famous brown acid announcement at the original Woodstock.
After the straightforward "Llama," Phish launched into "Wilson" and the crowd was instantly ready, painting the famed venue walls with only the type of energy a Phish crowd can bring. Normally a quick hype song, this "Wilson" stretched beyond the nine-minute mark with an atypical jam out of what normally closes the song, which caught few off guard after the surprises Phish had in the first six shows.
Standard takes on "Stealing Time From The Faulty Plan" and "Ya Mar" warmed up for the semi-rare, and ultra sought after "Tela." The band nailed the song and Trey played the closing guitar section masterfully, igniting a rousing applause from the capacity crowd.
"The Birds">"The Line" was a nice segue, with the latter containing a bit of full band improvisation. "The Line" takes a lot of heat in the Phish world for being a bathroom break song, but this one was well placed and you can just tell how much Trey and Mike enjoy playing the song based off their mutual grins.
A brief "Water In The Sky" came as a warm up for the close of the set, which began with a very well played "Vultures," another song that seemed to add an extra layer of frosting on an already rocking first set. Mike took the lead to sing "Train Song" that led into a segue into "Horn," in which the entire band played each note almost perfectly. In recent years, Trey has taken some online flak for not playing the composed guitar part of "Horn" perfectly, but he did last night.
Not many expected what came next. When Page hit the two notes on the clav and Trey played the fuzzy lead line, the crowd nearly exploded with energy as everyone realized Phish was covering The Beatles' beloved "I Am The Walrus." As the band and crowd sang in unison and Chris Kuroda turned the Garden into a rainbow light dance party, a guy leaned in to my ear and said, "So dude, I really think they're not going to repeat a single song." Me too, kid. Me too.
After set break, Phish started up with "Blaze On," a song that debuted two summers ago and quickly found its place as a first set rocker, late set jam vehicle and the coveted second set opener. It was apparent that Phish was going to sink their fins into this one as Trey didn't waste a second before jumping into a nearly five-minute lead solo that was him wield his Languedoc high, bending notes in his signature rapid fire licks. It was some of his finest playing of the run, which was a bit of foreshadowing for what's to come.
"Blaze On" then started to devolve, until Phish reconstructed it into a major key with a mildly funky and ethereal jam that kept everyone's interest before bringing it back to a swirling crescendo finish that clocked in at nearly 24 minutes and left some speechless. This band is clearly as comfortable as they've felt in a really long time.
After a segue into "20 Years Later," which seemed to contain some Led Zeppelin type elements in the jam, Phish broke out "Alumni Blues">"Letter to Jimmy Page">"Alumni Blues," two of their oldest songs. While the segment was very textbook, it was very well played and featured Trey and Mike facing each other for a short bluesy segment, after which Trey shouted "it's alright now, 'cuz Mike's playing the bass," which elicited a crowd roar, before Mike took a short but powerful lead solo.
Out of the soundscape came fan favorite "Meatstick," which has a rich history with MSG. In 1994 and 2010, Phish used the song as part of their New Year's Eve gags. After the dance part, Trey and Page led the band into an atypical and psychedelic jam which landed perfectly on "Dirt." While "Dirt" is typically a first set song, last night's placement couldn't have been any better, giving fans a bit of a break after nearly an hour of some pretty unique music. But, hey, that's why we follow this band.
With time winding down in the night, anticipation was high in regard to what they'd close the set with. When Fishman hit the drums, "Harry Hood" made it's Baker's Dozen appearance and did more than close the set. Clocking in at 17:20, this "Hood" broke itself down into ambient space before Trey, Page and Mike revved the sing into the highest gear with very Allman Brothers' "Mountain Jam"-esque teases and quotes. Approaching 17 minutes, "Hood" finished with a peak that only that song can bring. When this is all done and said, "Harry Hood" will go down as a very notable jam from this run.
Almost forgot that the theme was cinnamon donuts? Well, after a somewhat lengthy encore break, Phish came out and lit into a cover of Neil Young's "Cinnamon Girl," which was last played by the band 19 years, 364 days ago. The crowd had anticipated the song all night and Phish delivered with a stellar take on the song that sent 20,000 people flowing onto the streets of midtown Manhattan.
The stage is set for what we in the Phish world gear up for: A Sunday show. I think the saying goes something like, "never miss a Sunday show!"
In reality, it should be, "never miss a Phish show!"
Setlist via phish.net
Set 1: Llama, Wilson > Stealing Time From the Faulty Plan > Ya Mar, Tela, The Birds > The Line, Water in the Sky, Vultures, Train Song > Horn, I Am the Walrus
Set 2: Blaze On > Twenty Years Later > Alumni Blues > Letter to Jimmy Page > Alumni Blues > Meatstick > Dirt > Harry Hood
Encore: Cinnamon Girl