As the first weekend of Phish's Madison Square Garden Baker's Dozen residency rolls on, and with a memorable Friday night show already in the books, Saturday delivered another rousing two sets of music set to the tune of the next donut flavor of choice: Strawberry milkshake glaze. Once announced, speculation ran rampant as to what the band could pull out of its hat in order to comply with tonight's theme.  Perhaps a rare Strawberry Alarm Clock cover?  An extended "Halley's Comet" with strawberry jam?  As usual, The Phish from Vermont did not disappoint.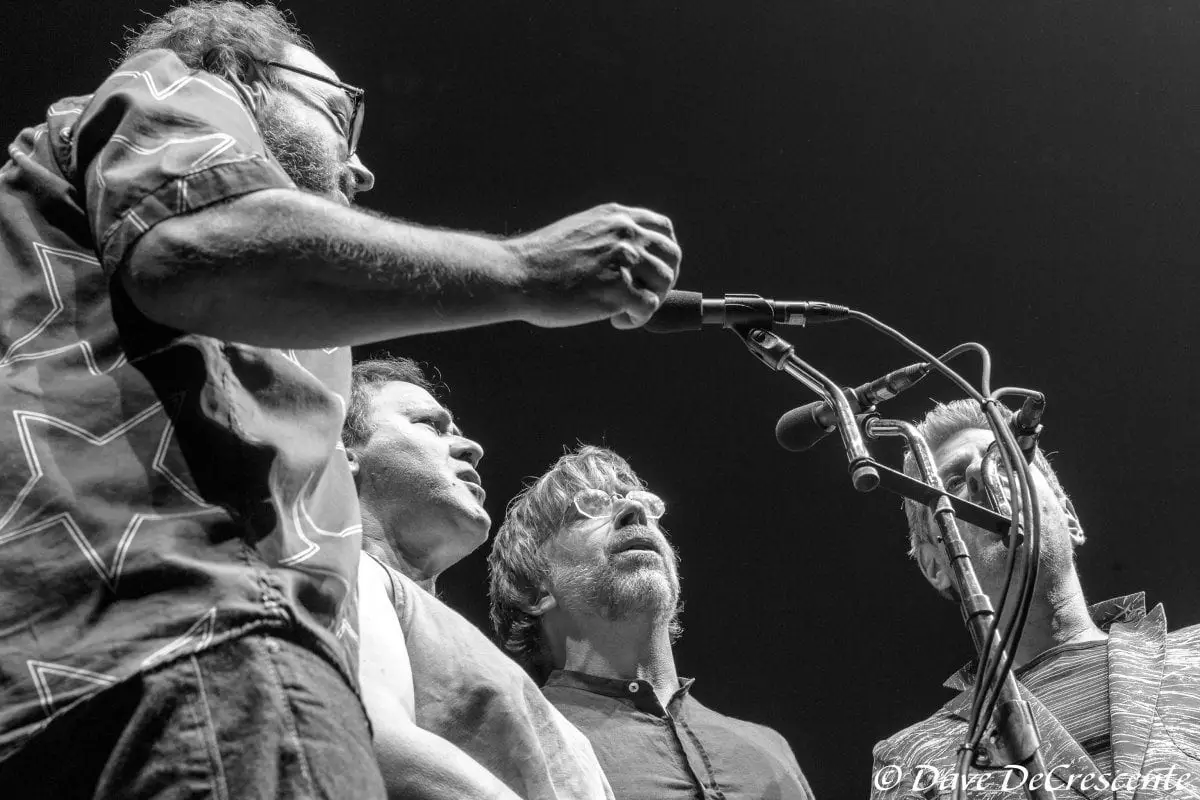 The show began with all four band members at the front of the stage in barbershop quartet formation as they debuted an a cappella version of one of the more popular cover song guesses of the evening, The Beatles' "Strawberry Fields Forever."  Those in the "Halley's Comet" for an opener crowd were then quickly rewarded next with the standout version that followed, replete with thousands of delighted fans singing in unison about the preferred method of their strawberry goo intake.
Things escalated quickly from there courtesy of a sterling rendition of "The Moma Dance" that was delightfully stretched out, showcasing the steady and patient jamming style the band has featured of late.  The "Breath and Burning" that followed was in the same vein and the normally straightforward reggae infused number took on an entirely different feel this evening with a complex and, at times, dark jam attached to it.  Bassist Mike Gordon took over on lead vocals for the next two songs, a typically energetic and rocking cover of "Funky Bitch" and the old school staple "Mound."  To the delight of many, the first set continued with another Phish staple of yore, the rarely played "Foam" which is featured on the band's first major release, Junta.  "Roggae," always a popular first set selection followed before "The Squirming Coil" with Page McConnell's signature piano solo capped things off. 
Saturday's second set kicked off with "Down with Disease" and its typical massive, psychedelic infused jam that seems to get deeper and more epic each time it's played.  Only true musical nerds could have possibly guessed what was next as Phish brought out their second debut of the night, "Strawberry Letter 23," a song first written by Shuggie Otis, popularized by a cover from The Brothers Johnson in 1977 and sampled endlessly in popular music ever since.  Before the shock of seeing this out of nowhere cover could wear off, Trey Anastasio's opening guitar riff to "Birds of a Feather" rang through the Garden and sent the crowd into a frenzy, birds of a feather all singing and dancing in unison.  
Another somewhat unexpected song selection followed with McConnell once again taking lead on the synthesizer fueled "I Always Wanted It This Way" which is found on the band's most recent album, Big Boat. As the ensuing jam slowly winded down, a true bust out emerged with the first "All of These Dreams" played in over 250 shows which served as a true "breather" song.  The last segment of the second set was classic Phish in a nutshell.  The rhythm section of Gordon and drummer Jon Fishman initiated a "Split Open and Melt" that featured its typical dark, heavy improv section before eventually morphing back into the main riffs of "Down with Disease," bringing the set opener full circle and leaving fans with mouths agape.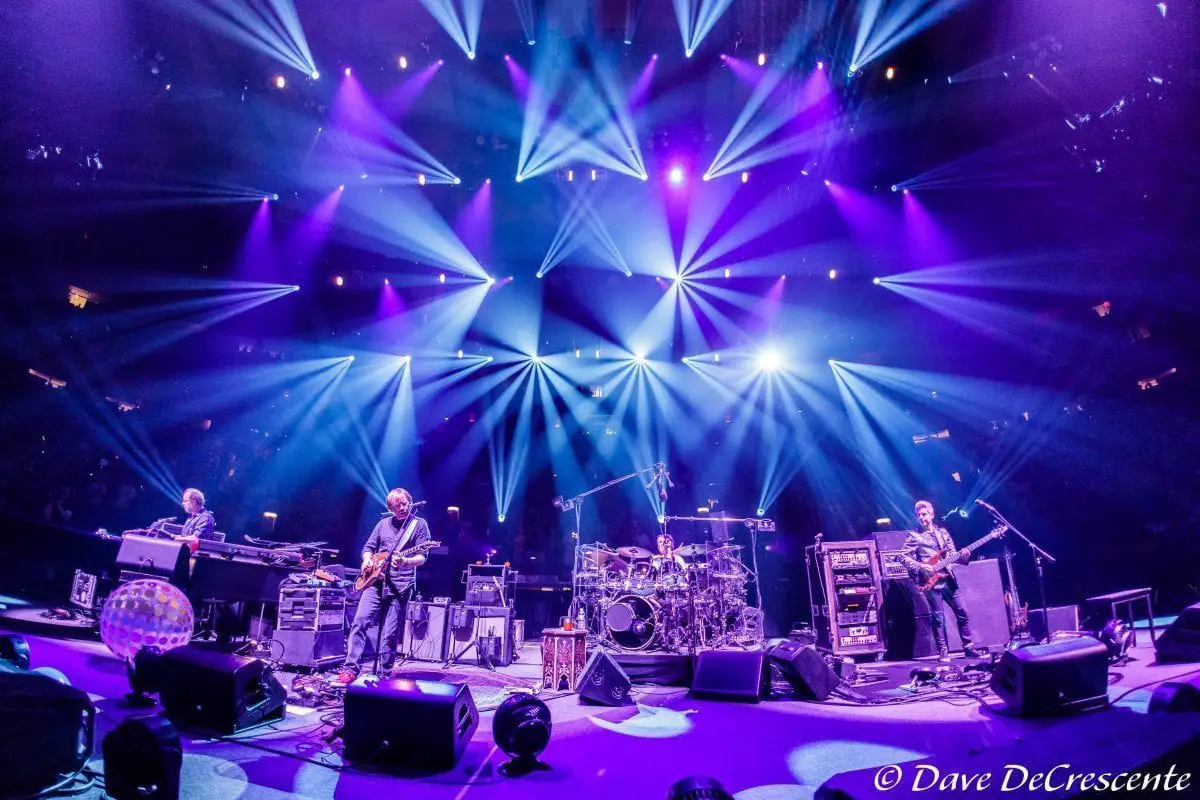 To close out the set, Phish played a popular encore-like selection with another cover, this time The Rolling Stones' sing along "Shine A Light."  The actual encore was one for the books with "Peaches en Regalia" making an appearance there for the first time since the late 80s.  A fitting high energy but brief cover of The Talking Heads' "Cities" followed before "My Sweet One" closed out the evening.  One of the highlights of the night was the extended pause at the end of the song that had everyone in attendance roaring in approval with a force so strong that it seemed to bring up the house lights – a fitting end to a most epic Baker's Dozen 'Strawberry' show.
Setlist via Phish.net
Baker's Dozen Night 2 – Strawberry
Set 1: Strawberry Fields Forever[1], Halley's Comet > The Moma Dance[2] > Breath and Burning > Funky Bitch, Mound, Foam, Roggae, The Squirming Coil
Set 2: Down with Disease, Strawberry Letter 23[3] > Birds of a Feather, I Always Wanted It This Way[4] > All of These Dreams, Split Open and Melt > Down with Disease > Shine a Light
Encore: Peaches en Regalia > Cities, My Sweet One
[1] Phish debut; a cappella.
[2] Unfinished.
[3] Phish debut.
[4] With Trey on Marimba Lumina.