The fourth annual Jeezum Crow Fest at Jay Peak Ski Resort began with a rainy and windy start on Friday, July 14, though many locals and out-of-towners braved the elements for a night of great music at the Stateside Amphitheater. Though construction prevented as many vendors from setting up shop as in previous years, there were still a few staples of the community, such as Miso Hungry, an authentic ramen shop and a tie-dye stand, where children were taught how to make their own tie-dye shirts. The rainstorms were scattered, with blue sky peaking through the clouds fairly often.
Friday's music kicked off with the return of The Mallett Brothers Band, who performed in the Foeger Ballroom last winter. The Brothers brought their blend of folk, rock and Americana to an eager crowd, successfully melding several genres into their sound, a snug fit for Jay Peak, whose locals exhibit a propensity for the folkier side of music. They were followed shortly after by a local favorite, one of Vermont's hardest working musicians, Seth Yacavone of Morrisville, Vermont. Better known for his work with Dead Sessions, an extremely active Grateful Dead cover band, Seth Yacavone and his power trio played a set full of originals, showcasing his incredible chops on the guitar, as well as an affinity for the edgier side of rock music. They performed several cuts from their latest album, entitled Shovel Down,  artfully creating a sound that drew influence from both funk and hair metal, bringing some much needed energy to the mountain.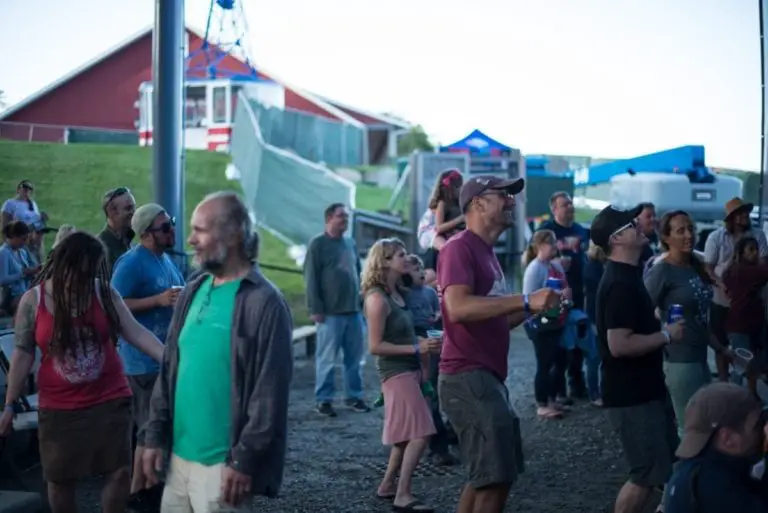 Friday night's headliner, Pink Talking Fish, did not disappoint the growing crowd, with their expertly interwoven sets that featured the timeless music of Pink Floyd, Talking Heads, and Phish. Right out of the gates, they got the crowd moving with Phish's "Possum" which flowed seamlessly into "Breathe" by Pink Floyd into the dark and funky "Slippery People" by Talking Heads. Pink Talking Fish's true merit lies in their ability to integrate riffs and progressions from each band and incorporate them into their jams, playing each song faithfully to the source material, but still managing to find inventive new ways to tweak the music and keep it interesting for the audience. A blend of hits and obscure gems were played, with the band diving into some deep Pink Floyd cuts as well as the rare Phish tune "Colonel Forbin's Ascent." This reporter may have had to wipe a tear or two from his eye when Floyd's "Fearless" was played, and the whole crowd sang along while the band encored with a mash-up of "Tennessee Jed" and "Ocelot" that concluded with the iconic "Bathtub Gin" riff.  Unfortunately, due to unforeseen circumstances, the late-night act, the Balkun Brothers were unable to perform in the Bullwheel Bar, but attendees took to the parking lot and partied the night away regardless.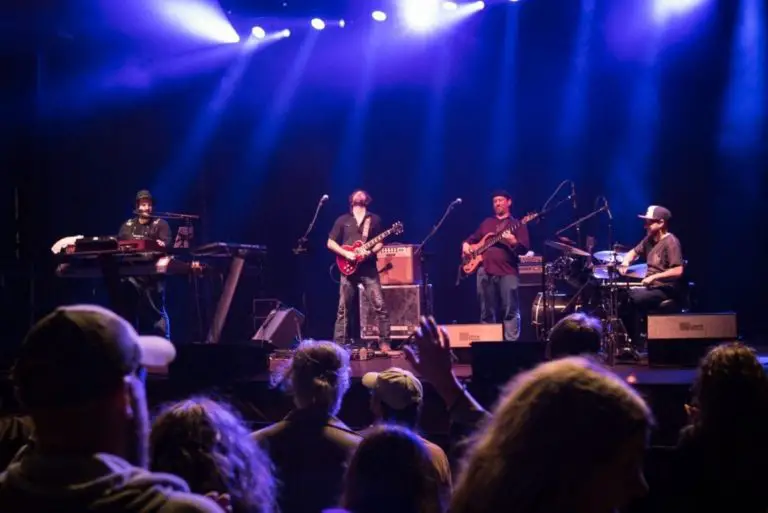 Festivities began again at noon on Saturday with Lionize, who had been added to the bill relatively late. Though many Jeezum Crow attendees were still sleeping off the previous night's shenanigans, Lionize performed energetically for a small crowd in the bright sun, which starkly contrasted Friday's gray skies. More concert-goers began to trickle in as Rick Redington & the Luv (another Vermont local and staple of Franklin County and the Northeast Kingdom) took the stage, delivering a mellow and enjoyable set.  Soule Monde followed next, and truly blew the minds of the audience with their ability to sound like a full orchestra, despite just being a drummer and an organ player. Their flavor of heavy jazz-funk with just a little bit of rock  impressed existing fans and newbies alike, as the duo displayed some impressive musical ability. Soule Monde is comprised of Russ Lawton and Ray Paczkowski of Trey Anastasio Band fame. Eric Gales Band performed after that, bringing some heavy funk to an already-energetic crowd. He closed his set out with an instrumental, psychedelic version of "Don't Fear The Reaper" by Blue Oyster Cult. The Infamous Stringdusters took the stage afterwards, bringing the predominantly Vermont-based crowd their daily dose of traditional bluegrass, with a modern twist. Full of explosive energy, the Charlottesville, Virginia-based outfit plucked and crooned for nearly two hours, and even invited Todd Park Mohr, Big Head Todd of Big Head Todd and the Monsters, to perform a song.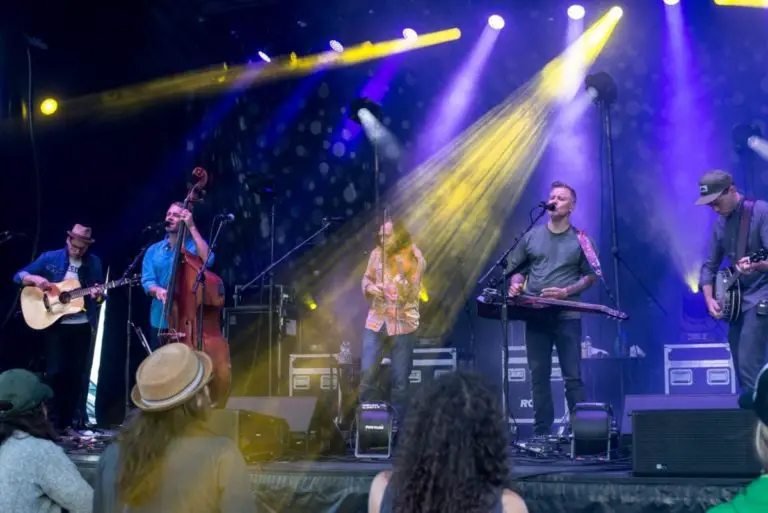 Big Head Todd took to the stage for an impressive set that blended their older tunes with several new tracks from their last album, released in 2014. A bluesy, rocking set that incorporated southern rock and country as well, Todd Park Mohr showed Jay Peak his guitar-playing skill as well as his fantastic, Stevie Ray Vaughn-esque voice, which was well-suited to the older crowd. Jeezum Crow collectively swooned during their rendition of their original song, "Bittersweet," and sang along and swayed with a soaring encore of the classic rock hit, "Hey Joe." Big Head Todd and the Monsters formed in the early eighties, saw some fame in the mid-to-late nineties, and are seeing a resurgence now with the release of the album Black Beehive and an extensive tour.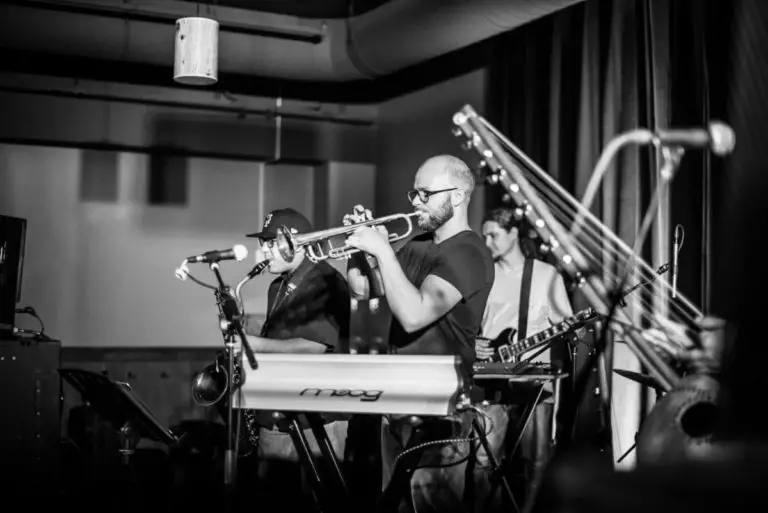 After the Monsters played their closing notes on the main stage, festival-goers were delighted to see Burlington-based band Barika, whose sound almost defies description. Incorporating a sitar-like West African instrument called a N'Goni, Barika played their late-night set in the intimate Bullwheel Bar, the perfect closer to the weekend. Their highly-danceable sound is made unique by the West African influence of Craig Myers, who has performed with Mike Gordon of Phish and Burlington greats Rubblebucket. Their music, which would already be an exciting blend of styles ranging from reggae to funk to afro-beat, is bolstered by the use of the N'Goni, which is best described in appearance and tone, as a cross between a banjo and a sitar. They also incorporate drums, bass, guitar, keys, trombone, and baritone into their multi-faceted sound. They ended their set close to 2am, and then took to the parking lot to mingle with a very satisfied group of concert-goers.
Though the absence of Dark Star Orchestra for the first time since the festival's induction and nasty weather on Friday may have hurt attendance somewhat, Jeezum Crow managed to assemble a very eclectic group of musicians and bands, for a weekend that truly unites the many communities that border Jay Peak Resort. Visitors new to Jay Peak and families that have lived on or near the mountain for years enjoyed one of Jay Peak's biggest musical attractions.