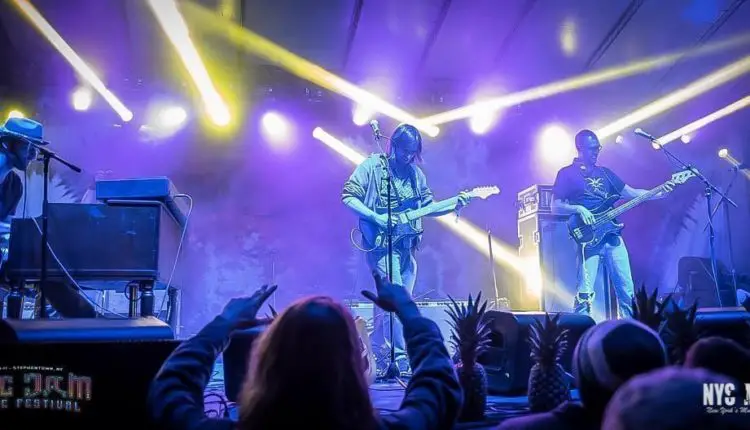 A weekend spent in Stephentown, NY for Disc Jam 7 meant a finely curated lineup over four days at Gardner's Farm. Having headlined every single year since the festival's conception in 2011, this year was no different as progressive jam outfit Dopapod prepped for their Friday night set ahead. With a recent spring tour in the rear view mirror, the quartet offered fans a live compilation album, II Saw Live Dopapod, Evil Was II, to curb the anticipation ahead of their impending studio album, which they've been placing the finishing touches on.
The strings of the group, bassist Chuck Jones and guitarist Rob Compa were kind enough to chat with NYS Music just ahead of their 9:30pm headlining set. Jones, adorned in a mock, heavy metal Celine Dion tee started off by noting their progression as a group over the years as we dove into fun tidbits about the upcoming album and the band as a whole.
Alyssa Ladzinski: Your most recent release was a live album of fan-favorites, what can you tell us about your upcoming release?
Chuck Jones: We just finished our new studio album, we've been working on it a lot this last month when we haven't had any shows. I think we're trying to release that in the fall before touring.
Rob Compa: We just finished all the recording and tracking for the studio album. There's gonna be some songs nobodies heard yet, there's gonna be a lot of instrumentation that a lot of people probably aren't expecting. I.E. people can expect lots of strings, violins and cellos in certain songs. It's the first time I recorded guitar parts at home with my amp in my closet, trying not to piss off my neighbors too much. It was a lot of fun to make. It was the most fun I've had in a while actually.
AL: Your auxiliary chord breaks while touring in the van. What's one album the four of you can agree on listening to, front to back?
CJ: I don't know if we could, our tastes are so diverse there's no one album we can all agree on. We would get to a point where we could settle. Probably Pink Floyd we can all agree on. That's what makes this group so enjoyable to play in, everyone has such eclectic tastes from all over.
RC: Uberjam by John Scofield or Wish You Were Here by Pink Floyd.
AL: Now you're all alone on a road trip, what's one album you're singing along and playing air instruments to?
RC: Lately I'm not listening to that much music. I could always go for Ben Folds Rock in the Suburbs all the way through or Dire Straits first album.
CJ: Silence. I enjoy the time to think. There's a lot of saturation in listening, at this point I'll have to think about putting on music.
AL: Create your own Disc Jam super group you'd want to play in.
CJ: Mike from Aqueous, Beau from Kung Fu, I'm not sure. I like to let other people handle these things and I go to my safe spot.
RC: Well I love James Searl from Giant Panda, Tim Palmieri on guitar, Scotty Zwang on drums, Caden from the Jauntee. I'll leave it at that, no keys.
AL: Favorite show you've seen lately?
CJ: I just moved to Colorado a month ago and quickly I went to see two nights of Primus. Once in a smaller room and then at Red Rocks.
RC: Main Squeeze at Brooklyn Bowl for their CD release. Lyle Brewer of Ryan Montbleau Band played a solo guitar set at Rockwood Music Hall in NY.
AL: If the guys were going to surprise Rob and Becky with an impromptu performance at the wedding, what would it be and who would fill in for Rob on guitar?
CJ: Probably a Phish song, I think he would love that. I can only play "Cars, Trucks and Busses." He would love if we played a Phish song and had Luke play guitar. Or Pink Floyd.
RC: "Kick N' Bach" by Frogwings but they'd have to get the real guitarists on the track, Herring and Trucks. Becky would scream with glee.
AL: Being with NYS Music, I have to ask, who' your favorite NY native artist?
RC: The Niche in Rochester, my heroes when i was 18. They'd sneak me backstage and they were the first band in the scene to let me sit in with them.
CJ: Giant panda, Aqueous, NY Jazz Trio. NY is saturated with good music.
AL: If you could switch bodies with anyone in Dopapod, who would it be and why?
CJ: I'd stay with myself. Maybe Neal cause it would be really fun to be that good at drums.
AL: Weirdest thing a fan has done for you?
CJ: A fan once made a T-shirt with my face on it. My mom has it. It's weird and flattering and my mom loves it. She was wearing it the other day.
RC: One time at a show in Syracuse my 96 year old grandma was there in a wheelchair and people kept offering to buy her shots. She didn't have them, but I thought that was pretty funny.
AL: What's your biggest challenge as a band as of late?
CJ: Having more responsibilities. I'm about to be 30 in August and you look around at festivals and realize the age group ranges from 18-24. This is a young person's sport!
RC: Half of us are on the East Coast while the other half is in Colorado. Trying to make that work is a thing. Today is the first time we've played together in a month and a half. Financially, it's a challenge too. There's always the ebb and flow of your band being a hot ticket or not. If you haven't put out a new album in a couple years, you don't have any fuel or anything to hand people. So dealing with that.
AL: Rob, you offer guitar lessons to prospective students. How has that worked out for you?
RC: I get a lot of bite and about half of the work. With teaching, I like that I'm directly helping somebody. I don't really feel that so much when I'm playing on stage. Maybe it happens accidentally, but it doesn't happen intentionally for that reason.
AL: You seem active on Facebook enough to notice the day in and day out analysis of your music in Dopafam. Is it weird to see your music that deeply dissected on a regular basis?
CJ: They notice the small details. The fact that there's one person, let alone a handful of people spending that much time listening to our music is all you can ask for.
AL: Can you pinpoint one Dopapod show that stands out as a favorite?
RC: I really liked the last Richmond show we played. It was just a lot of fun and my favorite part was Neal, our drummer has a mic, so he talks to us while we're playing and during a song I was soloing, he told me how to solo the whole time. You can only solo on this string, now you can only solo on this string and the first five frets of the guitar, now only on A flat. It was just goofy. If I had a favorite one five years ago it would probably be bad because you just keep getting better.
Setlist: 8 Years Ended, Present Ghosts, Mucho, Indian Grits > Freight Train Filled With Dynamite, Priorities, Trickery, Cloud World