It sure didn't feel like a Sunday night in Albany's Times Union Center on March 12, as the Garth Brooks World Tour played its third and final night at the Capital Region venue. Garth's three hour set, which also featured his wife and country/food network star Trisha Yearwood, had the whole arena shaking, testing the building's foundation.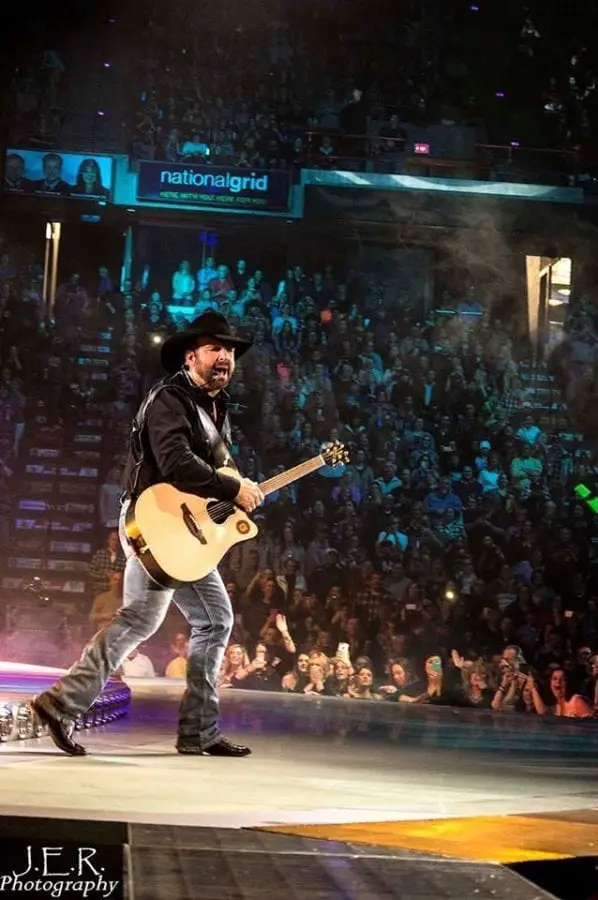 Fans ate up and reacted thunderous to everything Brooks did on stage, prompting him to scream and raise his arms in triumph, like a MMA fighter winning his match after every song. The atmosphere that was created between fans, and one of the best entertainers, not only in country music, but the music industry itself, has to be experienced in person. Brooks sounded amazing; his powerful country southern twang just draws you in and almost hypnotizes you with every lyric he sings, especially on hits like "The River," "Unanswered Prayers," and "The Thunder Rolls."
I've never seen so much love and admiration between fans and an artist like Brooks. Brooks is such a class act and in a league of his own when it comes to an artist, caring for his fans. During Brooks set, he admitted that back in 1992 when he first came to the Capital Region area, he was afraid, because of the stereotypes of the Northeast, but it's nights like this, that prove all of that wrong, and that country music is well received in the area.
The energy in the building was unbelievable. Brooks constantly ran around the arena-width round stage set up, while waving and howling at fans. Every fan in the building, reacted to every first note, and sang every word, to every song. The fans were so vocal on every song, the tour should be renamed "Sing along with Garth and Trisha." Fans at times even drowned out Brooks, when he performed and talked to the crowd in between songs. The crowd was so loud in singing his songs, it felt like a 17,000 plus choir that was part of the show.
Garth was so amazed by the crowds participation, he said to them that they were singing his songs, like it was their songs, and if they keep singing like this, he'll stay and play all night.
When the night was over, fans leaving the arena were on a natural high, as they sang "Friends in Low Places," together as they filed down the staircases leaving the Times Union Center.
After openers Karyn Rochelle and Chris Lane, opened the show with solid performances, all that stood in the way of fans, from Brooks, was a countdown clock to Garth. As every second inched closer, the Times Union Center began to vibrate.
A brief video package started playing on the video wall backdrop, reflecting Garth's career and the achievements he's earned throughout, The video wall lifted to reveal Garth's band, as Brooks shot up on a platform from underneath the stage. Brooks started his extensive set with "Baby Let's Lay Down and Dance," followed by "Rodeo." By the second line in the first verse in "Rodeo," Brooks realized quickly that the vocal fans in Albany meant business, as he yelled to fans "Oh you came here to sing!"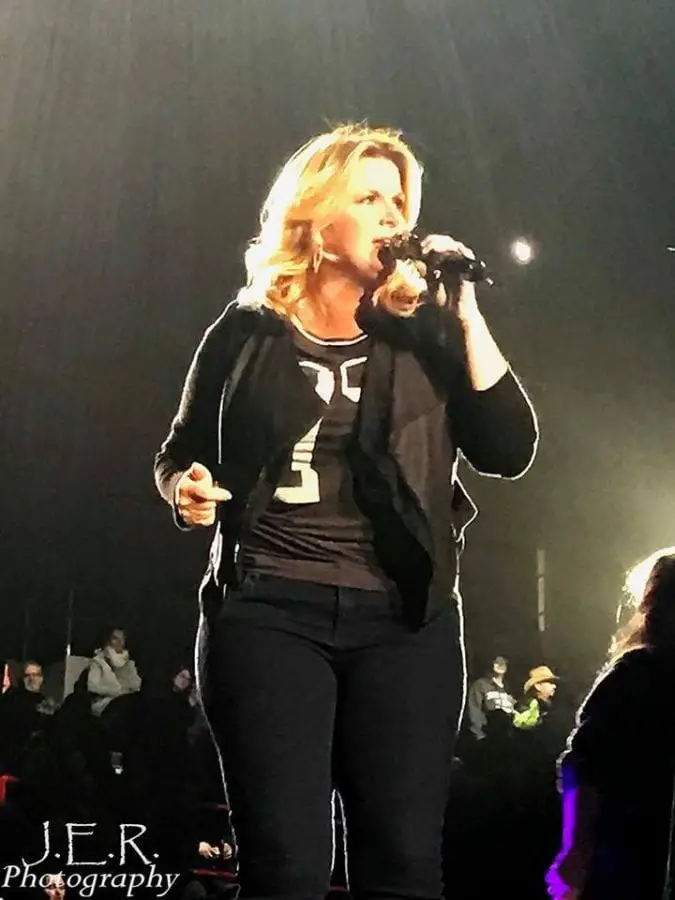 Once the song ended, Brooks said to the crowd "Thanks again people, it's been 20 years since we been back, thank you [the fans] for coming back." Brooks then went on to say that fans were going to get everything that the two previous nights saw, and more.
Brooks spoke briefly about when he goes to concerts as a fan, he wants to hear the old stuff, and know fans feel the same when wanting to hear their favorite songs when coming to a show performed by their favorite artist. He then told the crowd that he and the band brought all their old stuff with them. Brooks then joked to the crowd "Speaking of old stuff, you got to remember, I'm like 117 years old. The only way this big ass is gonna get through this night, is your gonna have to pick me up and carry me over the finish line." Brooks then said to the crowd before playing "The River," "We can talk about the old stuff all night, let's find out who knows the words to the old stuff." Cell phones started to light up for this song, as the crowd sang along.
Fans held their breath for a brief moment as Garth's high energy convinced himself to climb to the top of the sphere like structure that surrounded his drummer during the song "Ain't Goin' Down ('Til The Sun Comes Up)." Amazed on how hot the crowd has been through the night, Brooks said to the crowd "This is a Sunday Night?"
Brooks conducted a 2 minute scream off between fans in attendance, on what section of the arena could be the loudest. Brooks double pointed at each section like a gunslinger drawing his weapons.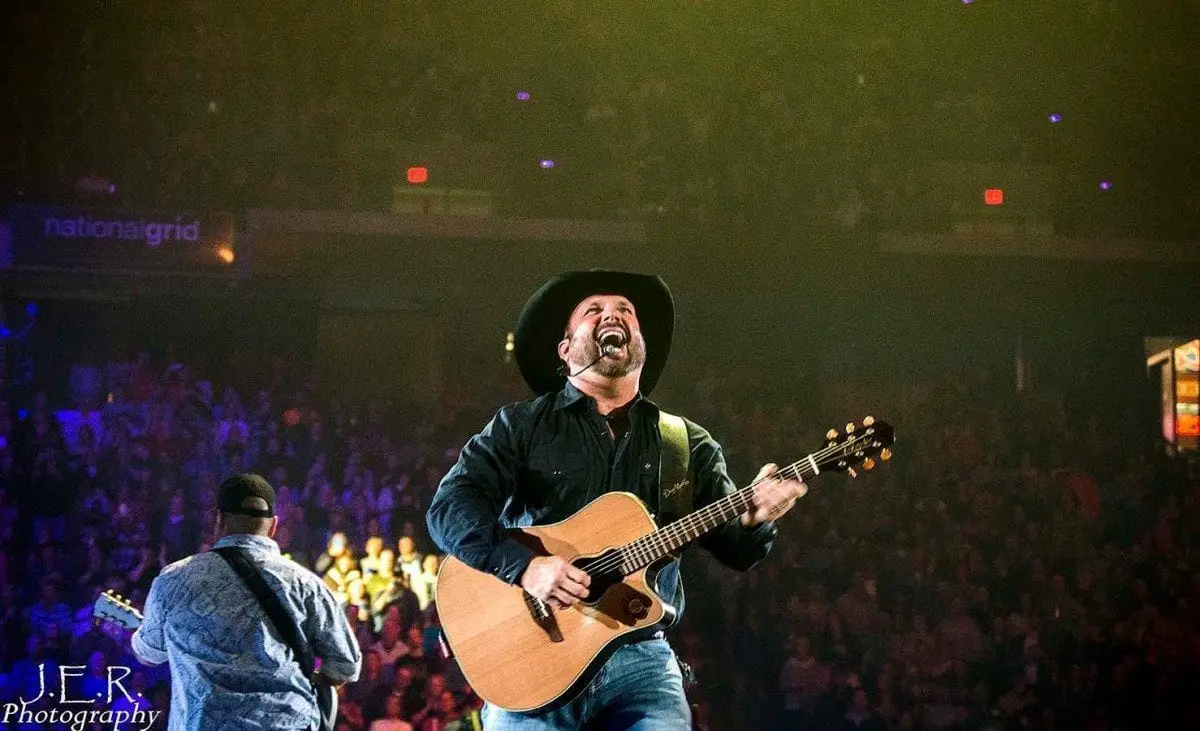 Garth stood in awe, took off his cowboy hat, and applauded the audience after they sang "Unanswered Prayers," with him in a magical performance.
Fans went crazy when they heard the sound of thunder starting to roll. Garth talked about how the next song didn't catch on right away, and it took a while for it to eventually become a hit. As he started singing the first verse of the song, Garth, hearing fans still singing right on cue with him told fans to "Bring It." Everyone could not get enough of Garth and reacted to every gyration, note, and crash.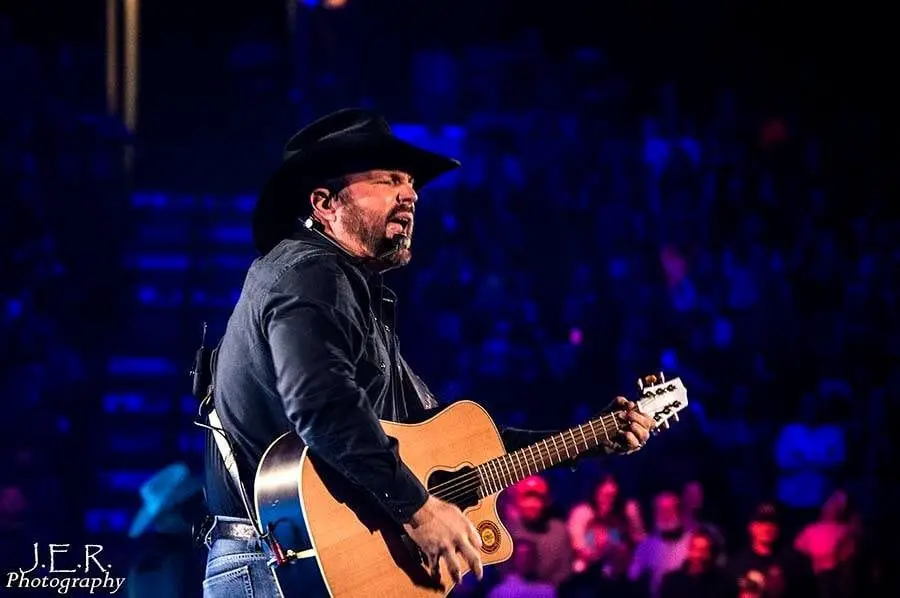 Trisha Yearwood soon took over the show, and gave her husband a breather. Garth did stay on stage and play some guitar during her set.
Yearwood started off with "XXX's and OOO's (An American Girl)." Yearwood stated after the song that they had the best weekend performing in Albany. She said "It's been loud, it's been fun, you have been singing every word. It's been incredible, thank you, thank you, thank you for a great weekend Albany."
Yearwood told the crowd that she's been listening to them sing, and that they sounded really good, and asked, if they knew the next song, to please sing it with her. She continued that the song has a really high note in it, then joked to the crowd "So I'm expecting a lot."
Fans then held it down throughout Trisha's amazing vocal performance of "How Do I Live." Yearwood slowly made her way around the stage giving all fans in the arena a glimpse of her as she waved. When she came full circle, Yearwood turned the ending of the song over to the Albany fans. She held the mic in the air and said "It's on you Albany." In that instance, a breathtaking concert moment was created as fans did not let Yearwood down including hitting the high note she talked about. Yearwood said after the song, "Even the high note Albany, great job."
For those of you who know the lyrics, a real life Katie and Tommy in the crowd holding a sign, caught the attention of Yearwood as she was explaining the rules of the kiss cam for the upcoming and last song in her set "She's In Love With The Boy." Yearwood brought them up on stage for the song. Couples were kissing and dancing as Trisha sang the feel good song. After the song, Katie and Tommy walked away with not only one hell of a memory, but Yearwood autographed her sign, and not to be outshined Brooks autographed the guitar he was playing and handed it over to the couple.
Garth returned with a cover of Billy Joel's "Shameless," and "Callin' Baton Rouge," before performing "Friends In Low Places." As Brooks hit the first note, the place erupted. The crowd was at peak singing volume and insanity at this point. Fans received a special treat during the song as Garth explained to fans, that on the new World Tour, he and the band, don't perform the third verse of the song. He then stated "I am thinking though, it's the last night here. It has been 20 years since we been back here." Brooks then joked that still wasn't enough before stating "But when you think about a Sunday night, kicking the shit out of any other Saturday night…that's enough reason to say screw it, let's do the damn thing, so New York if we're going to break the rules, I got to hear you sing this as loud as you have ever sang before." Confetti cannon's shot white streamers over the crowd as the song ended.
Garth came back out for an encore. Before he got started, he thanked fans for coming out and wished those who needed to leave cause they have work tomorrow, safe travels.
A lot of artist should take note from Brooks, and change the norm of an encore if you perform all your hits during your set. Brooks said to the crowd, "For you guys who may never have been to a Garth show…if I'm lucky enough to get to this position after the show is over… people will bring their signs, and they will bring them out here for songs that maybe they didn't get to hear during the show, sometimes like album cuts. So let's see what we can do here." Brooks then scoured the signs for songs and made brief comments to fans holding signs that he chose. In all, Brooks performed seven tracks from the audience's wish list.
An impromptu second encore started with an amazing version on Billy Joel's "Piano Man." Garth stated he only pulls out the guitar he his holding on special occasions to perform this one song. It was the perfect song to fit the mood of the evening. Garth once again took his cowboy hat off and bowed to the crowd for their appreciation and admiration, after the song concluded.
Brooks again stated to the crowd "Ok, same speech as before, but now it's 11:00 at night. For you people who have to go, thank you for a tremendous evening, for a tremendous weekend. For you people who can stay…I'm gonna play more music for you all night." At one point, the crowds enthusiasm, prompted Garth to say "Are you motherfucking kidding me?" Brooks lowered the mouthpiece on his headset mic, so the curse word didn't come through the PA.
Before running off more covers, Brooks said that he was going to play songs by some of the greatest voices in country music. Brooks stated to the crowd "You guys always get a bad rap, people don't think you know your country music. I know, you know country music."
He went to talk about that after so many years in the business, he considers himself one of the old guards, he self imposed on himself the responsibility, to make sure the newer generation, knows some of the greatest country vocalist that he knows. Brooks played covers by Keith Whitley, George Straight, and Randy Travis,  before ending the night with "Standing Outside the Fire."
Garth Brooks World Tour Setlist: Baby Let's Lay Down and Dance, Rodeo, Two of a Kind, Workin' on a Full House, The River, Two Pina Coladas, Papa Loved Mama, Ain't Goin' Down ('Til The Sun Comes Up), Unanswered Prayers, If Tomorrow Never Comes, That Summer, The Thunder Rolls, In Another's Eyes, XXX's and OOO's (An American Girl), How Do I Live Without You, Prize Fighter, Georgia Rain, She's In Love With The Boy, Shameless, Callin' Baton Rouge, Friends in Low Places, The Dance
Encore 1: When You Come Back To Me Again, Wild Horses, Belleau World, The Red Strokes, Fit For a King, Much To Young (To Feel This Damn Old), More Than A Memory, Piano Man
Encore 2: Don't Close Your Eyes, Amarillo By Morning, I Told You So, Standing Outside the Fire