Imagine this scenario if you may: you are about to enter an epic battle of man vs the world. You have your leather wrist bands and your battle vest prepared for combat. The boots are all laced and ready to kick up the mud. Deep inside you know something is missing. What could it be? Suddenly the answer came from the metal gods, a wicked and powerful soundtrack to capture the energy of a true warrior. The battle hymn of choice goes by the name, Bringer of Pain from Finland's own Battle Beast! Today we shall fight for the metal.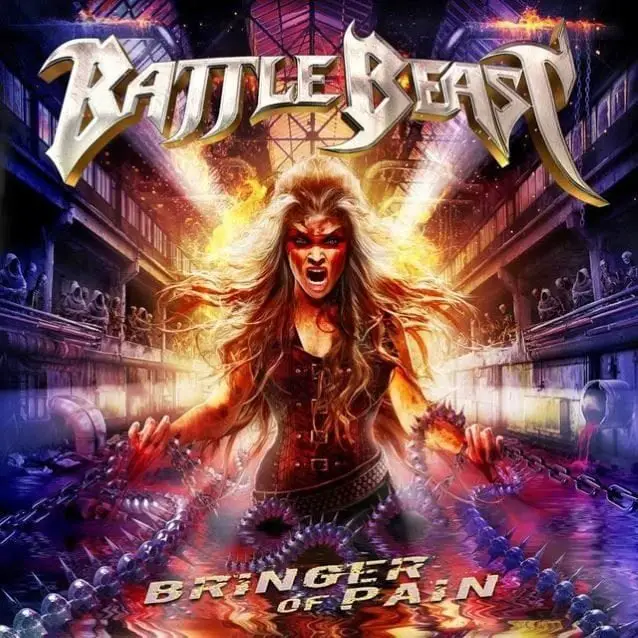 No strangers to the way of steel, Bringer of Pain, is the fourth installment to be added to the band's ever growing discography. This follow up from their 2015 release Unholy Savior (via Nuclear Blast) and my personal favorite Battle Beast (2013 via Nuclear Blast), they once again present their own unique brand of heavy and power metal to the metal masses. The vocal approach by Noora Louhimo will capture the hearts of the male fans and inspired many females lurking in the genre to take up the horns. With such powerful tracks like "We Will Fight" and "God of War," they will ignite a flame inside the listener  that will burn brighter than any other star in the sky. The guitar work of Juuso Soinio and the drumming of Pyry Vikki will remind you of Odin's eight hooved horse galloping to crush the enemies of metal. You will find yourself doing your battle cry as you raise your sword or roll a d20 while playing DND, as each soaring guitar solo with the help of bone crushing war drum makes the opposition tremble before you. Critical hit; victory is yours.
When it comes to power metal, you know there will be some songs that hit you hard straight into your soul. The track on the album that puts the emphasis of emotion is the very passionate song "Far From Heaven." The vocals mixed with the guitar skills of Vikki and Björkroth created a masterpiece of melody and melancholy resonance. I am a big scary looking guy and let me tell you, this track makes me feel like a hopeful teenage boy again; simply beautiful. I do admit this is my personal favorite from the new release. Another track that has a wonderful executed dread-filled painted landscape is "Lost in Wars" which features Tomi Joutsen (Amphoris). His deep sorrowful vocals mold a dark picture where a world lost all hope and light because of man's own doing. It will send chills down your spine with the bass playing of Sipilä giving the song as if it was a funeral dirge. I do see this song  becoming the most popular one on the album in the coming weeks as well as help the band grow their devoted fan base.
If I could give this album a rating, it would be a solid 5 out of 5. You may order it from the band's page and your local record store. Buy it and together we will fight with Odin!
Key Tracks: Bringer of Pain, Lost in Wars, We Will Fight