It had been quite a weekend for music in Albany thanks to the work of beloved promoter Greg Bell. Jamtronica founders, Particle, brought the heat to The Hollow Bar and Kitchen Friday, February 17 , followed there by Reed Mathis and Electric Beethoven Saturday, February 18. By Sunday evening, the fatigue of the long weekend had set in. But as committed fans, we got up, got dressed and headed up 787 to The Cohoes Music Hall to see Gubbilidis.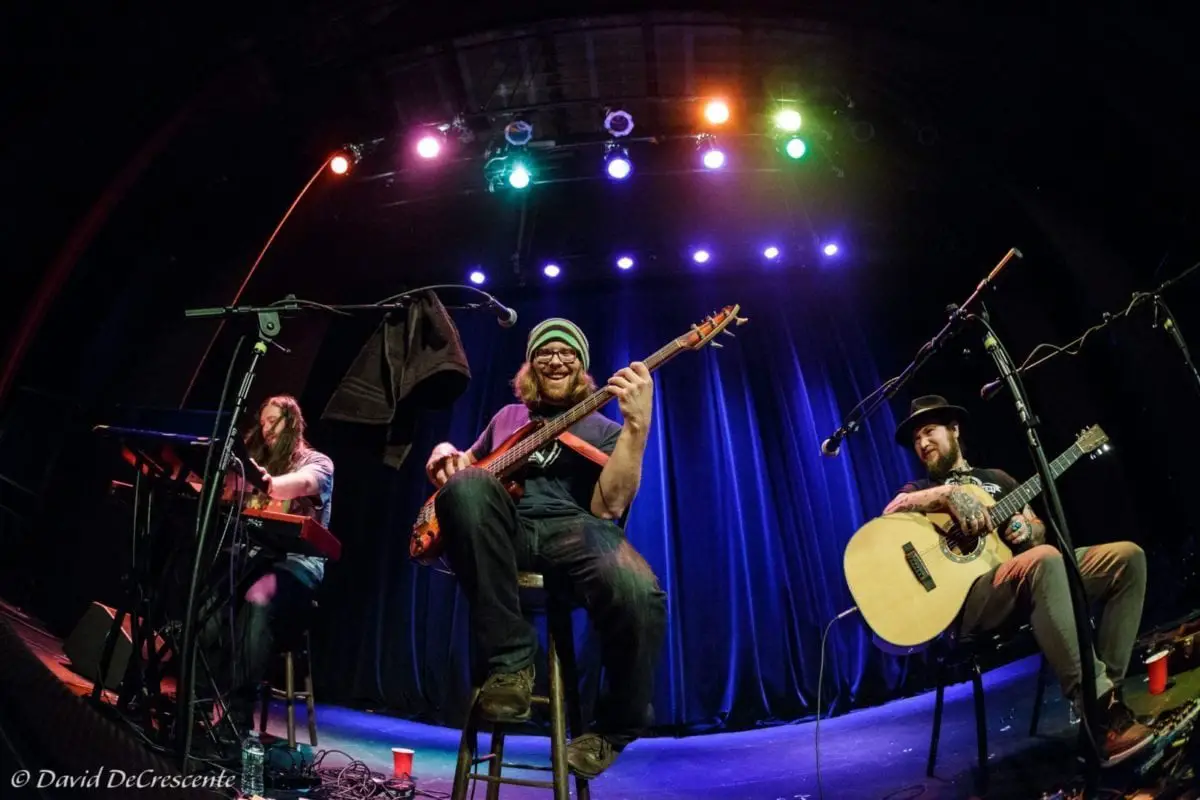 The Twiddle side project, consisting of Mihali Savoulidis and Zdenek Gubb, was both upbeat and positive – the cup of Joe needed to energize this Sunday evening crowd. The added espresso shot was the venue itself. Having only recently come under management by The Palace Theater in Albany, many in attendance were visiting The Cohoes Music Hall for the first time. Built in 1874, the historical theater is the perfect size venue for shows too big for venues like The Hollow, but ones that would be dwarfed by the The Palace Theater. It boasts decorative details and grandeur but the wooden benches, floors and walls give the feeling of an old-timey, western saloon. The environment is thoroughly refreshing for Capital Region music fans growing bored of the same venues night after night.
Using a loop pedal to layer the elements, Gubbilidis created the sound of a full band. Kicking off the evening with "Apples," a Twiddle mainstay, Mihali beat boxed to create the percussion while Zdenek played his bass in such a way you'd think it was a lead guitar. "Every Soul" allowed the duo to get serious for a few minutes before letting the silly return with a funky "Brown Chicken Brown Cow."
Mihali and Zdenek welcomed Scott Hannay of Mister F to the stage. The 8-bit keys and synthesizer were loud and high pitched but added a fun, video game vibe to Blues Traveler's "Run Around." Hannay continued his sit-in for "Mamunes the Faun" before the trio paused for a set break.
The second set featured an exciting mashup of "No Woman, No Cry," "Glycerine," "Farmhouse," "Wagon Wheel" and "One Day." Hannay returned to the stage for a cover of ALO's "Barbeque" and Twiddle's iconic "Jamflowman." Zdenek nailed the bass solo and Mihali cranked out the guitar riffs, making this the highlight song of the evening.  The second set wrapped up with "Hattibagen McRat," a touching tribute to Mihali's late friend.
All three men returned to the stage to encore with The Beatles' "Rocky Raccoon," which featured a thrilling solo by Hannay and intricate and powerful guitar riffs from Mihali.
Set 1: Apples, White Light, Every Soul, Brown Chicken, Brown Cow, Run Around*, Mamunes the Faun*
Set 2: Rivers Drift, No Woman No Cry/Glycerine/Farmhouse/Wagon Wheel/One Day, Zazu's Flight, Barbeque*, Jamflowman*, Hattibagen McRat*
Encore: Rocky Raccoon
* w/ Scott Hannay