The Heavy Pets and Backup Planet will co-headline their spring 2017 tour, which will kick off March 17 at High Dive in Gainesville, Florida, and run until the end of April, right before festival season kicks off.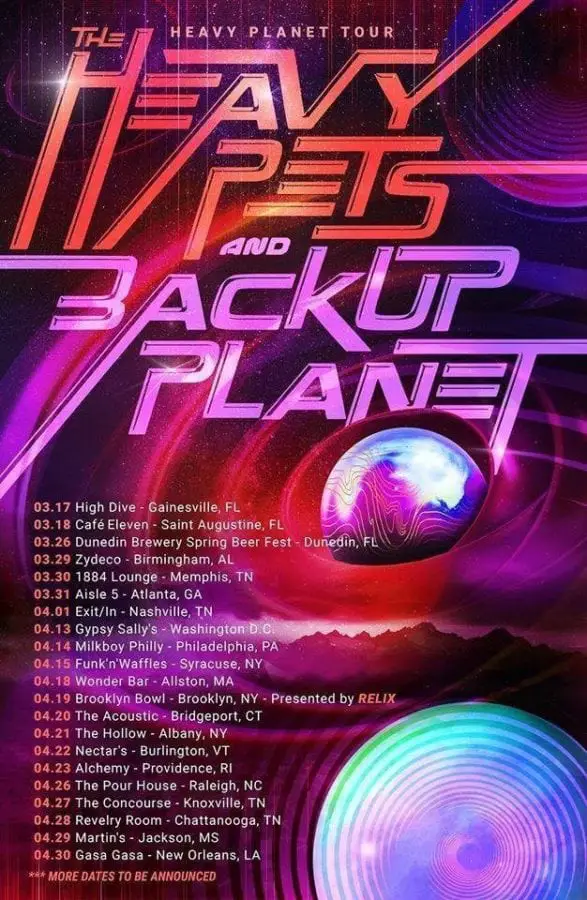 The tour will have a few N.Y. dates, including March 15, at Funk 'n' Waffles Downtown in Syracuse, March 19, at the Brooklyn Bowl, presented by Relix, and March 21, at the Hollow in Albany.
Other dates include an Atlanta date at Aisle 5 on March 31, Gypsy Sally's in Washington, D.C. on March 13 and Milkboy Philly on March 14, right before their N.Y. run, which is then followed by more dates in the South at the Raleigh Pourhouse on March 26, and Revelry Room in Chattanooga, TN on March 28.
Florida quintet, the Heavy Pets, are Jeff Lloyd (guitar/vocals), Mike Garulli (guitar/harmonica/vocals), Jim Wuest (keyboard/vocals), Jamie Newitt (drums/vocals) and Tony D'Amato (bass). While they are described as an American rock band, their sound is made unique through a blend of reggae and funk. Their vocals are addicting and soothing, with an exemplary song craft that pulls it all together. Their double-disc debut album was an instant sensation on Sirius XM radio back in 2007, and they have continued to expand their fan base over the years through extensive touring.
Backup Planet is Ben Cooper (keys/vocals), Chris Potocik (drums/vocals), Gavin Donati (guitar/vocals), and Blake Gallant (bass/vocals). Hailing from Nashville, Tennessee, this quartet's sound is a progressive funk-rock jam that mixes in other special elements like jazz, roots, electronic, and blues. Their performances are a live experimentation for how to improvise those elements into an unforgettable show, which has kept fans coming back for more and more, as their repertoire grows.
For more information and tickets, visit here.