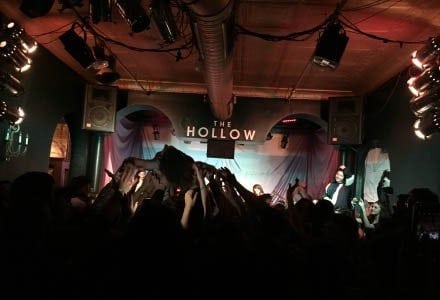 Funky art-pop ensemble Rubblebucket brought a bit of Brooklyn to a jam-packed Albany crowd Friday, January 26 at The Hollow Bar & Kitchen. From the get-go, each song was performed with high energy and power jumps with one goal in mind: to let loose and be present in the now.
The five-piece, consisting of Kalmia Traver, Alex Toth, Dandy McDowell, Maddie Rice and Adam Dotson, hit the road for a string of Northeast dates across CT, RI, MA, NY and PA in support of their latest EP, If U C My Enemies, which dropped just a few days ago on January 23. Rubblebucket didn't fail to deliver their newest tunes with enormous pep. Before they took the stage, Hollow dwellers were hovering over one another, squeezing through layered bodies and backpacks, risking getting long strands of hair and strangers' sweat in their double IPAs and mixed vodka crans just to make way to the front of the room–or try to, at least.
Equipped with a talented horns section, Traver initially addressed the crowd with praises of a wonderful turnout and immediately dove into displaying her raw vocal talents and magic on the baritone saxophone. Describing the Albany crowd as vibrant– attendees were just that, swaying side-to-side, dropping low to the floor and swirling along with the pulsing afro-beat stomps, pop-centric choruses and colorful toots of the trumpet and trombone.
Traver and company offered fans tracks from their latest EP as well as their most recent full-length release, Survival Sounds, performing fan favorite hits both new and old from "Donna" and "If U C My Enemies," the opening and closing tracks of the EP, as well as "Sound of Erasing" and "On the Ground."
A television propped up on the wall across from the bar was muted, yet still running, leading Traver to request to kill the power. Making valid points, she explained concertgoers were there for the show, not to receive a dose of endless commercials or politics banter and that the screen was simply distracting her from performing in the moment. The TV was nixed within seconds and from then on, intensity grew and the grooves never stopped.
Once the energy reached its highest momentum, Rubblebucket ran with it. Traver became one with the fans, crowd surfing to the back of the venue where she decided to pull a move from King Kong's book by scaling the side of the balcony just above the bar. With bartenders shouting to her in hopes of it not crumbling down to its foundation, she conquered the excursion and made it atop the venue while Toth manned the mic for the song's vocals. Later, Dotson, trombone and all, paved way through the crowd inciting a full on dance party and optimal engagement, leading many to make hard ducks in each direction with hopes of avoiding decapitation. Something tells me, however, if it happened, that wouldn't be the worst way for a fan to go out.
While the masses were in command, Traver used it to her advantage for ultimate interaction, getting everyone in the room to drop low to the floor, jump up and down and bounce side-to-side before gearing up for a triple header encore of "Shake reprise," "Triangular Daisies" and "Save Charlie."
A cozy Albany venue where locals stop in for quick bites to eat, drinks and live music on the weekends was completely morphed into a tight-quartered, hip, Brooklynite bounce house- if only for one night.
Set List:
On The Ground, Donna, Forlornification , Sound of Erasing, My Life, If U C My Enemies , Not Cut Out For This, Silly Fathers, Pain From Love , Lemonade (unreleased new song), Carousel Ride, Came Out of Lady, Shake Me Around
Encore: Shake reprise, Triangular Daisies, Save Charlie