Rochesterians tend to think of King Buffalo as a local band, however they are garnering attention on national and international levels. Their debut album, Orion, showed up on the Album of the Year lists for several rock critics. Earlier this month, Stickman Records released a European version of the album.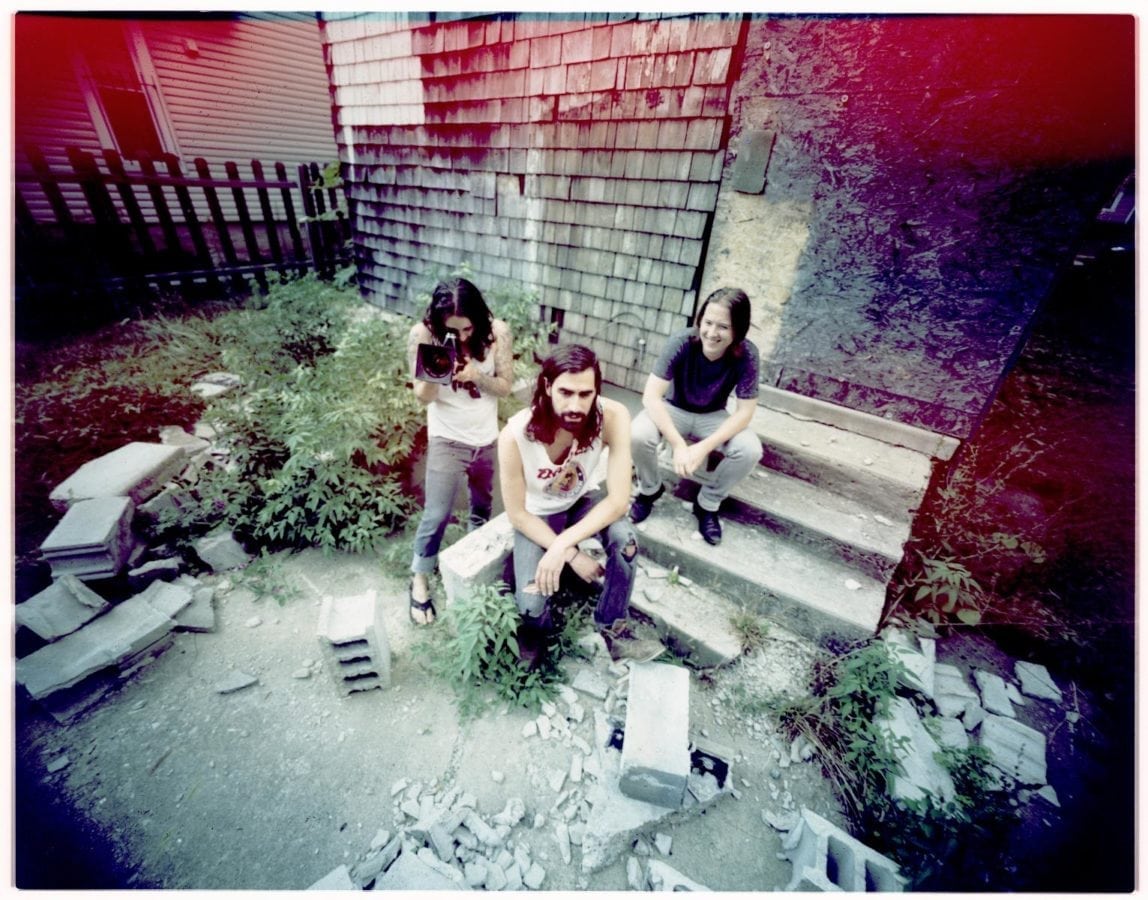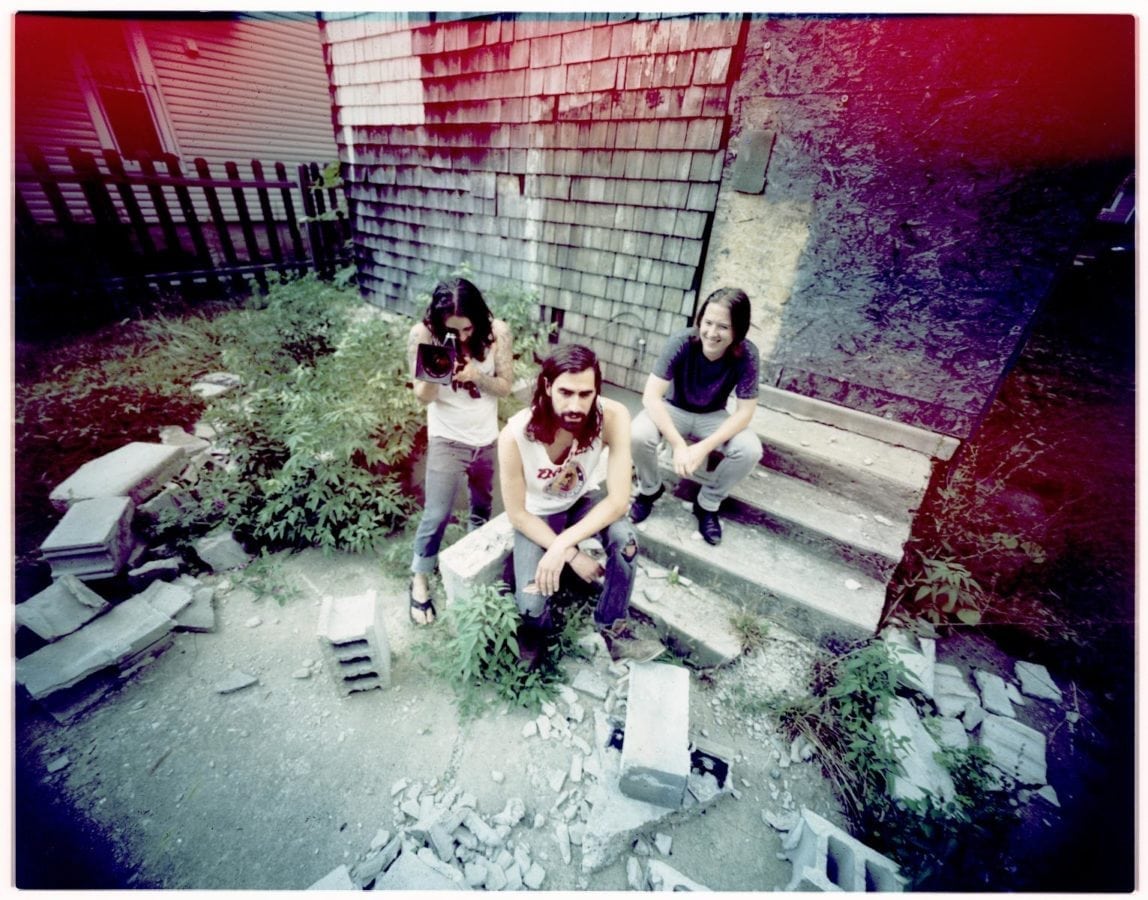 The psychedelic rock band with a heavy blues bent delivers heady grooves laden with symbolic imagery. It's the kind of music that is best heard live – but if not live, then on a turntable in a room with curtains drawn and incense burning. The sound is reminiscent of iconic classic rock bands like The Doors, Deep Purple, and Black Sabbath, but also has a modern edge that leads one to wonder if this is what Jim Morrison would be creating if he were alive today.
King Buffalo is comprised of Rochester natives Sean McVay (Guitar & Lead Vocals), Dan Reynolds (Bass & Lights), Scott Donaldson (Drums & Vocals). NYS Music caught up with the band at their recording studio inside the historic Main Street Armory, to discuss the history of the band, their creative process, and future plans.
Paula Cummings: How did King Buffalo come into being?
Sean McVay: Dan and I played in a band together for a few years before King Buffalo, called Abandoned Buildings Club. Scott played in a band called Velvet Elvis. We were all in the same sort of psychedelic heavy blues rock circle and played a bunch of shows together. We were all part of the same scene. When our bands dissipated and fell apart, we started jamming, and we clicked really fast.
Scott Donaldson: I approached those guys because Velvet Elvis broke up before Abandoned Buildings Club. I was booking all these dates and then Velvet Elvis broke up. So I was wondering if you guys were interested in learning some of the songs and filling in. Our fourth original member, Randall, was also the singer of Velvet Elvis. We started jamming and maybe the first or second practice we wrote a song.
Dan Reynolds: Yeah, I don't think we played any Velvet Elvis songs until a couple weeks in.
SD: It was cool we were able to pound that (new) stuff out that quickly. So we started touring and pissing people off because half of them thought we were Velvet Elvis. We were like, "No, we go by King Buffalo now."
SM: We'd show up and there'd be a marquee that would say Velvet Elvis and we'd play two Velvet Elvis songs and the rest was King Buffalo stuff.
DR: And we played one Abandoned Buildings Club song.
SM: Yeah. We knew pretty early on that we had something cool going. That's why we kept writing. And then we recorded them. We wanted to have something recorded so we could say, I know you came to see Velvet Elvis, but here. We just ended giving out 300 CD's on that tour.
PC: But they were people who were already into that kind of scene.
SD: Yeah. The first tour we did as King Buffalo was with All Them Witches. They were relatively unknown then. Now they're doing quite well. We were in an RV with those guys, having fun playing to some people some nights and just to each other some nights. It was a great experience.
PC: You guys also did a split with Le Betre.
SD: One dude from STB Records posted a picture of our demo, like "I'm jamming this, packing orders." And I just emailed him, like "I heard you like our demo, we should do something together." He said "I'd love to, it sounds amazing, but I've got so many projects this year, I can't do it." A week later, "You guys are doing a split with this band from Sweden called Le Betre." STB's got their own following. It's a very collector's-based, die-hard version with splatter vinyl. I mean, none of us had had anything that looked so pretty, so we were all about it.
SM: The package that they put together – it's all 180 gram vinyl, it's super high quality. It has a super loyal following of buyers. I don't know if they heard of us before they put out the split.
SD: They have a lot of faith in his label, so they're like "You're putting it out? And it looks really pretty, and there's only so many of these, I'm going to buy one of every version."
PC: Tell me about the decision to release Orion internationally.
SD: To do anything international is pretty easy these days with the internet. You sign up for a website, you put your stuff up there and you pay a little extra to make sure it's in all the different countries. Stickman Records had approached us after the record had already come out. They gave us an amazing deal because they really love the record and really want to be a part of it. We were obviously floored and extremely happy about it. And then they made a gatefold and 180 gram vinyl record in orange.
DR: It's easy to get international, and vinyl record sales right now are so almost bafflingly huge market all of a sudden. In England vinyl sales just passed digital downloads.
SD: For us, selling internationally is expensive. The shipping is $22.50. I ship everything personally, so I know exactly how much that costs.
DR: So that's the only way we could get them out over there.
PC: I read a lot of the reviews and descriptions of your music, and I've seen you guys play, but how do you define your sound?
SM: We're influenced by all the classic stuff from the 60's and 70's and grew up in a time when grunge was the thing.
SD: It is what it is. It's weird now that every genre has so many clear cut "this is what it is" instead of being just one general broad thing. Back in the day, heavy metal was so much more broad than it is now.
SM: Post–rock pre-blues metal, like what does that even mean?
DR: I want to know who's making all these up.
SD: Psychedelic stoner rock is the one we consistently hear, and heavy blues.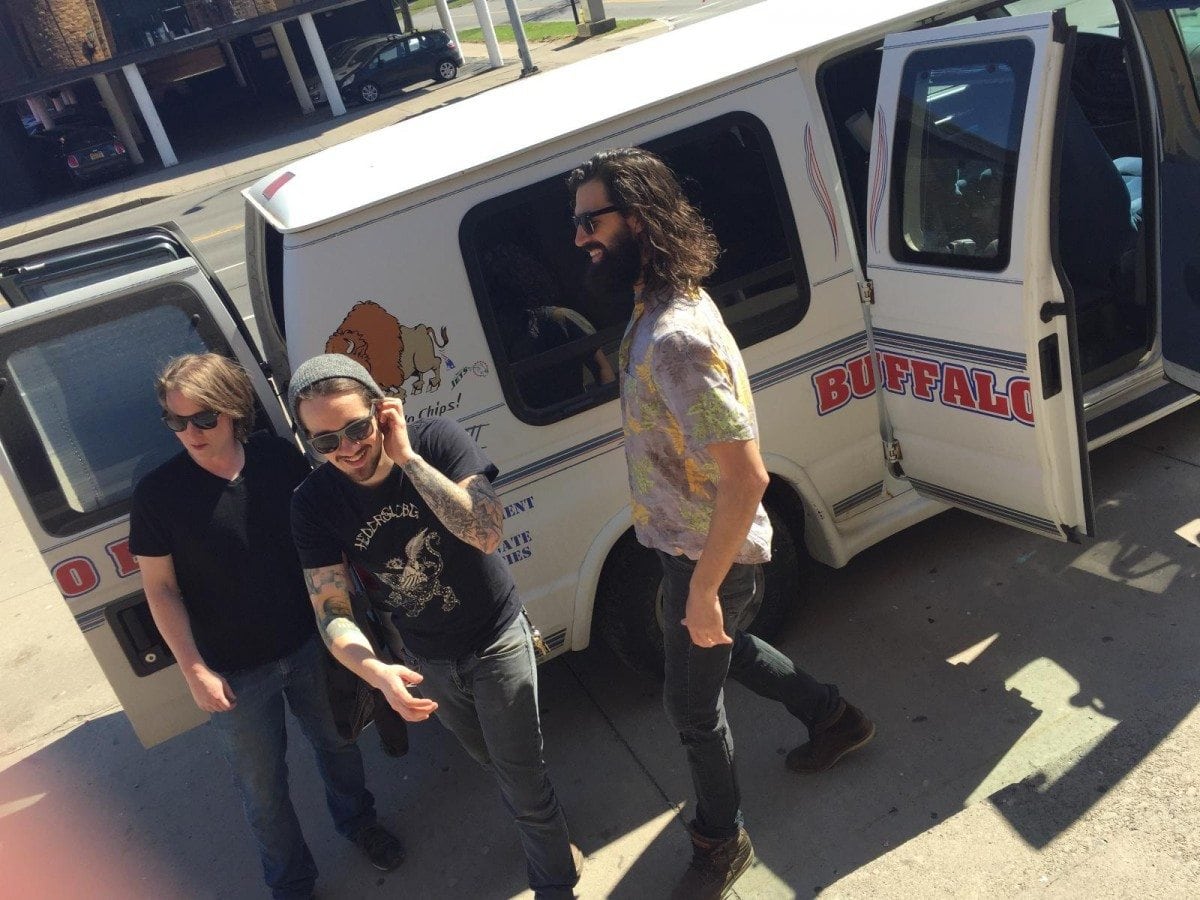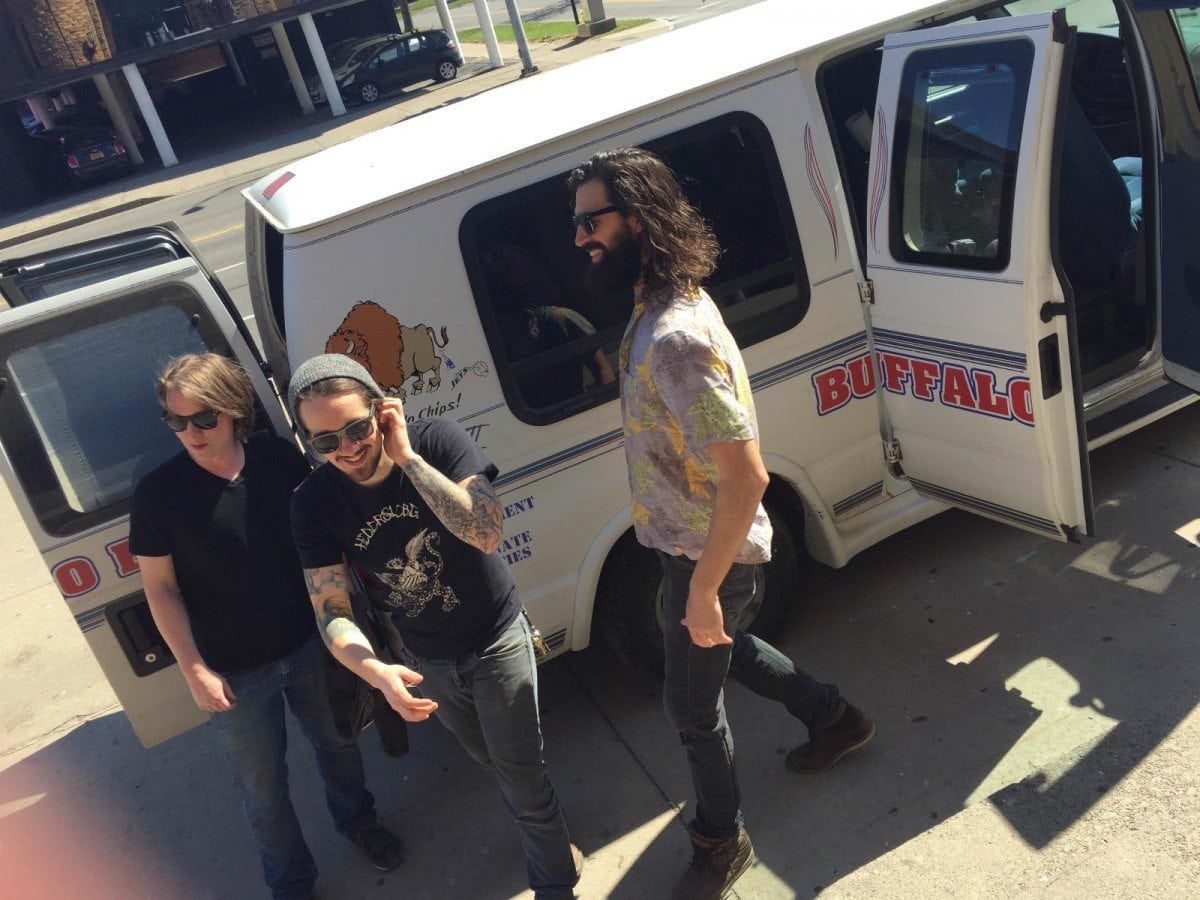 PC: You record right here at The Armory?
SD: This is the room. All the awesome reverb comes from Sean just opening the door and sticking the mic in the hallway. You just get this cavernous amount of sound. If you walk in the hallway and give a nice loud clap, you'll hear it.
PC: What is your songwriting process? Do you hammer out the instrumental and then add lyrics to it?
SM: It's definitely the very last thing. We just wrote a new song, and we've had the structure of it for a while. I wrote the lyrics to it on the way to the gig where we first played it. I knew what I wanted for the melody, but I didn't have words. We basically jam all our stuff. We'll have a basic riff or idea and then we'll just play it for a while and flesh it out and whittle it into something that makes some sense. I'll just kind of mumble over the top and just sing. Either I'll come up with some words or Scott will write words and then in the process of reading his words, I'll write something based off of that.
SD: It was weird because when we first wrote Orion, we were trying to figure out a writing process and it took some time. We definitely got better at it now. Hopefully it goes a little quicker.
SM: I had this big vision for Orion, and there's definitely a story in it. It's all one cohesive story. I very much wanted it to be that. So we can't just write anything for the lyrics for the song – like the third song has to push the story forward.
SD: I think this time it might be more polished, the process.
SM: Yeah, I'm still trying to figure out the story.
SD: Sean has a habit of sometimes overthinking things.
PC: But it's easier if you have a concept in mind going in. A lot of the lyrics on Orion are references to nature, sci-fi and mythology.
SM: I was trying to use a lot of psychedelic metaphors and imagery to bring it all together.
SD: It's a little ambiguous. That's a good thing because then everybody can put their own interpretation upon it. If you tell somebody, "This is what to think when you're listening to this," it's harder to make a connection.
SM: People come up and tell me what they think a song is about, tell me what they think the album is about.
SD: I was talking with Parks about this – Parks is the singer of All Them Witches – he's like "The best is when someone is like 'Dude, me and my lady have a lot of sex to your album.'"
SM: I just want to be the soundtrack to people's lovemaking.
SD: It would be a weird sight if we were playing a show and it just kind of broke out.
SM: I'd turn around and be like, "Guys, it's working. I think I found the chord progression."
King Buffalo released the recording Live at Wicked Squid Studios on December 26. They will be touring in 2017, and have just begun composing songs for a second album.
Orion is available in multiple formats through King Buffalo's website. The European version is available through Stickman Records.