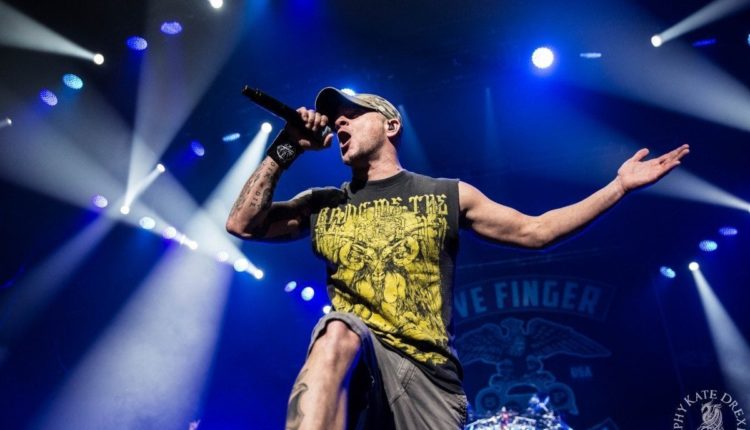 All That Remains frontman Phil Labonte has come up from the "Righteous Side Of Hell," to help save the boys in Five Finger Death Punch from being on the "Wrong Side Of Heaven," due to the band's erratic troubled frontman Ivan Moody, to save the rest of the band's co-headlining tour with Shinedown, a tour that also features Sixx: A.M., and As Lions.
Labonte, who is good friends with Moody, stepped up and filled in on Dec. 1 at the Wells Fargo Center in Philadelphia, PA, doing a tremendous job in the process. Joining Labonte in helping save the tour for FFDP and their fans were Sixx: A.M. frontman James Michael and As Lions singer Austin Dickinson (son of Iron Maiden's Bruce Dickinson), lending their vocals during FFDP's set. Labonte will continue the vocal duties for FFDP for the remainder of the tour. There has been speculation that this could be an audition for Labonte to replace Moody for an extended period of time or even permanently.
Moody stated on Nov. 29 to Syracuse, NY fans inside the Oncenter, that they would see the real Ivan Moody tonight. He went on and said that with all the social media outlets out there, that his life is exposed, and can't seem to get away from people fabricating stories about him.
One of those "fabricated" stories came days earlier in Worcester, MA, when Moody stated to the crowd that his mother was passing away as he was onstage, and cut the concert short. Bassist Chris Kael was left with the mop up duties, apologizing to the crowd for the early departure. In an odd twist, Moody's sister stated that their mother was not ailing nor anyone else in their family, for that matter. This prompted Moody's statement at the band's Newark, NJ show that the mother he was referring to was his "House Mother" from rehab.
During the same show, Moody, who has revealed his thoughts about Kanye West in the past, compared himself to the hip hop star, stating that he now "Get's it" when it comes to the "mental breakdown" that West is has currently been hospitalized for, after West went on various verbal tirades during his live shows and cutting concerts short. Two days later, Ivan Moody is on the shelf due to illness and off the rest of the tour.
Moody had his famous Memphis meltdown back in May of 2015, where he apparently angered drummer Jeremy Spencer with a comment he made over the mic about Spencer's book, prompting Spencer and the rest of the band to leave Moody by himself on stage. Days later, the band stated that there was nothing wrong with Moody, or the band, and blamed poor sound equipment as the reason why they had cut their set short.
It has been no secret, as reported previously by NYS Music, that the band is being sued by their record label, Prospect Park. Some of the reasons stated in the lawsuit include that the band doesn't care for Moody's well-being and that they are trying to cash in before Moody has a complete meltdown, or even worse, dies. With his past and recent actions, Prospect Park could be onto something when it comes to Moody's well-being.
Fans, music insiders and music executives believe that, without Moody, there is no FFDP, and with all his recent  seemingly "I'm untouchable" behavior over the past couple of years, Moody must feel the same.  Moody's recent behaviors suggest a desperate need for an extended break from touring, the music industry, and the limelight.
Eventually, the band will have to draw the line with Moody's recent actions and do what's best for FFDP moving forward. Whether they move on with Labonte or someone else, or force Moody to take a break.
With all that being said, Labonte has the goods to deliver the songs in FFDP fashion on stage, but does he has the raw charismatic edgy appeal that Moody possess, and that fans crave and love about Moody?
When it come's to what's next in the Ivan Moody/FFDP saga"All That Remains" is, wait and see.
Remaining Five Finger Death Punch/Shinedown Tour Dates:
12-08 – Amway Arena – Orlando, FL
12-09 – Amalie Arena – Tampa, FL
12-10 – Infinite Energy Center – Duluth, GA