Last Friday, December 2 was an absolute treat for everyone that went to The Warehouse in Fairfield, Connecticut. The night was even a pleasant surprise for renowned dobro player Jerry Douglas, saying he was "shocked people wanted to sit through an hour and a half of dobro music." His hour and a half spread over two hours after the crowd begged for more and gave him a standing ovation at the end of his performance. No more than 100 people were in attendance which made for a very intimate show, intimate enough that he came out after his set and met almost everyone that showed up.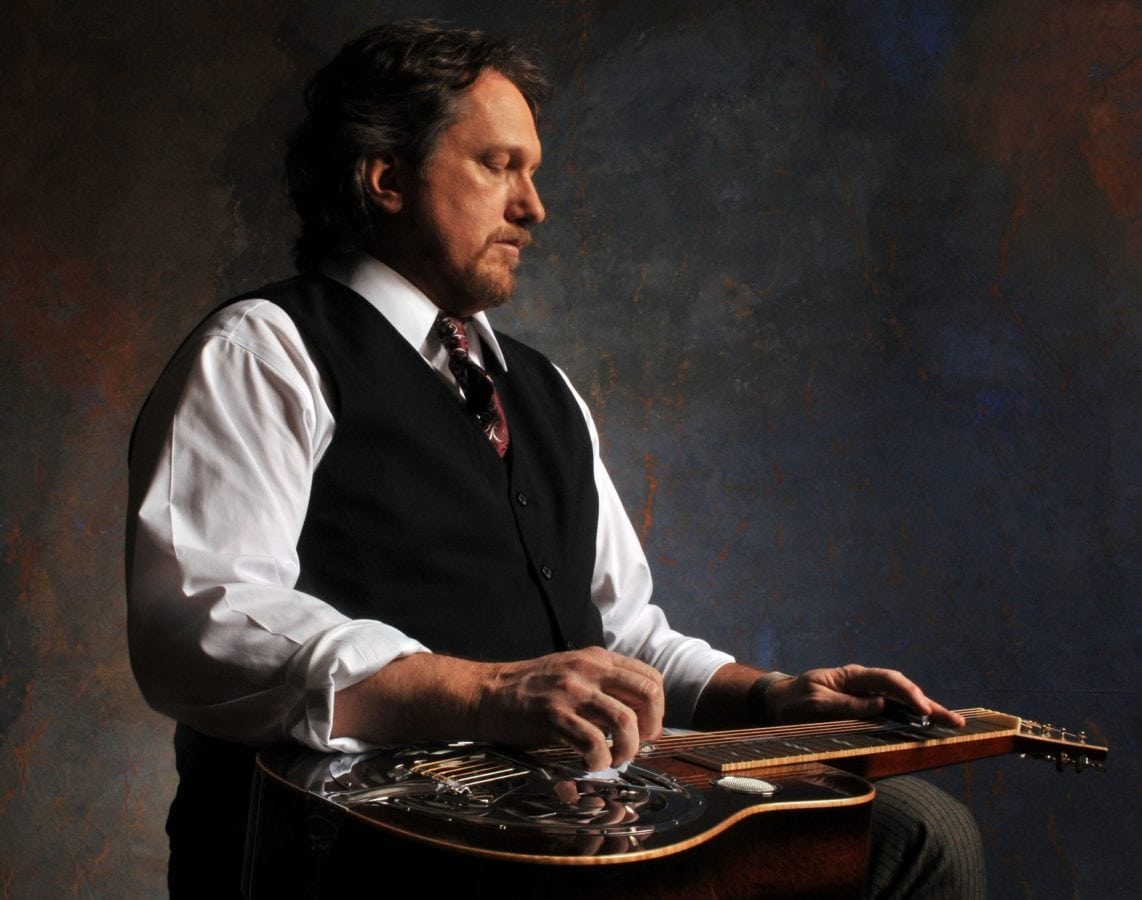 He played some of his own highly improvised original songs, told hysterical stories, talked with the audience mid-show, joking about how there's some parts of his songs that he wish he never wrote, and completely opened up to everyone there about his personal life. He shared stories from how  his late and most  beloved dog inspired him to not walk off stage if he thinks there will be an encore, to how he wrote a song in spite of Maurice Sendak, because his famous book Where the Wild Things Are scared his children when he read it as a goodnight story. "I'm going to write a song about it, get rich and get back at Maurice Sendak at the same time. Neither of those things happened." And that's how his song "Wild Rumpus" came to be.
To get a sense of why this was a huge surprise to see such a small turn out, one must do some homework and will appreciate the amount of time and dedication Douglas has clocked in since his start in the 1970's. He's worked with a plethora of world renowned artists from Ray Charles to Eric Clapton, Paul Simon to Dolly Parton and countless more, while still writing his own music and performing alongside Alison Krauss and Union Station. He has won numerous Grammy's, many of which were awarded to his work with Union Station and some for his original recordings. He's a Country Music Hall of Fame member, won three CMA Musician of the Year awards and a copious amount of International Bluegrass Music Association awards over the past three decades. Simply put, he's damned good, and so was his performance last Friday.
He played for two hours and had every soul in the house engaged for every minute he was on stage, partly because of his raw talent, but mostly because almost every song had a story behind it. He started with a short introduction and immediately everyone felt a connection with him. He opened with "A New Day," a soft and sultry song with a perfect balance of country twang, moving to a cover of "Foggy Mountain Rock," a recording Douglas said was made in order to compete with Elvis who had at the time was the center of attention in the music world and was, "ruining it for everybody." This time, his fingers started flying across the frets and still managed to keep a steady melody. It blew the audience away.
He continued on through the night performing his original song "Peaceful Return" which was unsurprisingly peaceful, simple and serene, and onto a cover of "Hey Joe" by Hendrix and many more covers  from musicians he's worked with and ones he hasn't. Each one was special because of the attachment Douglas had to it and knowing the backstory of each song he played made it so much more meaningful to the audience, encapturing them in a way that was never thought to be possible.
He played about 12 songs total, and every one had a unique sound, which is an incredible feat using just one instrument. An assortment of loop and effects pedals contributed to that accomplishment, but an untrained eye would pay no mind to it and would be simply blown away by his talent and charm.
It's fair to assume Douglas does not have a lot of down time, so it's undetermined when he will be touring again, but he is definitely someone to keep an eye on. His plethora of recordings are available on Spotify as well as iTunes and is worth investing some time into.