The holiday spirit was alive and well in Port Chester, NY as New York rock icons moe. treated The Capitol Theatre with its first ever "Famoe.ly Holiday Concert" that saw the band dust off some old holiday covers, debut a few new songs and deliver some good old improvisational rock as only moe. can.
The show also served as a benefit for Caritas, a local food bank, befitting of the holiday spirit courtesy of food donations from attendees as well as a raffle for signed posters and tickets to future shows at The Cap.  Revelers pre-gamed next door at Garcia's, a small bar attached to the venue, with libations of their choosing before settling in next door for a unique yet classic moe. show.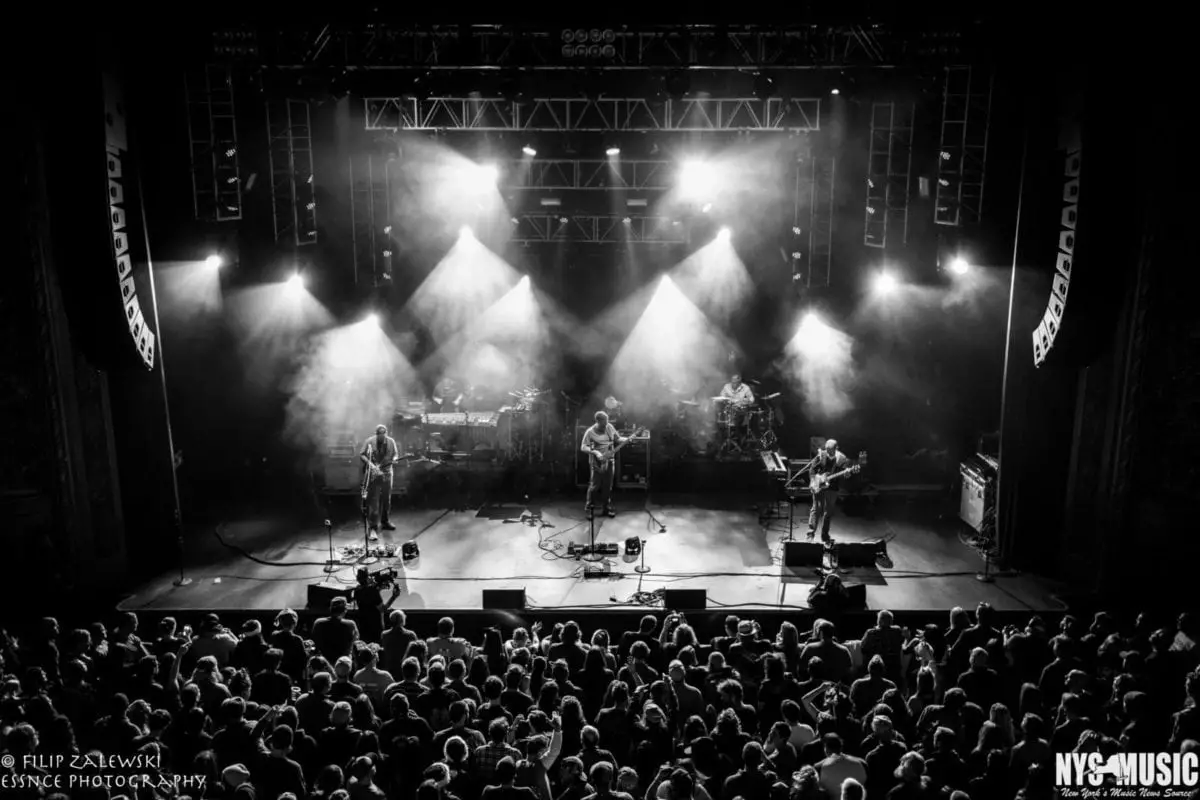 The band took the stage to a full crowd on the floor, although the balcony, surprisingly, was a little sparse early on with plenty of open seats to be had.  In a nod to the show's locale, "New York City" opened things up in somewhat standard fashion before bassist Rob Derhak began playing the familiar opening notes of the Peanuts theme song, technically known as "Linus and Lucy."  Their take on the classic Vince Guaraldi jazz song was the first of several tonight previously featured on their 2002 album Seasons Greetings From moe. and hadn't been played in a live setting for nearly three years.
The old school rocker "Head" then followed, replete with wailing vocals as delivered by guitarist Al Schnier, and the high energy number soon faded into a softer groove before teases of the same turned into a full on version of "Zed Naught Z."  This percussion-driven instrumental gave Jim Loughlin a chance to shine on vibes as the composed section was delivered flawlessly before the beat picked up steam again and a delightful almost "Rec Chem"-esque jam ensued, a sign of things to come, before the band roared back into the ending of "Head,"  serving as a true first set highlight.
The next holiday song of the night followed with "Oh Hanukkah," another instrumental number found on the 2002 holiday album that had somewhat of a surf rock feel to it, before a brand new song, "Angel," was debuted.  This one gave Schnier a chance to do his best Bruce Springsteen impression as this song sounded like it could have come directly from The Boss' catalog and featured some fine complimentary play from fellow guitarist Chuck Garvey.  Then, in what has to be considered one of the peak musical moments of the night, moe. ended the first set with an absolutely blistering and thorough "Recreational Chemistry" that, early on, showcased watery bass tones from Derhak and impeccable drum fills via Vinnie Amico before devolving into a dark, dissonant jam that had the whole room spellbound.  From these depths, slowly and very surely, the song's signature guitar-driven finish emerged and delivered a firm exclamation point on a well crafted first set.
"Puebla" started things off to begin the second set and picked up right where things left off with another driving and soaring jam that featured more stellar play from Loughlin on vibes before he took over on vocals himself, a rarity for moe., for "Don't Wanna Be," another debut number which had a moody feel to it.  It was then time for the holiday spirit to be reintroduced and moe. did so with "Carol of the Bells," another instrumental not played in several years. This short and sweet cover yielded a jam that had a brief flurry of "Rebubula" teases thrown about before quickly shifting gears and going into "Downward Facing Dog," a song found on the band's 2012 release, What Happened to the La Las. Once again, a crisply played composed section gave way to a rather dark and menacing jam filled with both heavy guitar and vocal distortion.
The last of the evening's debuts followed with "Prestige Worldwide" and seems to fit the classic mold of a moe. song in that it featured stellar guitar interplay between Schnier and Garvey and another heady solo from Loughlin on vibes before giving way to another frenzied improv jam showcasing the cohesiveness this outfit has built up over the course of their 27 year career.
It remains to be seen what, if any, connection this song has to the movie Stepbrothers and Brennan and Dale's international music corporation.  And just as they did in the first set, moe. ended the second in classic style with a pairing of old school favorites.  "Four" gave Garvey a chance to take lead on vocals and resulted in another jam that started out innocently enough and later ended with feverish guitar licks.  Two great sets of music were capped off with a mild segue into longtime crowd favorite "Buster," before Derhak thanked a fervently appreciative Capitol Theatre crowd.
Not missing out on one last chance to ramp up the holiday spirit, the moe. bassist emerged in full Santa garb for the encore which featured a fantastic cover choice in The Kinks' "Father Christmas" and one last nod to the holiday album in "We're A Couple Of Misfits," the band's interpretation of Hermey's and Rudolph's song of outcast from Rudolph the Red Nosed Reindeer.  With a fantastic night of music in the books and a very successful food drive accomplished, one can only hope this is the start of a new holiday tradition for Port Chester and The Capitol Theatre, one of the more aesthetically pleasing and intimate venues the metropolitan area has to offer.
moe. ~ 12/03/16 ~ The Capitol Theatre ~ Port Chester, NY
Set 1: New York City, Linus & Lucy#, Head > Zed Naught Z > Head, Oh Hanukah##, Angel^, Recreational Chemistry
Set 2: Puebla > Don't Wanna Be^^, Carol Of The Bells%, Downward Facing Dog, Prestige Worldwide%%, Four > Buster
Encore: Father Christmas+, We're A Couple Of Misfits++
# LTP > 12/13/13
## LTP > 12/06/13
^ FTP > (original – al. song)
^^ FTP > (original – jim. song)
% LTP > 12/09/13
%% FTP > (original – rob. song – working title)
+ FTP > (cover – The Kinks)
++ LTP > 12/07/13