Annie in the Water, with their combination of reggae, rock, funk and jam, is an Albany-based band that originated as a duo with Mike Lashomb and Brad Hester in 2007. This past spring, the duo added three more members, which you can imagine has had significant impact on both the sound and the overall feel to their music. NYS Music spoke with founding member and lead guitarist Mike Lashomb about that change and what fans can expect going forward.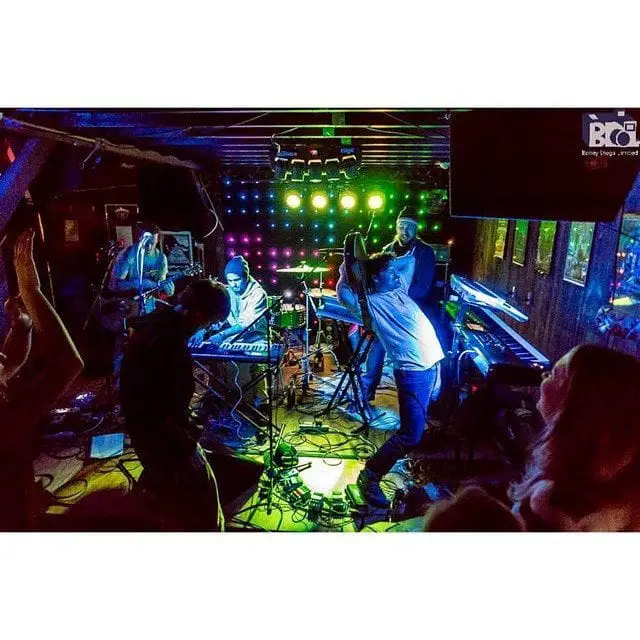 Erin Clary: Before it was just you and Brad, and now you've added two more members to Annie in the Water. What brought on the change and how did this happen?
Michael Lashomb: It's been an interesting learning experience. Brad and I started back in 2007. Back in 2011 we had a drummer play with us and he kind of just up and left when we were starting to get bigger and booking venues and stuff like that. So Brad and I started this looping, jam kind of style. As time went on, just trying to connect with the jam scene and we felt we were kind of in between all these different scenes and we didn't really connect the way we were hoping to with our style. So as time went on we understood there was definitely a progression that needed to happen. There needed to be some way that we could branch out and diversify our sound and also our personnel and people. We added our bass player, Lucas, three years ago and then we added piano player in the summer of 2014, Dillon. Having Lucas Singleton on bass really added a big low end kind of contribution with a lot of his style. Then Dillon on keys was this different kind of musician oriented but transient, experimental sound. So it was good to have Lucas who brought in a lot of specific playing and structure and Dillon who was outside of the box with his expression and style. And in that time, Brad would constantly update his looping with the four of those guys, having them on and off for shows. Then this past winter we knew we wanted to get a drummer involved and really up the jams so we could switch around grooves, time changes and cues. Josh West was finishing up with Lucid as they decided to tone down the touring and everything and it was just a natural…we met him at Nectar's as he was playing with his old band, Tar Iguana, and it was just a natural relationship that blossomed into a really cool band relationship. Kind of different evolutions and progressions brought us to now.
EC: Are there different challenges you find when switching from a duo to a full band?
ML: Definitely a change. Brad has pretty much grown musically and matured with me as his counterpoint. I had played in different fusion bands and different guitar bands since I was in 8th grade so when we added the full band together it was definitely a whole new experience for Brad. It's something that to this day he is totally changing and morphing in such an awesome, progressive way. So yeah there is definitely more personality which calls for more contribution artistically, personally and emotionally. It's different. We went from having only a few people on the stage to suddenly having a lot more room being filled up. Not only physical space, but sonic space and musical space. A lot of what we had to do too was rehearse as we played shows because we had all the prior engagements set up with Duo shows but moving out of one house, just a lot of different things off the stage we were dealing with. It has been a really interesting transition but a really positive transition because everyone is really open to communication and evolution for sure.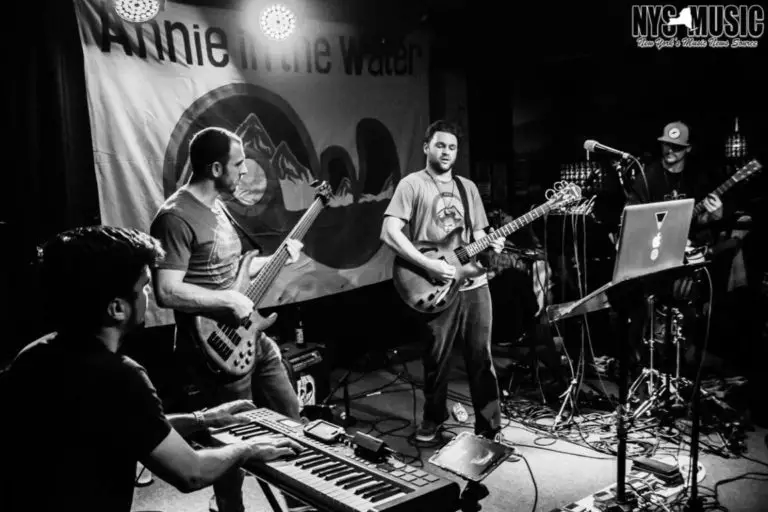 EC: So you're saying you weren't latching on to a niche?
ML: Yeah, it's hard to explain because there was a certain amount of people who are looking at what we're doing with the Annie in the Water Duo acoustic set, that we still play to this day, but we will have some people who really jive with that and think it's cool, the amount of sound we are able to produce with two people. It's fun! There's a certain element to having an absolute kind of experimental but also structured rhythm section. Having the rhythm section be human rather than having a syncopated beat box being looped for X number of measures for a certain amount of time. So Josh will change things up and everyone has been playing music for a long time and everyone has their own interpretation of when that happens. So we're always creating a different show. When we were the Duo we were always big on experimenting and never having a setlist. Now that we have a full band it kind of brings in a little bit more people who are down to dance. People with a groove looking for a pulsating kind of sound. That's kind of where we were in the middle of. We had that groove but we were missing the rhythm section. We would self-consciously catch people that normally would be like "oh these guys are really talented," and suddenly like "I'm dancing and I'm reacting to it." Then again we have people who like EDM and DJs who would go crazy for our looping stuff, but that's not necessarily what we wanted to accomplish. To this day it's an absolute trial and error to see who is reacting, how they're reacting and why they're reacting.
EC: What is the goal of Annie in the Water and what is success to you?
ML: It's tough to say that there's a finite point where it is success. I know that you aren't assuming that either. For us, we've already achieved certain levels of success personally and musically that we're really proud of. By having a certain ability to run as a functional business. So that was kind of our first goal. As that went on we had the goal of being a full live stage and live sound production whenever and wherever we were needed. In a long run, wider scope, our success is to just connect with as many people as possible on a human and spiritual level. I know that sounds heavy and I don't want to say egotistical, but it's pretty bold in that we feel that we have a responsibility to help in whatever way we can. If we can provide positive music to people than that's it. I think one of the biggest sources of success for us is the ability to continue being full time musicians, playing wherever. My personal goal is I'd love to headline and have our own show at Blossom Music Center in Cleveland, OH where I was born and raised. Yeah we'd love to headline a festival, that would definitely be a goal but we'd like to just contribute in the most unique way humanly possible. We want to just make whatever Annie in the Water is, an entity that promotes peace and positivity, and inspires people to do whatever they feel they are naturally good at and love and passionate about. So definitely multiple goals and ideas of success but if we can just keep on helping people and along the way while we're able to keep this boat floating than that's as much success as we could imagine and be grateful for.
EC: Are there other collaborations you'd like to put together for the future and can you reflect on favorites that may have happened recently?
ML: We've been having Jamie Armstrong from Lucid on the saxophone play with us. It's been a sit-in that we really enjoyed. He's been playing extended shows a handful of times. It's not necessarily a side project, he has kind of given us a "Hey mister, what's up?" and will be down to play a show. There's a lot of different ideas we have for side projects. It's kind of up in the air right now. We have our friend Garrett, this kid that we met at Dyken Pond. It was an absolute, random….he's not even playing in a band he's just living in New York City and he added this unbelievable style to what we're doing and we're having him play with us in New York City next week. He plays lead guitar. We kind of bounce back and forth. We had Gubb from Twiddle sit in for a show with us in Vermont. We've always talked about having a little jam session show in Vermont to keep our good friends there happy and dancing. It's really cool because we got into the jam scene only as of recently having other bands kind of become our friends which is a difficult thing for the first couple of years, just because we didn't really know what we were doing either. So now it's like the doors are kind of open to all these different friendships and creative expressions with other bands. It's exciting because all these other bands are really reaching out and playing with everyone. All we want to do is play with people and put in the frequency and energy that overall contributes to a beautiful experience. So we are open to whatever.
EC: Describe each band member in one sentence.
ML: OK this is fun…
Bradley Hester (Percussion, guitar, vocals, looping) – Hardest working musician and nicest human I've ever met.
Joshua West (Percussion, Drums) – A stoic little child who is so much fun to have behind the kit.
Lucas Singleton (Bass) – The dependable groove supplier and overall goof ball.
Dillon Goodfriend (Keys) – A pure musician and absolute music lover.
EC: And what about you?
ML: I'd like to say I just like to have fun when I play.
EC: Should we expect a new album out now that you're all together?
ML: Yeah. We're all looking at the overall picture and new music being recorded is absolutely on the radar and very important. What we're trying to do right now is make sure that we're choosing the songs that we have from our past that we're writing down and we're looking to write. We're trying to make sure that we're choosing what works best for the band. So the music will definitely become recorded but at this point we are getting everyone on the same page to decide how we want to move forward musically, personally and band wise. So the album is definitely in the works right now, we just have to decide the next step to make that happen that works best for everybody.
EC: You've made your homebase Albany.
ML: Yeah, we've been in Albany for four years but we haven't played in Albany as much because we've been pursuing different opportunities in different parts of the Northeast.
Trying to do a lot of different hubs and also play at different mountains because snowboarding is a huge part of our culture. It's been more or less that we're in the progression of making that happen so seeing us in Albany is going to be more frequent for sure.
EC: The October 13 show with Giant Panda Guerilla Dub Squad in Albany at The Hollow  should be a homecoming show with lots of friends and family I presume?
ML: That's going to be a really interesting show because we have a lot of friends from the Rochester area that have always talked up Giant Panda and I think vice versa. So this show is going to be the first time that we've actually ever met those guys. It's cool because whenever you play a show with the band for the first time there's a lot of learning and vibing of personalities. So when it comes to that night I would say wait for something interesting but until that night happens, that's when the magic starts.