Music might be business for some, but for others, it's a way of life. Lettuce is one of those bands where music is what you do, how you do, and why you do it. It's family and friends and everything in between. Simply put, music is life. The band hasn't gotten where they have been in their 20+ year run from stepping on others or chasing the next hit. Throughout their journey, it's always been about the music and its ever present bond created between them on so many levels.
This passion and love spills over on the stage, in the studio, and through all of their interactions. It's touching to see a band deservedly grow that embodies this spirit. In just over a year, the band has headlined Red Rocks (twice), released a new album (appropriately titled Crush), played to massive crowds, and hit other career peaks along the way. As the band packs up the bus to the hit the road on yet another tour, we got a chance to catch bassist, Erick "Jesus" Coomes, before a flight out to the east coast.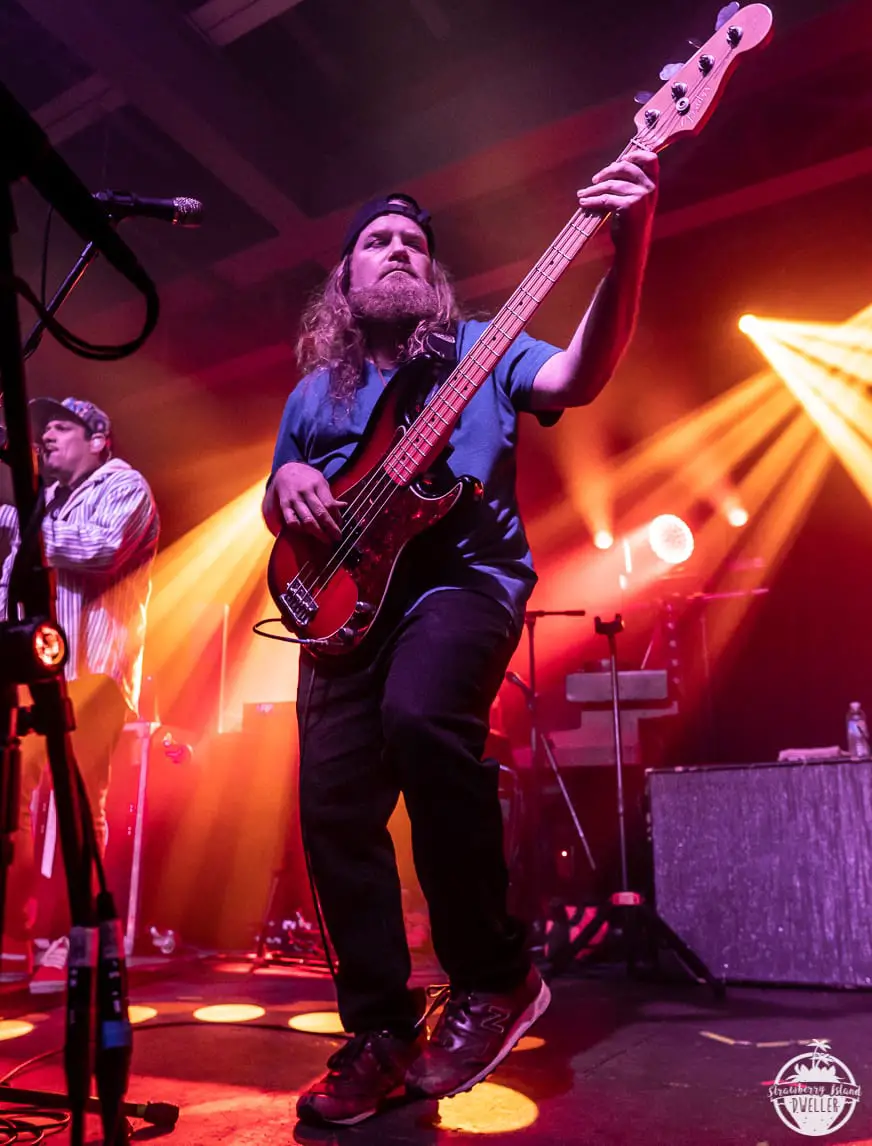 NYS Music: So you're getting ready to kick off the Sounds Like a Party Tour, which is jam-packed with dates and riding high on how well Crush has been received. How are you feeling?
Jesus: I'm so thankful – everything is great! I'm in Long Beach right now, but leaving tonight for the tour. I'm going to meet up with my best friends in the world to make some music. The first gig is in Connecticut at Toad's Place and a bunch of our original followers are there, so we're going to get some of that hometown love right away. I'm excited about all of this.
NYS Music: There was a mention of Nigel Hall joining you guys via the Lettuce Facebook page. Is he joining for select dates?

Jesus: He's coming for EV-ERY-THING bro. He's going to be crushing this whole tour!
NYS Music: That's amazing! I saw that Nigel has recently been playing some kind of synth onstage as opposed to just coming out for the lyrical songs. Tell me more about that and if we'll see it on the SLAP Tour.
Jesus: He's playing a Moog and a couple of other synths; he has a whole keyboard rig now. The thing is, we were having Nigel come on tour with us and he was literally sitting in the back for a long time until he got to sing a couple of songs. We're like, this guy plays his ASS off on keyboards. Why don't we set him up with a sick keyboard rig so he can play the whole show with us? We've been doing that for a few shows now and I can't tell you how much fun it's been!
NYS Music: On the topic of Nigel, has the band ever thought about including more of his vocals on an upcoming release?
Jesus: We definitely have and we want to do as much as we can with him. He'll definitely be a big part of the next album. We've always kept it somewhat instrumental, but at this point, we kind of want to do a whole EP or album with him singing every tune. At the same time, we really love instrumental music, including Nigel, so it's a hard balance but we want to explore that more on this tour.
NYS Music: Selfishly, I would just suggest recording a double album with one side all instrumentals and the other with vocals.
Jesus: Ohhhhhh….that's a great idea! I love that idea!
NYS Music: Along those same collaboration lines, Lettuce worked with Wu-Tang Clan for the 2013 Bonnaroo SuperJam [audio]. Your music certainly incorporates hip-hop into your flavor of funk. Have you guys ever thought about bringing in a hip-hop artist on an album to rap over an original tune?
Jesus: Oh yeah, definitely. There are some things in the works right now that I wish I could tell you more about. I've had that same thought as well. Listening to a tune like "Trillogy," I could totally hear Ghostface or somebody like that over it. I'd love to do a whole album like that called Lettuce Raps. I've had that thought for a long time – 10 years or so.
NYS Music: I feel like the hip-hop, jazz, and funk scenes are thankfully all starting to blend and collaborate in beautiful ways. What are your thoughts on that topic?
Jesus: I love it and just hearing you say that makes me so happy. I love what Kamasi Washington is doing, and my friend Josef Leimberg just dropped an album on Kamasi's label. I think I played bass on a couple of songs on that. And then there's my homie Thundercat just crushing the bass harder than anybody and being totally acknowledged for it. It just makes me so happy. Real music is becoming important again. We have some of the best music ever hitting the mainstream – I'm geeked out about it!
NYS Music: Changing gears, I watched the live-streamed Lettuce Lockn' set and have since listened to it again. I've never heard the band explore their songs like that before, taking more than half of the songs over the 10-minute mark. Are you guys going to continue to do that in pockets?
Jesus: 100% we are – just hearing your enthusiasm makes me so happy. We're on a good path and communicating really well right now. It allows us to take a jam and extend it without sacrificing quality. We're always coming from the heart and I'm really excited where we're taking it. I feel like the universe is putting us into the perfect place. It's much bigger than any of us and we're digging in. Music is such a deep art form. I don't know if we'll ever get to the bottom of it, but we're trying.
NYS Music: That's so good to hear! In terms of new ventures, Lettuce just released a new music video that is pretty exploratory both musically and conceptually. Can you talk a little bit about the process behind it and why you went the direction you did?
Jesus: It was really incredible. The band was so excited about Crush as an album that we wanted people to hear a lot of it at once. We did the one video for "Phyllis," but with this, we wanted to do a sneak peek of the whole album in a video format. I'm happy with the way it came out. We shot our parts and then the animators worked their butts off on the rest.
NYS Music: What are you excited about literally heading out shortly for this tour?
Jesus: The whole thing is so exciting, bro. I'm about to get on a bus with my best friends. Basically, I'm excited to see my homies and I just saw them all summer, every weekend. I'm so excited to hang out and make some smoothies. It's like when you're with your team, they make you better. When I'm with the guys in Lettuce, I'm a better person and I think we all make each other better. We live a healthy lifestyle and make great music every night. It'll be nice to get back into that flow of making great music together every night and then having great days together. I'm really excited about the whole thing to be honest.
This Thursday, September 22, Lettuce will take the stage at The Tralf in Buffalo, NY. Tickets are still available for purchased. Additionally, their new album Crush can be purchased via iTunes here.