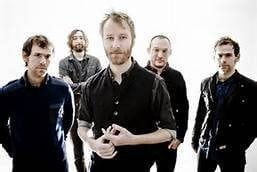 North Adams Mass sits in the nook of the Berkshires, a quaint college town known for its art, culture and its museums. Mass MOCA, (MOCA being short for Museum of Contemporary Art) hosts hundreds of displays as well as musical events. On June 11, The National was one of these and they made the museum theirs for the day.
Known for a melodic somber sound, The National, found a way to take this feel and turn it into a rock show with emotions and waves of feeling – a rare find with bands of this genre. By digging deep into their whole catalog, the audience never knew what to expect, a tactic that left us with a phenomenal feeling. Opening up with the Trouble Will Find Me hit, "Don't Swallow the Cap,'" the band knew they had the audience in their hands from the get go. After a few more rocking tunes the band slowed things down with the Grateful Dead classic, "Peggy-O," citing that even though the dead didn't write the song they still played it a lot so this is their homage to the Dead. This comes off the heels of the highly anticipated Day of the Dead – an album, four years in the making, featuring 59 tracks of Dead covers and over sixty artist.
They kept things slow for the next two songs and then they treated the crowd by playing three new songs in a row. This is most likely a preview for an album that may see light sometime next year. If at first you don't succeed, try, try again… and again. This was the case when the band dug into their catalog again to bust out "Slow Show." When they finally got it down, it was one of the highlights of the show. The passion that singer Matt Berninger sang with was second to none. These guys are rock stars.
"About Today," from the Cherry Tree EP, was a song that many wouldn't anticipate would be good live. It's a slow song which Berninger sings, slowly, almost a whisper " How close am I, to losing you?" What made the song that much more enjoyable was their ability to captivate an audience with a song that rightfully so can put you to sleep. They kept the energy going and closed out the set with "Fake Empire" off the Boxer LP this song left the crowd wanting more, and more is what they received. The National came out with a four song encore ending with High Violets "Vanderlye Crybaby Geeks," a sing along song during which the band played acoustic which was totally genius.
In a show rife with slow and sad songs, the band was able to keep the crowd at attention and not drifting off into oblivion.