Another sun sets for the annual Grey Fox Bluegrass Festival, which spanned July 14 through 17, 2016 in Oak Hill, NY. With a stellar lineup and not-too-ridiculous weather, there was music playing all day, everyday, all weekend. Ringing through the distance from the Main Stage, to small gatherings under pop-ups and RVs, there was music, and you were never quite sure if it was played from a record, the radio, or between musician attendees.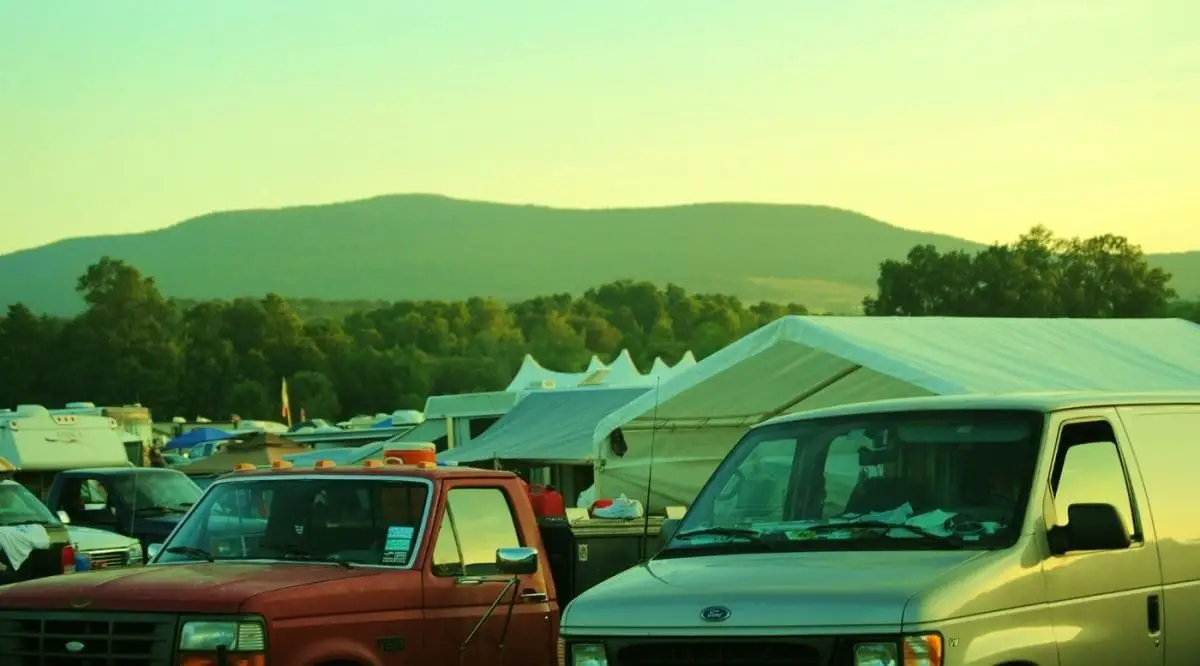 Thursday
Hovering for camp site real estate, Grey Fox attendees loaded in as early as Tuesday to Walsh Farm. Even on Thursday, the first official day of live music, there was no space left in all the camping areas, and people already commenced their festivities and jamming. Since most notable Grey Fox artists didn't play until the late afternoon, and played two sets at that, most attendees set up sites, got their bearings, and settled into the weekend. Guests ranged from large packs of young adults to groups of families to solo travelers, and everyone made an effort to make their campsites waterproof and visually appealing. There were stations on the walk to and from camp, featuring board games, a jam tent, and even a pop-up tent bar. Before long, the area was a small city of people, all welcoming and eager to hear some fine bluegrass.
After making several laps around the area, with food and drinks in hand, the music kicked off at Main Stage with Compton & Newberry, Band of Ruhks, and Ithaca-based group The Horse Flies. As the sun made its descent for the first festival day, The Horse Flies kept the rhythm moving for festival dancers, which made a nice transition into Steep Canyon Rangers shortly after, with blood-curdling fiddle playing by Ranger Nikki Sanders. This set was particularly percussive as well, which polyrhythmic syncopation on the mandolin, and every member joining in on the drum kit at one point in their set. Their set list included songs spanning the early 2000's to today, featuring "Stand and Deliver", "Whiskey in the Afternoon", and "Radio." It was the Wood Brothers who closed out the Main Stage Thursday night, featuring three powerhouse musicians, Jano Rix and brothers Chris and Oliver Wood. Some of their songs included "What the Devil" and "I Got Loaded" from arguably their best record to date, entitled The Muse. The crowd was lively and relatively tame for a music festival crowd, but people were certainly conserving energy to enjoy the great music that was still to come.
Friday
For most campers that inhabited ares with families, the start of each day was about 8 a.m., when some of Grey Fox's younger fans woke everybody up for breakfast. Despite ongoing fear of thunder, the weather was relatively smooth Thursday night into Friday, and the sun was harshly shining by the time the music kicked off for the day. First off was Charm City Junction, despite it being the time slot for the Lonely Heartstring Band on the schedule. Never the less, they brought an Irish flavor to Grey Fox with songs like "Train on the Island" and "I've Got a Woman," with some additional jazz improvisation in the tune "Greasy Coat." As part of their set, they dove off into a brief history lesson, relating traditional Irish music to the creation of old time music, eventually forming its way into bluegrass.
Just as Irish traditional music evolved to bluegrass, Charm City Junction evolved the stage for Pennsylvania-born trio The Stray Birds shortly after. Bringing an element of twang and hollering to the Grey Fox crowd, their music featured tight vocal harmonies, a switch-off of instruments, and an energy that won over the crowd. Along with their latest single release "Sabrina," the band played the title track from their 2014 album Best Medicine, which features the lyrics music is the best medicine I sell.
As the day progressed, more shows seem to pop up all over the main area of Grey Fox. The Grass Roots Stage had workshops on songwriting and vocal lessons, and the Slow Jam offered lessons for beginners in fiddle, mandolin, guitar and banjo. The Creekside Stage hosted a few bands for a second show following their Main Stage visit, one of which was Mollie O'Brien & Rich Moore. With a powerhouse vocalist and cool bluesy guitarist, not to mention a husband and wife power duo, Mollie and Rich won over the hearts of their listeners with their spontaneous personalities and musical chemistry. It was from there many attendees flocked over to the Catskill Stage to witness Trout Steak Revival. They payed tribute to the festival's sponsor beer (and creator of the amazing Summerfest Crisp Lager), Sierra Nevada, and played their song with the same name off of their 2015 album Brighter Every Day. Along with playing the title track to the album and a song about pie, they seemed to take a progressive bluegrass (is that a thing yet?) kind of direction for their last song, leaving Grey Fox on a different note, and setting the stage for the Dave Grisman Bluegrass Experience, which had some fire-like mandolin playing to heat up the gathering crowd. As the night progressed, many worked their way back up the hill to Main Stage to see the Del McCoury Band at 9pm. The Main Stage was flooded with hula hoopers, campers, and dancers as Del McCoury entertained the audience with crude humor and creative musicianship. They played "Rain and Snow," "Fire On the Mountain," and "Cornbread and Creekwater," before Del McCoury opened up the floor for requests for the rest of the night, and was completely blown away by his crowd response. As campers made their way back to camp, Matuto filled the air with their non-conventional bluegrass songs, featuring elements of rock and world music as a backdrop for the night's close.
Saturday
After two separate attempts, it was Saturday at 1pm that devoted fans had the chance to see the Lonely Heartstring Band play their set at the Catskill Stage. After their recent release of Deep Waters in June 2016, they played a selection of new songs, including the title track "Deep Waters" and "The Tide." As children ran around the crowds and their set drew to a close, they also covered the Bob Dylan classic "Rambling, Gambling Willie," which brought every audience member to their feet to clap along. Moving towards Main Stage to see Mr. Sun, a crowd was already actively engaged in 24-year-old songwriter Sierra Hull. She hosted one of many power trios throughout Grey Fox featuring guitarist Justin Moses and bassist Ethan Jodziewicz, who remained on stage for Mr. Sun at 3pm. Featuring jazzy interludes, funk bass rhythms, and a variety of catchy tunes, Mr. Sun certainly won over audience members who may not have known them before.
All throughout Saturday, dozens of mandolin and banjo players graced the Grey Fox stage to showcase their plucking speeds and artistic flare, but it wasn't until Saturday night that attendees finally saw the pros. Making his first Grey Fox appearance of the year, Béla Fleck joined in with Sierra Hull for an unforgettable set of intense solos. Sierra Hull shattered any preconceived notion of what bluegrass should look and sound like, and folks of all ages were grateful to see her perform alongside banjo extraordinaire Béla Fleck. After one of Della Mae's larger sets, Chris Tile joined Béla Fleck on stage with no backing band to deliver one of the most notable performances of Grey Fox. Their set traveled through time, from Scarletti's Sonata in C Major K. 159 to the Punch Brothers hit "No Concern of Yours." For each new song they played, the more attention to dynamics they gave. At several times throughout their set, the hundreds that gathered to watch fell silent only to hear the delicacy of their playing. They were able to harmonize, imitate multiple instruments and their respective ones, and carry an entire set for themselves without anyone ever leaving the area. There's something about bluegrass that brings you to a better understanding of music theory, improvisation, and song structure, and it's beyond apparent in these two musicians. As Saturday night came to a close, Donna the Buffalo lead the last hurrah in the Catskill Stage, giving Grey Fox guests one more night of dancing before heading home the following day.
Sunday
Despite the massive rush leading up to the festival, many people didn't stay too long on Sunday, making the barren lands of Walsh Farm seem endless in distance from where campsites still remained. For a relatively quick set, Della Mae closed out Grey Fox as people got their last fill of food and dancing. It wasn't long before distant travelers had to pack up for the weekend and ship back home, but each attendee walked away with some good memories, extra snacks, and if they were lucky, a new instrument, courtesy of Grey Fox's weekend-long raffle.
Grey Fox has surely delivered another great year this year, with an amazing lineup and a group that you can't find at other festivals. The hospitality and incredible musicianship of every Grey Fox attendee is overwhelming, and fans of all walks of life can find a home in Walsh Farm. If you're looking to join in next year, follow Grey Fox's Facebook page and website.