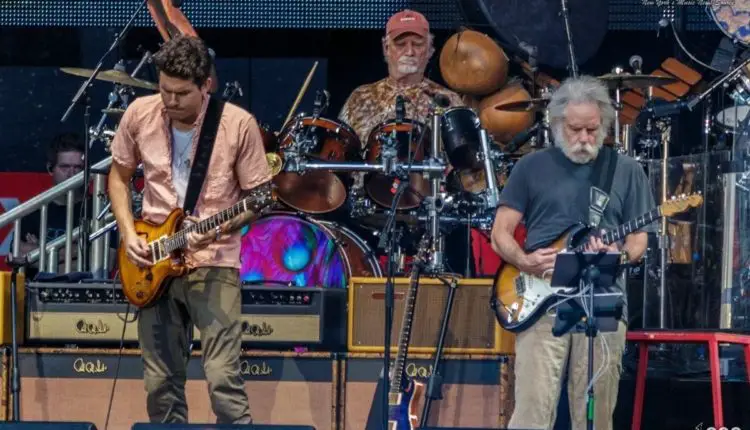 Dead and Company returned to New York City having first visited Madison Square Garden this past fall. Their two-night run at Citi Field was met with excellent weather, some cool breezes, the return of Donna Jean Godcheaux to the microphone, and a chance for Oteil Burbridge to sing a chorus of "Going Down The Road Feeling Bad." The band had previously in this tour made many song debuts not heard in the fall tour, though they broke out "Throwing Stones" for the first time.
Dead and Company's two shows at Citi Field had some more energy than their other appearance in New York at Saratoga Performing Arts Center a week prior, though to be fair to SPAC the crowd was much bigger as was the venue. Almost a year after Mayer experienced Fare The Well from the audience, he continued his Dead and Company trend to impress Dead Heads with his growing adaptability to the Grateful Dead format and style. To the New York City crowd, Mayer's guitar and vocal work flowed even better than at their October/November 2015 shows at Madison Square Garden.
Check out NYS Music's gallery from the June 25 show below the setlists.
June 25: (listen on archive.org)
Set 1:
Shakedown Street*, Jack Straw, Althea, Loose Lucy*, Ramble On Rose, Sugaree*, Passenger*, Casey Jones
Set 2:
Dark Star, Friend of the Devil*, Scarlet Begonias* -> Fire on the Mountain* -> Drums# -> Space -> The Other One -> Wharf Rat -> Throwing Stones+
Encore:
Ripple, One More Saturday Night
June 26: (listen on archive.org)
Set 1:
St. Stephen, The Music Never Stopped*, Bertha*, Black-Throated Wind, Peggy-O, Box of Rain, Going Down the Road Feelin' Bad*
Set 2:
Truckin' -> He's Gone*, Help on the Way* -> Slipknot! -> Franklin's Tower* -> Drums -> Space -> Days Between, China Cat Sunflower -> I Know You Rider*
Encore:
Samson and Delilah*
Notes:
*With Donna Jean Godcheaux
#Oteil Burbidge on marimba
+Dead and Company debut
[FinalTilesGallery id='844′]