When Melissa Etheridge took the stage at the Paramount Hudson Valley, her presence was immediate as the sold-out theater greeted her with a standing ovation at her first notes. As she appeared from the shadow behind her wall of guitars adorning the stage it was apparent that she was just as excited to be there as the audience was.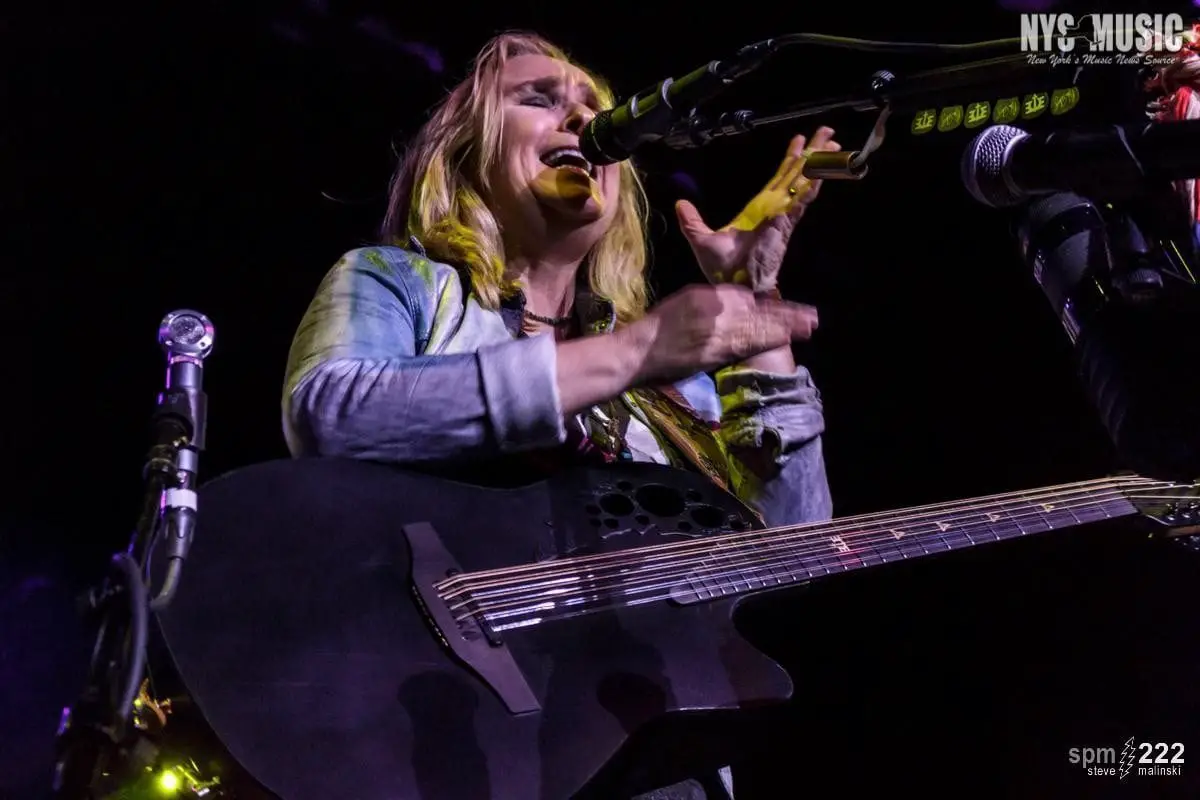 For a solid two hours, Etheridge presented a dynamic set (with no break) complete with both delicate moments and high-energy songs. Although the show was a solo act, her two hour set wasn't just a singer with a guitar. Using loop effects and some percussion she backed herself up with more than just a guitar. At one time, she played a game of guitar roulette – looping a few background percussion and rhythm lines as she contemplated which of her ten guitars to pick next to play a bit of the lead part.
With a few words shared between songs, she took particular attention – honest attention – to the surrounding Peekskill community citing the art that she took in earlier in the day. Particularly stunning to the audience was her lead into "Silent Legacy" where she picked up the bass behind her and introduced it as the bass guitar she had bought just that day from Division Street Guitars (a small shop just around the corner from the Paramount) which is a permanent addition to her collection and is appearing with her elsewhere on tour.
Etheridge's setlist included many of her chart-topping songs and a few off her latest album This Is M.E. A few came in as requests including "Ready to Love" on piano which had never been recorded and only performed a few times. Two other highlights included the swampy tune "Stranger Road" played on her resonator and "Chrome Plated Heart" played on the candy blue guitar she called "Trouble" which included a lot of looping and soloing.
Etheridge responded to the Orlando shootings which occured just days prior in the way she knew how buy writing, recording, and releasing a brand new song, "Pulse," just two days later. Three days after the song was received by the public, Etheridge paused near the middle of her set to reflect about it and the song before performing it for one of the first times live. It was just as emotional for Etheridge as is was for some of the audience who held up signs supporting the song (a surprise to her).
Etheridge brought a driving close to her set with a one song encore, building out a complete jam on the beautiful white 12-string Ovation. The ascending chord lines in the jam kept the audience wanting more each time, but sadly a show has to conclude at some point.
Setlist: Ain't It Heavy, If I Only Wanted To, Silent Legacy, I Want to Come Over, Ready to Love, Pulse, Come to My Window, Stranger Road, The Weakness in Me, Chrome Plated Heart, I'm the Only One, Bring Me Some Water
Encore: Like the Way I Do