Trapped in time and don't know what to do about scoring that next only-found-on-lot shirt to add to the collection? Relax, and seek out a PhanArt show coming to a tour near you this summer, including debuts in San Francisco, California and the Green Mountain State. If you're heading west to see the Phish from Vermont's two-day Bill Graham arena run, stop by the aptly dubbed San PhranArt Show on Tues., July 19 at Mezzanine in San Francisco. And later on this month, PhanArt will host A Country Crisp Sunlight on July 30 at Club Metronome in Burlington, VT, as part of Twiddle's Tumble Down festival.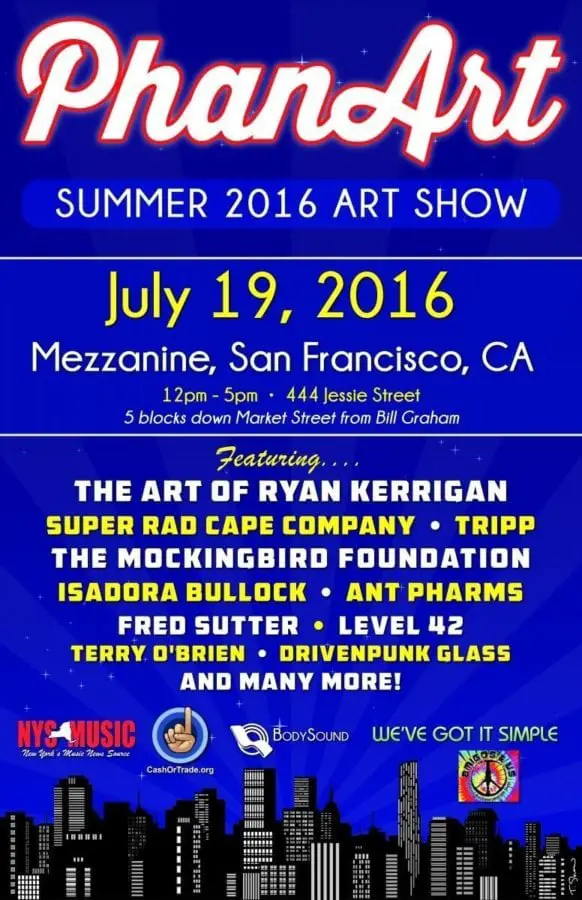 The San PhranArt Show will feature Phish-inspired merchandise from more than 20 artists and vendors. Think a one-stop shop for all things music: special edition tour shirts, posters, pins, stickers, photography, Henrietta's Secret bikinis and more in one location. Hand-selected for this exhibition are artisans like Ryan Kerrigan, Super Rad Cape Co., TRiPPs Prints, Isadora Bullock, Ant Pharms Tour Pins and Designs, Fred Sutter, Level 42, Drivenpunk Glass and Terry O'Brien. The Mockingbird Foundation will also be on hand selling The Phish Companion 3. And stick around for the Pink Talking Phish after-party at Mezzanine from 10 p.m. to 2 a.m. with Will Magid's Alligator Spacewalk.
PhanArt's A Country Crisp Sunlight at Club Metronome coincides with Twiddle's Tumble Down, a weekend music experience at the Waterfront Park in Burlington. This showcase will feature some of the finest fan-based creations from White Light Foundation, the Phactory, the Shakedown Shop, Burns Designs Art by Joshua Letourneau, Pin Me Down, YEMshades, Dirty Birdz Goods, JEMagination, Sneaky Pig Productions, the Eden's Rose Foundation and Greg Horowitz Photography. Holly Bowling will provide the soundtrack for the day — Grateful Dead and Phish piano interpretations — with a noon performance at the historic Nectar's, which is located below the art-show venue.
Since 2013, PhanArt exhibitions have been hosted in Atlantic City, Chicago, Las Vegas, Miami and Philadelphia, and the events, produced by Pete Mason of PhanArt and NYS Music, continue to promote unique artisan goods, while strengthening the music community and raising funds for charitable arts causes. And as always, PhanArt shows are free to the public, and both upcoming exhibits will be held from 12 to 5 p.m.