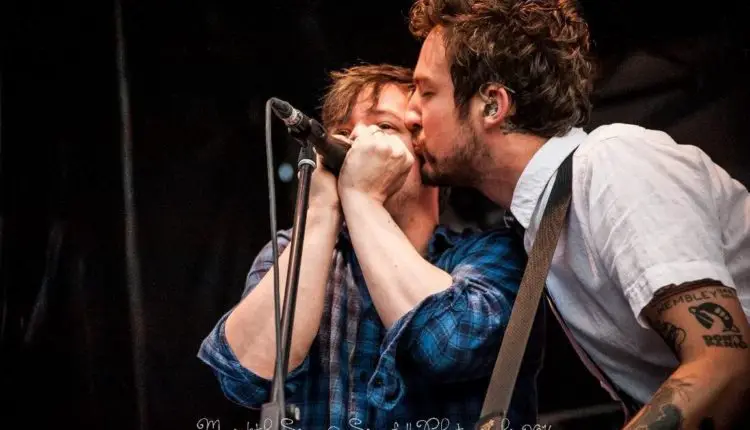 Fans couldn't have asked for a more beautiful day at Canalside in Buffalo on June 16. Canalside hosts free concerts every Thursday evening, and they bring some big-name acts to town. And this night was no exception, as event-goers had the honor of seeing Frank Turner and July Talk on the same bill.
Uncle Ben's Remedy was the chosen show opener; this group has been making a name for themselves around town, whether it's winning voting-based competitions or playing for fundraisers. UBR got the crowd engaged and started a good ole fashioned hoedown. While most of their lyrics may be slightly shallow and not have much depth to them, the enthusiasm the band gives off is contagious.
July Talk has built their band on contrasts. Case in point: their sound blends the raspy, alpha-male roar of Peter Dreimanis' vocals that graze the honeyed sounds of Leah Fay. During the show, Fay appeared onstage with a plastic red tray that was full of cannolis; she was gracious enough to hand some to the photographers, then proceeded to throw a few into the crowd. Any hesitation that may have been felt about July Talk's live show appeared halfway through the set. Their radio hits "Guns + Ammunition" and "Summer Dress" was played with much intensity, but then they seemed to lose their enthusiasm when it came to the lesser-known songs like "Blood and Honey."
Frank Turner and the Sleeping Souls are quite the crowd pleasers. There was no pause, no downbeat, no breather in any moment of the show. A 22-song setlist blew by like the steamy yet refreshing breeze that precedes a train, as it rushes toward the station — in all the right ways, in this case. The audience was fully engaged, and almost everyone in the room knew the words to every song. Turner's banter was expeditious and friendly. He demands your attention and demands that everyone be nice to each other and treat each other with respect; he stressed it even more given the recent tragic events in Orlando. The vast majority of the floor had hands high, clapping or first-pumping, and bodies moving the entire time.
[FinalTilesGallery id='831′]