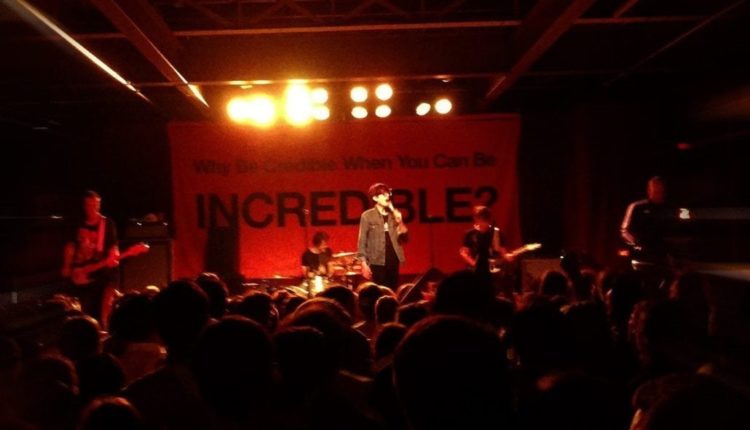 Let's travel back a bit to a small distinctive rock club, a mainstay on the scene hosting some of the most vibrant sounds of its time and place. CBGB's in the '70s? No, not quite that far back, and to the north and west. We're talking about the Bug Jar in Rochester circa 2010. Bands like Joywave, KOPPS, Maybird and Makyo Star were playing its stage regularly, drawing larger and larger crowds. These bands cut their teeth inside the club's wavy walls, and still can be seen there from time to time. But they're each breaking through in their own way, and they showed how and why in a big local gone express show at Anthology on June 18.
The show opened with Maybird — the brainchild of longtime Rochester music scene mainstay Josh Netsky. The band made the move down to Brooklyn last year, after which they signed with Danger Mouse's 30th Century Records and caught the ears of NPR music guru and tastemaker Bob Boilen. Their first EP on the new label, Turning Into Water, was released earlier this year, and they're hard at work on a full length. Their psychedelic-tinged set featured the unique overhand guitar approach of Sam Snyder and the multi-talented Kurt Johnson on pedal steel, sitar and guitar. In a set featuring powerful performances of "Turning Into Water," "Call You Mine" and "Maybird," the real hero was the songwriting prowess of Netsky.
Next up was KOPPS. The quartet out of Rochester has moved on from their electronic keyboard-heavy beginnings into a power-rock trio with wheels. Frontwoman Patricia Patron (the double PP of KOPPS) got this train moving with a full head of steam, and urged the crowd to get aboard. At this point, Anthology was feeling like a Bikram yoga studio. It was hot outside and much hotter inside, but KOPPS didn't let that interfere with their plans to get it even hotter — heat is their currency. Continually coordinated dance moves by bassist Kyle O'Hara (the KO of KOPPS) and guitarist Travis Johansen flanked Patron's energetic gyrations. You wanted to move to the music, but you couldn't take your eyes off of the movements on the stage. They blasted through a few new tunes like "Baby, I'm Dead Inside," "Get Juicy" and "Lose Control" with promises of new recordings on the way. With the ear and favor already of Howard Stern, and an infectious groove that can move the masses, what's next could launch this group skyward.
Transviolet is not exactly a Rochester band, and this was in fact their first gig in the Flour City, but they're not not a local band either. Three of the four members hail from Rochester, and two of them played together in the aforementioned Makyo Star. They're currently based in Los Angeles, signed to Columbia, and quickly on the rise. Lead singer Sarah McTaggart has one of those made-to-be-a-pop-star voices that pull you in as soon as the sound hits. It was '80s pop renewed and refreshed without being rehashed. Their first single, "New Bohemia," added ethereal and catchy nuances that lifted it above the fray; it was an angelic oasis of sound in the overheated club.
Closing out the big night, Joywave, the band who asks, "Why Be Credible When You Can Be INCREDIBLE?," finally took the stage to huge roars from the crowd. The lights, which had stagnated into a bluish purple for the evening, fired up to orange, the volume turned up, the bass thumped and the band bounced on stage. "Bug Jar, my how you've grown, this… is Joywave!" announced frontman Daniel Armbuster.
Combining the songwriting of Maybird, the infectious energy of KOPPS and the pop finesse of Transviolet, Joywave is the full package. Even though they've exploded past the confinement of their hometown music scene, they haven't left their roots behind — rather they've held on tight and seem determined to pull up as much as they can with them. This is evidenced not only in inviting their friends to the big stage with them here, but in sponsoring a local Little League team (complete with game updates on their Facebook page), creating a special coffee blend available for their favorite local cafe and any other number of connections they've sustained with their hometown.
Their set relied mostly on their latest How Do You Feel Now? with hits like "Something New," "Tongues" and a "Nice House" that had the whole crowd screaming along. They worked in a new song, and promised that a trip to the studio was in the works for later this year, which also means it was one of their last live gigs for 2016. After 187 days on the road in 2014, and 200 days on the road in 2015 (to places like Coachella, Lollapalooza and Europe), it will be a well-deserved break. Rochester will be happy to have them back for a little while.
Flash forward now to a not-all-that-distant future; Joywave, Transviolet, KOPPS and Maybird are again on the same stage together. This time at the Rochester Music Hall of Fame induction ceremony where all four groups are being honored for their highly successful and influential careers that harken back to their humble beginnings at the Bug Jar — and that show at Anthology, just before they all "made it."