After almost immediately selling out one show at Madison Square Garden, the voice of Pink Floyd added a second night, and with the ticket demand still high, added a third night at Radio City Music Hall last month. David Gilmour recently concluded the North American portion of his Rattle That Lock world tour at the two famous NYC concert venues, and the rock legend mesmerized audience members fortunate enough to score tickets for one, two or even all three nights with his iconic guitar work. Photos by Carl Scheffel/MSG Photos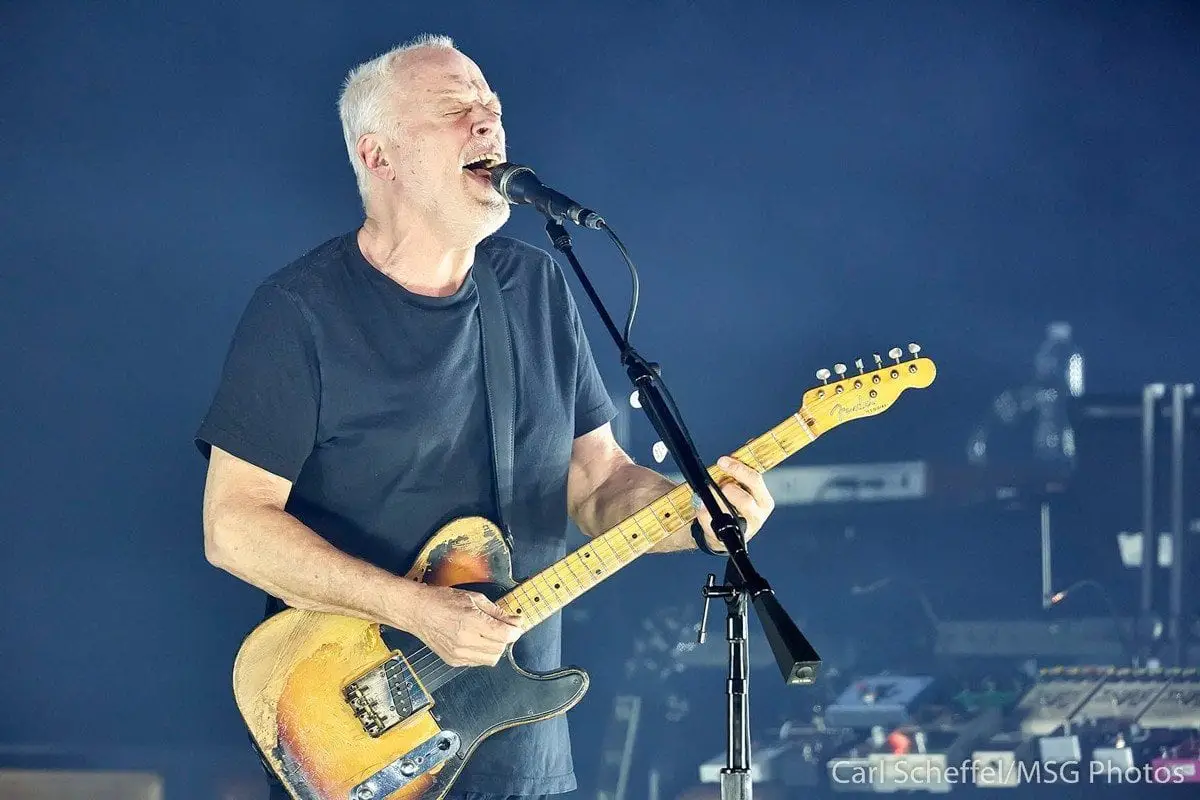 Gilmour's NYC run began at Radio City on April 10 with many ticket holders still in line outside on 50th St. as he struck the first notes of "5 A.M." Aside from this minor setback, the experience of this performance was quite special. The acoustics in the 6,000-seat music hall created a big, clean sound that washed over and enveloped every seat. Rather than a typical concert feel, the  aesthetics of this performance made it seem like Gilmour was playing an intimate home living room show.
On the other hand, the arena setting of Madison Square Garden created a larger-than-life rock concert atmosphere for Gilmour's performance. Not as cozy of a setting as Radio City, the crowd feel was looser and livelier. If we were to compare the two venues for an act such as Foo Fighters, MSG would likely claim the title for best event. However, the experience of Radio City was unsurpassed for seeing such a legend as Gilmour.
The set list for all three shows remained the same, save for a swap of "On An Island" and "The Girl in the Yellow Dress" during the second set. While it would have been interesting to hear more variety between each night, there were no complaints in having more opportunities to absorb the solos on "High Hopes" and "Comfortably Numb," just to name a few. Gilmour's overall selection of songs covered a palatable range of Pink Floyd classics and his 2006 and 2015 solo releases.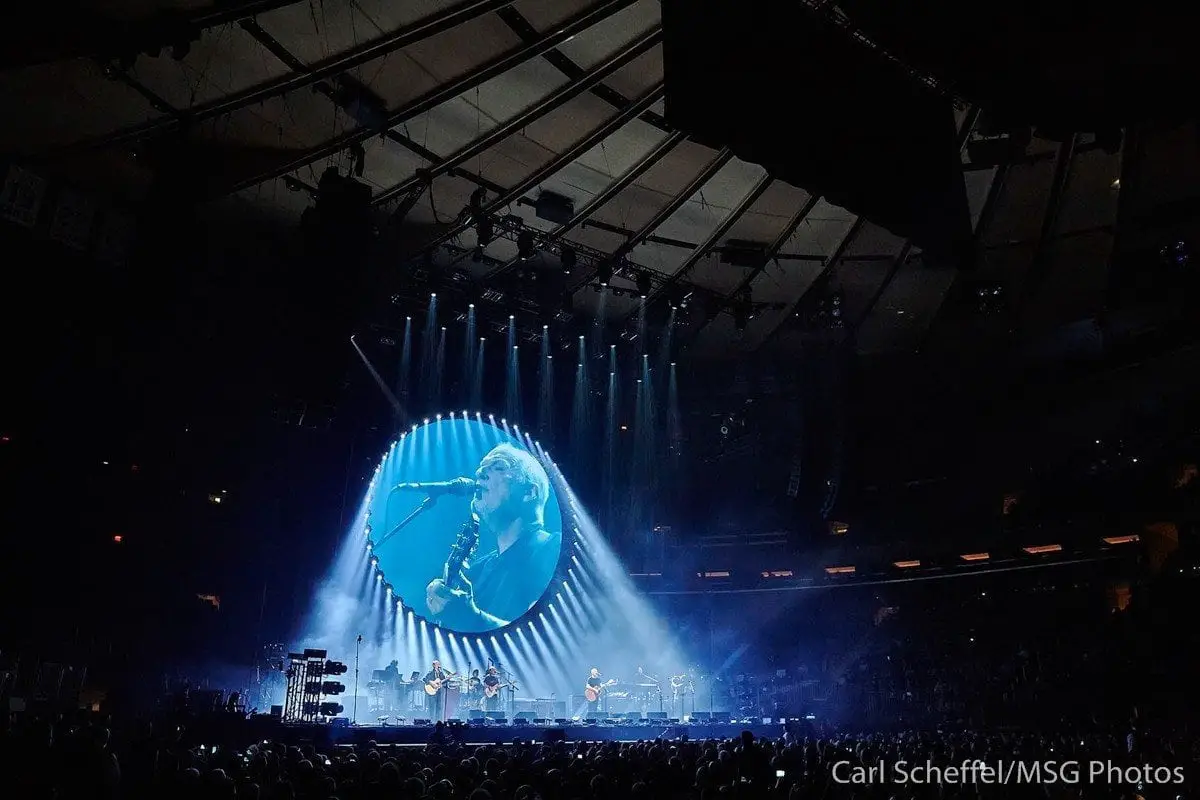 Before claiming disgruntlement for the sets not including more Pink Floyd staples, it's important to remember that these weren't Pink Floyd shows, as some MSG concert-goers expected. The new songs appearing on Gilmour's Rattle That Lock were met with mixed paces of acceptance (typical for an artist's first live performance of new material), but for the dedicated Gilmour/Pink Floyd fans, his shows hit the mark and lived up to expectations.
The fundamental anticipations of Gilmour's NYC run were his extraordinary guitar work, performed on his Workmate (1955 Fender Esquire), The Black Strat (1969 Fender Stratocaster) and his Jedson lap steel, among others. Whenever the cue came that Gilmour was about to break into his solo, cheers erupted before he even started. Particularly during "High Hopes," the audience melted into their seats as Gilmour backed away from the front of the stage to take a seat at his lap steel. Gilmour's big intro on "Sorrow" knocked everyone back as it inflated Radio City's art deco ceiling and shook some dust from MSG's recently renovated canopy. The only disappointment was that "Comfortably Numb" did not last all night.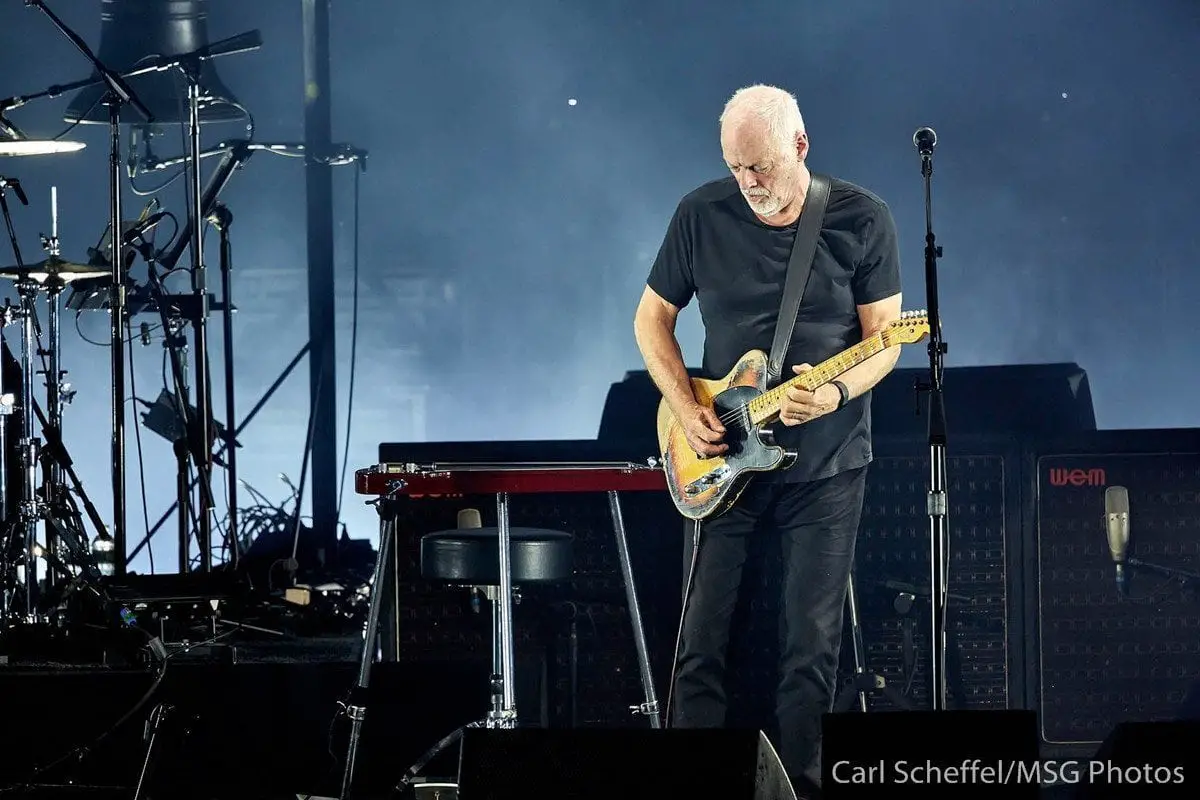 Joining Gilmour on this tour were many of the musicians who recorded on Rattle That Lock and some who have performed with him on previous tours, including the final Pink Floyd tour. To his right, the Roxy Music alumnus and renowned writer/producer Phil Manzanara complemented Gilmour's guitar lines. Also joining Gilmour were Jon Carin and Kevin McAlea (keys), Steve DiStanislao (drums), João de Macedo Mello (saxes), Guy Pratt (bass) and Bryan Chambers, Louise Marshall and Lucy Jules (backing vocals). Although Gilmour remained in the spotlight, members from his tight-knit backing band occasionally took the lead or shared part in vocals Chambers' memorable lead in the chorus of "In Any Tongue."
On the visual front, lighting designer Marc Brickman and his crew nicely balanced painting a canvas behind the songs without over-dramatizing, and threw in a few clever chases from the lights around the moon screen that played on its geometry. Though the stage took a very similar form to Pink Floyd's The Division Bell tour in 1994, it fit well for Gilmour's solo performance.
If Gilmour's shows were entirely about his guitar work, it wouldn't be the mark of a well-rounded performance. Several moments throughout the show made it wholesome in that regard. The simple guitar duet "Wish You Were Here" solicited a 6,000- and 18,000-person sing-along (heard all the way down in the Financial District) that joined the audience together early in the set. "Money" took a funky turn after de Macedo Mello's roaring sax solo as Gilmour doodled over his rhythm section, ending the song in full energy. The driving performances of "Astronomy Dominé" and the vocal call-and-response of Gilmour and Pratt on "Run Like Hell" breathed life into the second set, and also nicely bookended the set with two distinct periods in Pink Floyd history.
MSG may have been particularly subdued for the jazz-driven "The Girl in the Yellow Dress," but the change in pace showed a songwriting side of Gilmour not seen before and gave de Macedo Mello an opportunity to show his chops in a more conventional setting. On a more serious subject, some found themselves transfixed on the animated video set to "In Any Tongue," a very powerful and personal song resonating with those affected by recent wars. With so many moments speaking louder than words, we'll have to wait for a DVD of one of his tour stops to be released to speak for itself (though video of another venue cannot enumerate the experience precipitated by Madison Square Garden and Radio City).
While this will likely be Gilmour's last big tour as hinted in his Rolling Stone interview last year, it hopefully won't be the last the U.S. will see of him. After cheers of "David! David!" following "Comfortably Numb" on his final night at MSG, Gilmour concluded his thank-yous with, "we'll see you again one of these days." With Roger Waters performing The Wall at Yankee Stadium in 2013 and Gilmour's three nights in NYC in 2016, many bucket lists for younger Pink Floyd fans now have a few more checkmarks. Regardless of whether or not Gilmour will again gift stages here in New York with his presence, these three nights will be remembered forever.
Gilmour continues his Rattle That Lock tour in Europe, including two nights on July 7 and 8 at the Pompeii Roman Amphitheatre, where Pink Floyd's Live at Pompeii was recorded, and several evenings at The Royal Albert Hall, London, in September.
Set 1: 5 A.M., Rattle That Lock, Faces of Stone, Wish You Were Here, What Do You Want From Me, A Boat Lies Waiting, The Blue, Money, Us and Them, In Any Tongue, High Hopes
Set 2: Astronomy Dominé, Shine On You Crazy Diamond, Fat Old Sun, Coming Back To Life, On An Island*/The Girl In The Yellow Dress**, Today, Sorrow, Run Like Hell
Encore: Time->Breathe (Reprise), Comfortably Numb
*Radio City Music Hall only
**Madison Square Garden only