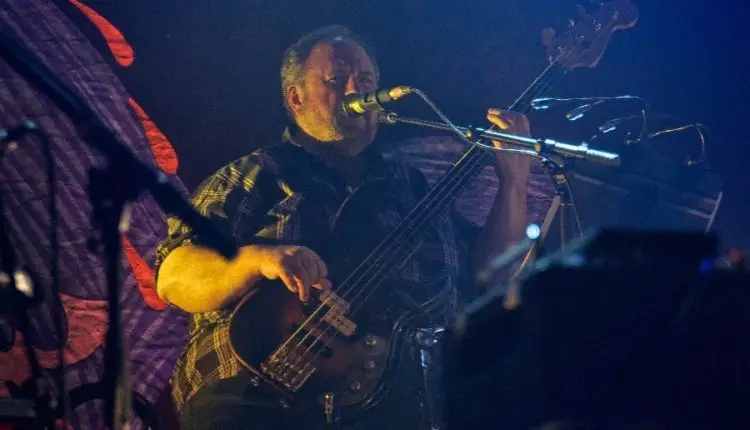 Bassist Tony Markellis keeps himself quite busy when he is not touring with the Trey Anastasio Band. He is scheduled to play a number of shows throughout New York and nearby this spring.
Markellis, of Saratoga Springs, recently joined Floodwood, the bluegrass side project of moe.'s Vinnie D'Amico. He'll join them at many shows throughout New York, starting this week. He also plays with a variety of other musicians in the area and can be seen throughout New York, primarily in the Capital Region.
He joins Grateful Dead tribute band Dead Set on May 20 at the Westcott in Syracuse. He will also be at Summer Camp Music Festival with Floodwood. His full set of dates can be seen below.
Tony Markellis spring dates:
Thursday 4/28 – Floodwood – Nectar's, Burlington, VT
Friday 4/29 – Floodwood – The Hollow, Albany, NY
Saturday 4/30 – Floodwood – Garcia's, Port Chester, NY
Sunday 5/1 – Caffè Lena Folkathon Benefit with Jo Henley (3:30 p.m.), Michael Jerling (7:45 p.m.), New Standard (8:30 p.m.) – Saratoga Springs, NY
Thursday 5/12 – Floodwood – NaNola, Malta, NY (9 p.m.)
Friday 5/13 – Melick, Maul & Markellis – First Reformed Church, Selkirk, NY
Saturday 5/14 – Jeanne O'Connor and the New Standard – One Caroline, Saratoga Springs, NY (9 p.m.)
Wednesday 5/18 – Michael Jerling – Mouzon House, Saratoga Springs, NY (7 p.m.)
Thursday 5/19 – Floodwood – Abilene, Rochester, NY (9 p.m.)
Friday 5/20 – Dead Set – Westcott, Syracuse, NY
Saturday 5/21 – Jay Barady & Nick Piccinnini – Oneonta Theater, Oneonta, NY
Wednesday 5/25 – Jo Henley Trio – Mouzon House, Saratoga Springs, NY (7 p.m.)
Thurs-Sun 5/26-29 – Floodwood – Summer Camp Festival, Chillicothe, IL
Wednesday 6/1 – Jeanne O'Connor Trio – Mouzon House, Saratoga Springs, NY (7 p.m.)
Thursday 6/2 – Floodwood – Outer Space, Hamden, CT
Friday 6/3 –Floodwood – Smoke Signals, Lake Placid, NY
Saturday 6/4 – Floodwood – Taste of Syracuse, Syracuse, NY (7 p.m.)
Wednesday 6/8 – Bob Warren – Little Theater on the Farm, Ft. Edward, NY
Thursday 6/9 – Floodwood – NaNola, Malta, NY (9 p.m.)