Hardcore metal fans were out in force this past week in upstate New York. On April 15, 2016 Killswitch Engage rolled into the Magic City Music Hall in Binghamton, along with guests Toothgrinder, Memphis May Fire and 36 Crazy Fists.
Fists were pumping, bodies were slamming, moshing and surfing and all horns were thrown in full fledged tribute to heavy metal with a packed house of well over 1000 fans in attendance. Toothgrinder from Asbury Park, NJ started the night off at 7:30 followed by Anchorage, Alaska based metal legends 36 Crazy Fists and finally Memphis May Fire, hailing from Dallas, Texas who performed an inspiring 40 minute set with a few of their hits including "Beneath The Skin", "Stay The Course" and "Vices."
All three opening acts set the stage for "Killswitch Engage," who took the stage at 10:10 p.m. and brought an hour and fifteen minute non-stop assault to the revved up crowd in Binghamton. Frontman Jesse Leech led the metal onslaught along with the shredding guitar duo of Adam Dutkiewicz and Joel Stroetzel and the thunderous earth shaking bass of Mike D'Antonio and drummer Justin Foley.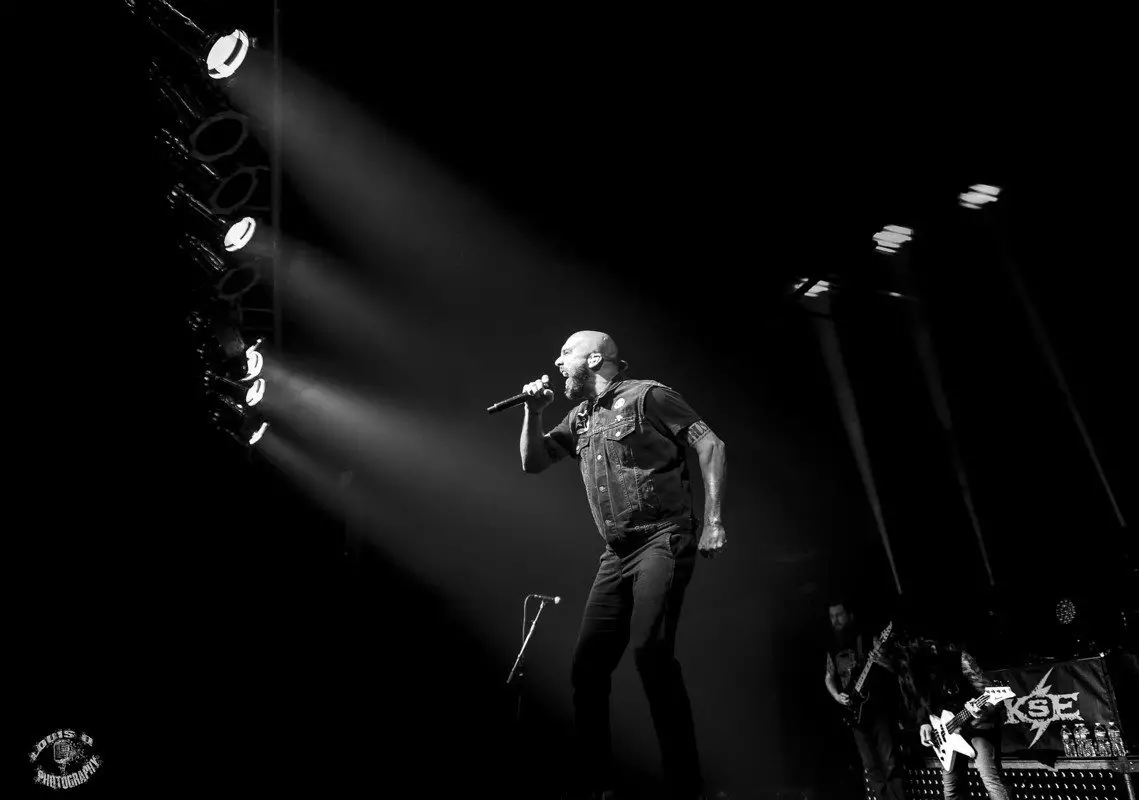 Killswitch, from Westfield, MA performed a whopping seventeen song set list that included tracks from five studio albums such as Alive and Breathing, The End of Heartache, As Daylight Dies, Disarm the Descent and their newest studio album just released in March, Incarnate. 
Killswitch came out hitting hard with the number four track "Strength of Mind" off their new chart topping album Incarnate.  From there they went on to perform "A Bid Farewell", "Numbered Days" and "Alone I Stand", the first track off the new album.
Metal fans were not disappointed as all four bands from different corners of the U.S. brought the house down with a massive sound, tons of high packed energy and crowd involvement. Killswitch continues its year-long tour in support of Incarnate throughout 2016, eventually heading to Europe on June 3, then back to the North America on July 17 before heading back to Europe for November and December dates.
[FinalTilesGallery id='753′]
Setlist: Strength of Mind, A Bid Farwell, Numbererd Days, Alone I Stand, Beyond The Flames, The Arms of Sorrow, The New Awakening, Hate by Design, Take This Oath, Always, This Fire Burns, Rose of Sharyn, Embrace the Journey, My Last Serenade, The End of Heartache, My Curse, and In Due Time