Disturbed and Rob Zombie plan to hit the road together this spring for a co-headlining tour.
After all these years rocking festivals and arenas everywhere in the world, this will mark the first time ever that these two huge names in rock 'n roll and heavy metal will join forces and hit the road together.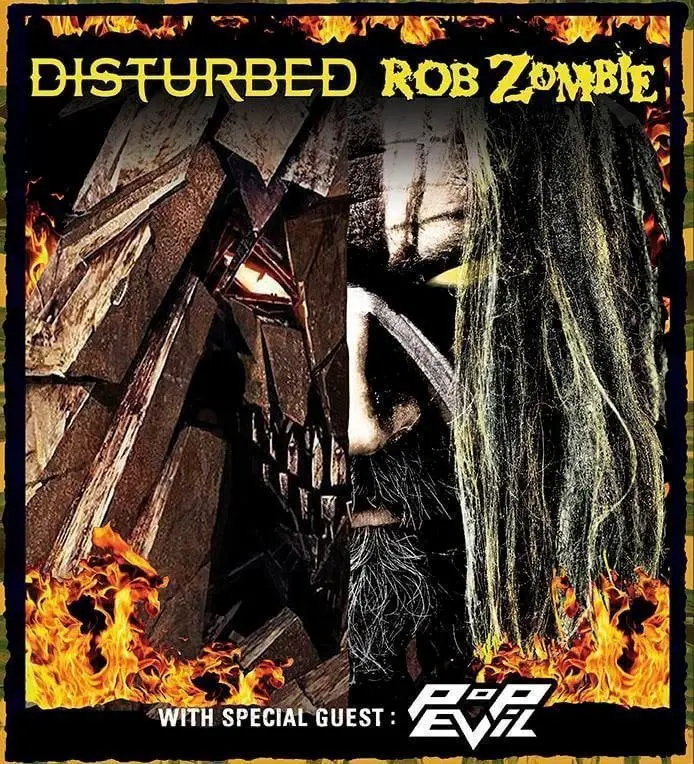 The very limited 10-city tour will kick off in Biloxi, Mississippi, at the Mississippi Coast Coliseum on May 3, and conclude on May 25, in Fort Wayne, Indiana, at the Allen County War Memorial Coliseum. Sad news is that New Yorkers will have to travel to see this tour as there are no dates in the Empire State for this amazing pairing.
The co-headlining tour will follow Disturbed's first tour back from their four-year hiatus. Every show on that tour, which features Nonpoint as the special guest, is sold out. A tour with Rob Zombie will most likely sell out as well. Tour dates for the band will weave in and out of all the festivals that Disturbed is featured on during the world's loudest month of May.
Disturbed released their sixth studio album, Immortalized, on Aug. 21. It's the bands fifth consecutive studio album to debut at No. 1 on the Billboard 200 chart with more than 98,000 copies sold in the first week.
Look for Rob Zombie to most likely close out the shows. Those who have ever been to a Zombie concert can tell you that his concerts have a very high production of various props and elements and becomes a show within a show. Zombie, besides being a musician, likes to bring his film and screenwriting elements to the stage and makes each song in his setlist its own production.
Pop Evil will support the tour as special guest on most dates. Pop Evil's fourth studio album, UP, shared the same Aug. 21 release date as Disturbed's Immortalized.
Disturbed/Rob Zombie Touring Cycle:
05-03-2016 – Mississippi Coast Coliseum – Biloxi, MS
05-04-2016 – Oak Mountain Amphitheater – Birmingham, AL
05-06-2016 – Aaron's Amphitheater – Atlanta, GA
05-07-2016 – Ascend Amphitheater – Nashville, TN
05-10-2016 – Cajundome – Lafayette, LA
05-11-2016 – CenturyLink Center – Bossier City, LA
05-17-2016 – US Cellular Center – Cedar Rapids, IA
05-22-2106 – Hershey Stadium – Hershey, PA
05-24-2016 – Van Andel Arena – Grand Rapids, MI
05-25-2106 – Allen County War Memorial Coliseum – Fort Wayne, IN