Aqueous fans that missed out on the band's sold-out Halloween show this past October won't be in the dark for much longer. Thanks to Sonic Farm Studios, Aqueous has released Sonic Farm Presents: Aqueous Halloween 2015 – Dark Side of Oz.
The live recording of Aqueous' Halloween show at Buffalo Iron Works  not only includes some of Aqueous' best original material, but also the band's stellar performance of Pink Floyd's Dark Side of the Moon.
In celebration of the mystic connection between the cinematic classic Wizard of Oz and Pink Floyd's classic album, Aqueous dressed as the Wizard of Oz cast during the evening's performance. Less than two months later, staffers at NYS Music named the performance as Best Show in Western New York for 2015.
The first seven tracks are loaded with brilliant examples of what Aqueous does right; "Eon Don," "King for a Day" and a non-stop "Complex Pt. 1" into "Wandering" into "Complex Pt. 2" that took the crowd on a nearly 30-minute groove-rock ride. The first set also features Aqueous' tribute to the night's opening band with an edged-out version of Funktional Flow 's song "Mulligans."
The first set also features a mash-up style version of the "MGM Theme" and "Somewhere Over the Rainbow" before fusing into "Kitty Chaser (Explosions in the Sky)." Although the track is one of Aqueous' more well-known and often-played songs, this version lends itself to a more mellow feel and deeper groove.
In more Oz whimsy, the album also includes Aqueous featuring Matt Harris (saxophone) on a jazzy instrumental version of the film's classic "If I Only Had a Brain." The first set of Halloween 2015 closes out with an evocative and beautiful version of "Somewhere Over the Rainbow."
Gears shift to Dark Side of the Moon at the album's halfway point. Beyond the sheer technical skill and flawless timing, Aqueous executes pure confidence, while accomplishing a feat that many musicians simply couldn't execute. The talent and precision it takes to perform Dark Side in its entirety in real time didn't go unnoticed or unappreciated by anyone in attendance—and it comes through even stronger via the recorded tracks than it did onstage.
The task also highlights that the band shows brilliance in production. A guest appearance from vocalist Sara Jane, who often performs with Pink Talking Phish, delivered both a haunting and flawless performance in "Great Gig in the Sky." In addition, Harris and Funktional Flow's Joey Lewis (guitar) returned throughout the second set for various appearances on Dark Side.
What's most impressive about the Dark Side portion of this release is the band's attention to detail during the live performance. It's the small things that add up. The tiny ways they managed to build the layers in a live setting to simulate the studio recordings are so on point that at times you forget that this recording isn't hours of multiple layer tracking or looping.
Dan Brace from Sonic Farm Studios recorded, produced and engineered the release. As he told NYS Music, getting the stars to align for a releasable recording isn't an easy task. "With live material we only have one shot at getting a good take," he said. "We have to be certain every mic and every channel is functioning."
And in listening to the release (although there is obvious crowd noise and a slight airiness to the vocals) those tend to be the only indication that this is a live recording—a testament to both Brace, who has spent almost two decades mastering this type of audio skill, as well as to the band. Aqueous is so tuned into playing by instinct that they seem to never play live without crystal-clear direction. And although this makes Brace's job much easier, he mixes the album with studio-quality flare.
In the time since Aqueous released "Cycles" in October 2014, the band has continued to mature and grow as musicians. On the vocal front, lead guitarist and main vocalist Mike Ganzter has gained a smooth, milky richness to his vocal quality; it's partially vocal maturity but also a nod to vocal exploration and practice. In "Mulligans," Gantzer handles the vocals as if the song were his own. On guitar, Gantzer continues to be one of the most talked about musicians among his peers. He creates a sound all of his own, as if  his guitar is simply weeping with joy.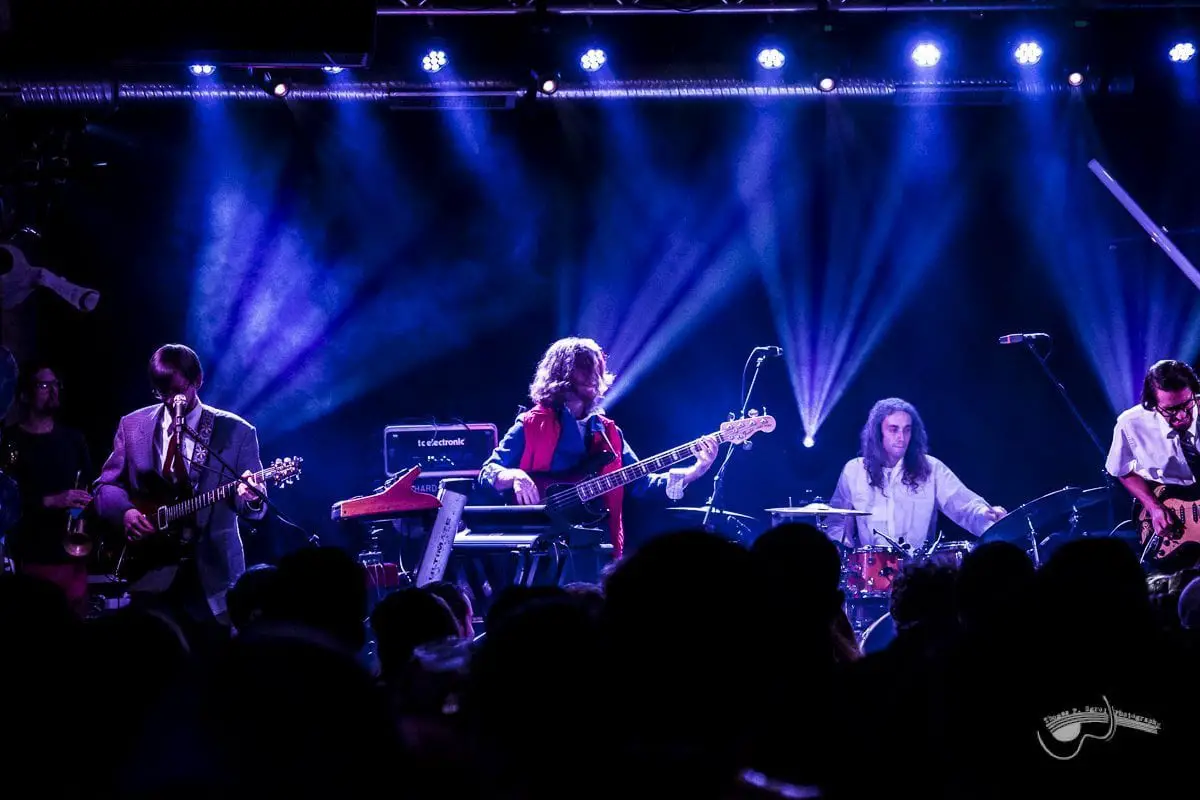 David Loss not only handles guitar and vocal duties but also keys and synth. In listening to this release, it's his nuances that bring out the best of the Dark Side recording but also the best of Aqueous's original material. He seems to always know where he is in regards to complementing his fellow musicians. It's a mind-numbing skill to have as a musician to be able to understand that sometimes less is more, or that layers are built on levels, but that in order to build a deep sound, the levels can't all be the same.
Bassist Evan McPhaden works bass lines with an incredibly funky yet steady pace. At the band's quieter moments, it's McPhaden's impish style that often sneaks in sending the music back to an edgier path. A good bass line lays down the grooves that get a crowd moving. Even the most hi-def shred guitar works need solid driving bass behind it to truly make it magical. And in that layer creation, McPhaden always finds a way to keep the music driving forward.
When you talk about Aqueous' technical skill, it goes beyond musicianship. And their ability to "produce" their music in real-time is most impressive. Even in mid jam, they work out musical nuances that truly reflect the ebb and flow of their moniker. It is in their live show that this technical skill truly shines.
Fans of the band already know that this album is a must-have addition to any music collection. To the casual listener, Sonic Farm Presents: Aqueous Halloween 2015 – Dark Side of Oz is a perfect introduction to the band. Sonic Farm Presents: Aqueous Halloween 2015 – Dark Side of Oz is available for unlimited listener streaming through the Bandcamp app.
Key Tracks: "King for a Day," "Great Gig in the Sky," "Mulligans," "Money"