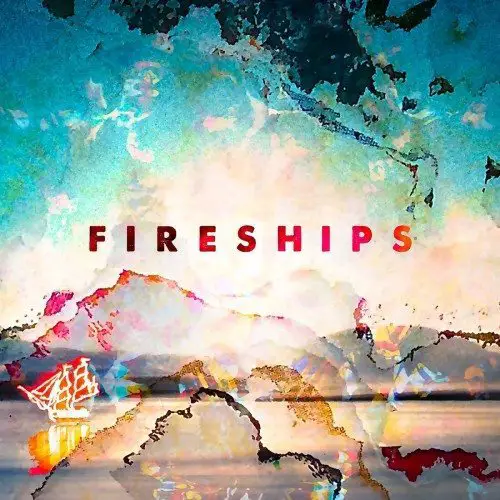 On their self-titled album, Fireships boogaloo down Broadway with stacked-heeled Jackie and cleated-soled Billy in Springsteen's New York, only to be led astray by the scent of Malibu 120 cigarettes from the hard-drinking divorcees in Craig Finn's borough. The result is a pleasant, albeit middle-of-the-road folk album that takes you to the bar on the nights you tire of running your fingers through the knotted grass of Prospect Park.
Lead-off track "Come Back To Me" opens with a sprightly guitar that follows Andrew Vladeck's lovelorn narrative to the top of the Williamsburg Bank Tower off 4th Avenue, turning back the clock. World-worn "Countdown Time" borrows a page from the Steely Dan book, while stripping the processional drum riff from Paul Simon's "50 Ways to Leave Your Lover"–but alas, with one hand on the wheel, and one hand inching towards a frosted mug, a cop pulls Deacon Blues over before he can die behind the wheel. "Gush" is a fun-loving, schoolboy fantasy about ill-mannered girls a la The Hold Steady's "Big Cig" that softens the gruff with immoderate rhymes ("I'm dazzled by the cunning things you've said/ You're clever, sharp, astute/ I'm stunned, awestruck and mute").
The piano-driven "Going Down Fighting" finds a desperate Vladeck heading south on Highway 95 after he loses his job. A hearty kick drum punctuates a wealth of banjo noodling on the atheist-bending "All We Got" (The real cool, the big cool, ain't caring for cool/ Forbid the wolves to plague you with doubt), making it their big, sing-along track.
"Long Shadows" is one of the sharper songs on the album, with underlying bluesy piano lines that unfortunately aren't bluesy enough to distract from the incessant rhyming (when you find yourself rhyming "tooth" with "truth", you may have had too much vermouth.)
"Living The Dream" juxtaposes the talk-singing charm of Craig Finn with a serene flute line and picturesque descriptions of a sparkling Atantis, while "Chasing The Sun" self-actualizes guitar motifs heard before in Moody Blues songs.
Album closer "Unplug the Stars" is a much awaited break from the string of salient verses and vapid choruses between "Words Escape Me" and "Fantasy". Studded with charming astronomical metaphors like, "Cassiopeia lies in the drink and / Orion's in trouble with the law so I think" and modest orchestrations, the band breaks free from chaotic campfire maw and finally aspires to an opera bouffe plot.
For a band that thanks two book clubs in their liner-notes, Fireships do not write the most character-defining lyrics, however they are amiable enough for you to hope that they introduce you to the regulars next time they sing about their bar-table blues.
Key tracks: Unplug The Stars, All We Got