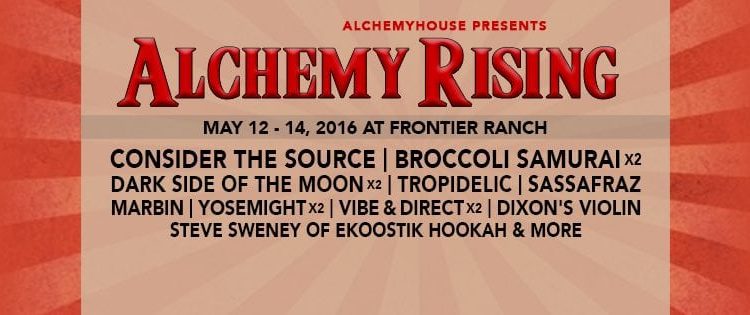 The Alchemy Rising Music and Arts Festival held at the 160 acre Frontier Ranch in Pataskala, Ohio, offers patrons the freedom to fully immerse themselves in artistic splendor. The weekend of creative saturation, which will be held May 12-14, encourages attendees to revel in a musical lineup headlined by Consider the Source, Broccoli Samurai, Dark Side of the Moon, Tropidelic and Sassafraz.
Marbin, Yosemight, Vibe & Direct, Dixon's Violin, Pasadena, Ghost Gardens, JoJo Stella, Spacewhale and Steve Sweeney of Ekoostik Hookah will also share the spotlight, with more to be announced.
Alongside the concoction of musical enterprise, festival goers are encouraged to participate in an eclectic array of musical workshops, art installations and outdoor activities including a full frisbee golf course. The hands-on, multi-sensory experience is designed to illuminate the senses, whether manifesting creative output through the tip of a paintbrush, receiving sonic vibrations from the hands of talented musicians, or releasing energy through a calculated frisbee toss.
Pre-sale tickets, which alchemically translate into a three-night, family friendly outdoor extravaganza, are available now.