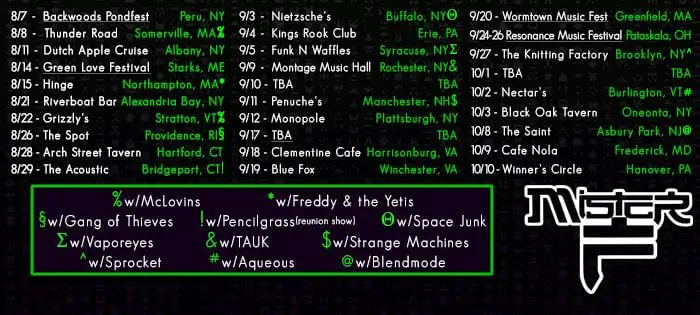 Mister F Gives Fans Insider Pass to 'FTV Cribs'
Who can forget when Mariah Carey showed off her plush Manhattan penthouse, with its decadent chandeliers, lavish closets and Marilyn Monroe's piano, or when Lil Wayne revealed his mobster movie-obsessed living room and impressive car collection on MTV Cribs? It was a show that rocked a generation by allowing an exclusive peek into the personal lives of favorite culture figures before social media came along and made such connection instant. Well, get excited fans of Albany-based Mister F — now you can take an all-access tour of the band's neat-and-clean dude ranch on YouTube.
Published on the band's channel last week, the near 13-minute "FTV Cribs" episode gives viewers a satirical but honest look at the home of these "hard and dangerous rock stars," plus their whips, yard and places "where the magic happens" for Andrew Chamberlaine (Mister A), Ben Pickering (Mister B), Scott Hannay (Mister S), Matt Pickering (Mister M) and Mike Dean (Mister Manager). According to the press release, the idea was in the making before Mister F was even a concept.
Hannay said in the release:
Our drummer Matt had been wanting to make an MTV Cribs-style video for the band house since six years ago when the other guys were still in Timbre Coup… Over the last year, I put together a very silly Vulfpeck-esque video of us playing with a bare-bones setup in totally nonsensical costumes around a dinner table ("This One Goes to 11 – Live at the Dinner Table") and a three-song series of more serious in-studio multi-cam videos ("The Snow Day Sessions"). I'd gotten back into the swing of video editing, and so we decided to finally make our own MTV Cribs-style episode, aptly titled "FTV Cribs."
The virtual tour begins in the living room where the band catches up on Netflix (Arrested Development, of course) to the "all around awesome" two-acre party lot set up with plastic patio ware and can jam before moving into the bare-cupboard kitchen with Mister B who highlights a heady collection of craft beer and opens the fridge door to showcase "all the fixins for hamburgers and hotdogs." After a short faux commercial break featuring Now! That's What F Calls Music, a compact compilation of the "crunchiest jams to bop your head to" from Aqueous, Twiddle, The Heavy Pets, McLovins and more (found here), the segment returns with a private look at the shabby chic bedrooms—take note of Mister M's hat and shoe collection—and concert poster covered practice room before kicking viewers out. So sit back, tune in and invade the space to see "how the other F lives."