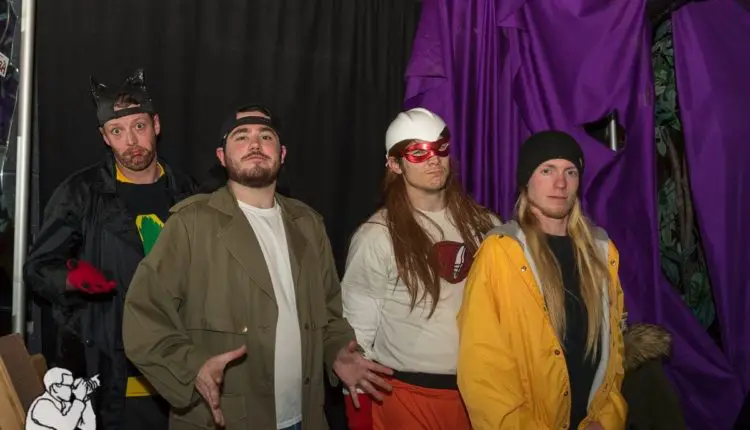 Halloween parties are often some of the best gatherings of the year, with enthusiastic audiences & bands wearing their favorite character costumes, decorative rooms, grotesque drink mixes, and supreme music selections. The theme of every party is to dance, celebrate, enjoy the visuals, and celebrate. This year, Formula 5 hosted a social event like no other at the Putnam Den in Saratoga Springs, with the help from Albany based Mister F and Plattsburgh's own Lucid. As the holiday fell on a saturday with clear skies, Saratoga was open for menace.
Mister F kicked off the evening with their eclectic mix of funk, rock, and sophisticated rhythms which attracted many ghouls and goblins right from the start. This local four piece hit the stage dressed as characters from the movie Spaceballs and ripped up an hour performance from out of this world. Their set highlights were an original "Answer the Dog," featuring members from Lucid and Formula 5 and Bela Fleck & the Flecktones cover, "Sinister Minister."
Lucid brought an inspiring set with their north woods folk rock grooves that made all the skeletons shake their bones. These handsome devils attired the Village People and busted out their set with a greatest hits medley. Highlights from their set were "Backwoods" featuring George Wurster and "I Kill People" with Scott Hannay of Mister F.
Formula 5 raucously hit the stage running with a Jay & Silent Bob skit featuring Scott Hannay of Mister F and the contagious cover of "Jungle Love" by Morris Day and the Time, a tune long favored by their chosen characters. Highlights from their the Formulaic set was the Huey Lewis and Ray Parker Jr. mix, "I Want a New Drug" > "Ghostbusters" > "I Want a New Drug."
Formula 5 Set:
Jay & Silent Bob Skit@ > Jungle Love^ > Excalibur, Perch Above the Earth$* -> I Want A New Drug* -> Ghostbusters -> I Want A New Drug -> Mister Elixir* -> Perch Above the Earth > Mister Elixir, Low Rider!, Catch Me, Nu-GEN#* -> Pedro* -> Night Time In The Switching Yard, Epiphany
Encore: Magic Carpet Ride
@ – featuring Scott Hannay (Mister F)
^ – featuring Matt Pickering and Scott Hannay (Mister F), Lowell Wurster (Lucid),
$ – Thriller Jam
* – Unfinished
! – Featuring Jamie Armstrong, Chris Shacklett and Lowell Wurster (Lucid), Scott Hannay (Mister F)
# – Featuring Andrew Chamberlaine and Scott Hannay (Mister F)
'Jungle Love' – Morris Day and The Time (1st time played)
'I Need a New Drug' – Huey Lewis & The News (1st time played with James and Joe)
'Ghostbusters' – Ray Parker Jr. (1st time played with James)
'Low Rider' – War
'Night Time In The Switching Yard' – Warren Zevon
'Magic Carpet Ride' – Steppenwolf (1st time played)
Mister F Setlist:
Vocoder > Everything You Say, This One Goes to 11@, See Level > Answer the Dog#, Inside, Eye Level > The Machine, Do It Again%, Sinister Minister^, On and On, Don't Lose Your Watch
@ – w/ The Munsters Theme Tease
# – w/ Joe Davis (Formula 5) & Lowell Wurster(Lucid)
% – Original, First Time Played
^ – Bela Fleck & The Flecktones Cover
Lucid Setlist:
Village People Medley (YMCA > In the Navy > Macho Man > YMCA), 4 Bangers and Hash (Styles of the Smooth > Yanomamo Lullaby > R.L. > The Russian), Gemini Eye > Surf Side Rock Side, Black Smoke, Came and Went > Silhouettes, Backwoods*, Dirt
Whiskey Dreams > Shinbones, Blessed and Cursed, I Kill People ^
* with George Wurster
^ – (Andrew James Deller) w/ Scott Hannay of Mister F
[FinalTilesGallery id='499′]