Fox Fest 2015 held a few special things in store this year, the first being their SAMMY (Syracuse Area Music Awards) Award for People's Choice: Best Festival for 2014 and the next being a live marriage proposal on stage (she said, yes) This is only the beginning of what the day-long annual event had to share.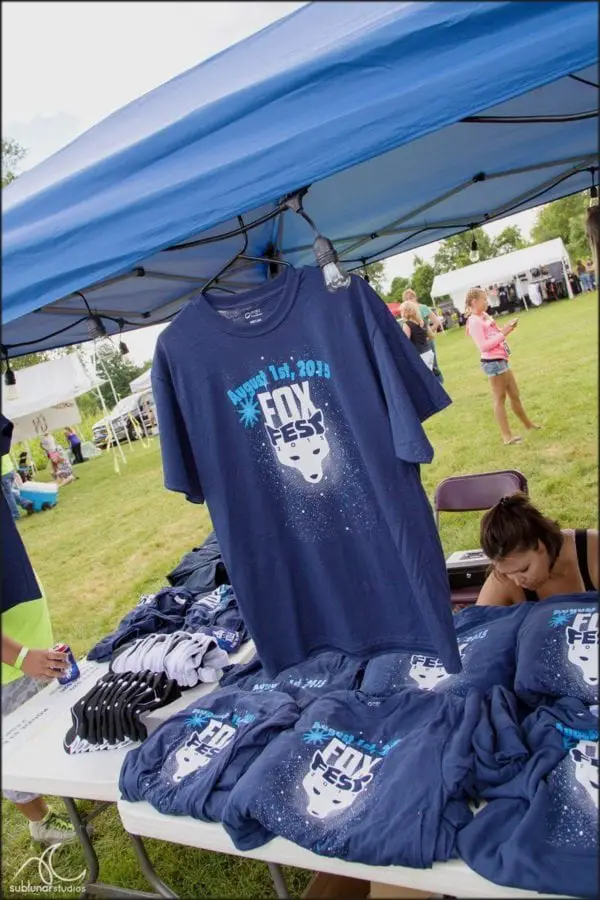 The event is organized and held at the home of George Ryan and Kelly Nichols, next door to their primary cohorts, his sister Kelly Ryan and brother-in-law Mike Spaiches in southern Onondaga County. It's a beautiful piece of nature, surrounded by corn fields, it has a valley view to the east and plenty of room for a backyard party.
This isn't your average backyard party though, not by any stretch of the imagination. Wizzard Sound Corp. rolls in a full pro-stage, roof, p.a. and light show, well large enough for just about any outdoor show or festival. Their crew comes in on Thursday and with the help of several volunteers, build the stage and roof structure, Friday brings the p.a. and lights, all ready for show-day on Saturday. They not only do the job, they are ahead of the game and are ready for any curveball they have thrown at them. They sure got at least one, but we'll get to that later.
Plenty of vendors serving food and drinks, festival merch., tattoos, massages and much more. The weather was "Chamber of Commerce" perfect, sunny, breezy and not too warm. Mix this up with 1800 or so fans whose t-shirt donations pay for the show and the annual donations the festival gives out. This year's recipients were the CNY SPCA and 'Cuse Pit Crew, two of the most worthy organizations Fox Fest has chosen so far. Last, but not least, the bands, the life of the party and the annual balancing act for the producers. Fox Fest has always been focused on local bands, a blend of rock and "country" for the most part, selected by the organizers after seeing them live, yes, that's how they do it. They actually go see the bands, several times each. No submissions, just invitations to bands noted as current and worthy in the local scene.
Opening the show was Seeking Monte from Rochester, notably the only "out-of-towners" to play Fox Fest (FF) and their guitarist, Lee Heberger has done it twice. In both instances Lee brought in a tight, original rock and roll band, this time fronted by dynamic vocalist Sara Passamonte and joined by Mike Guarino (guitar), Bob Besley (drums), with Stacy Krebbeks (bass). Unfortunately, someone has to open, but Seeking Monte is all about opportunity and they gave a solid performance, receiving lots of love from the growing audience on hand. Then comes the "country" section of the show with four in a row that heated the audience up as the ambient temperature rose. I'll qualify using quotes for "country", at my level of experience what is labeled as "country" today, isn't. Nu Country? Perhaps. Country Rock? Closer to the what it is actually, or pop with a twang. Either way, the best word for it is popular and the crowd goes nuts for it. Beginning with Dirtroad Ruckus (DR) the crowd filled in up to the barricades, singing along and dancing all afternoon. DR's front man Eric DeTota paused at the start of their set to play the National Anthem, which is a traditional part of their performances, then George Ryan cut loose a huge American flag that was carried over the audience. DR quickly had the audience in their hands, instrumentally solid with plenty of stage presence to boot, an excellent set. DeTota on acoustic/vocals, Tom Fava (bass), Ken Duquette (guitar), Jack Chappell (bass) and Scott Sheridan (guitar) showed their licks to the pleasure of the attendees and left the stage toasty for the next band.
The Chris Taylor Band (Custom Taylor Band) came up next, he's know as one of the first performers to follow this track with success in Central New York, his polish and stage personality, backed by his long-term band, Brett Nelson (acoustic/vocals), Rob Spagnoletti (drums/vocals), Joey Beccheria (guitar), Amy Doan (fiddle/vocals), and Jake Capozzolo (bass) moved through their set hitting on all cylinders. If Chris doesn't get you up and dancing, there's always the TJ Sacco Band (TJSB) to follow him. These two may well be the hardest working men in the country biz locally. Each has a very healthy fan-base and when you combine them with DR's and Country Swagg's, it's gonna be a party. Each of these bands are well-known and regularly get prime opening spots for tours visiting the area. The one thing about having four country bands is a couple of songs may get a few airings. but the crowd didn't seem to mind one bit. TJSB is strong, really strong, TJ leading the way on acoustic/vocals, with lefty Chad Mac ripping up the leads, Bill Shank (drums), Marcus Larabee (bass) and newcomer (first show actually) Chrissy Alexander (vocals), much like CTB, this is a well rehearsed and polished outfit. They provided one of the musical surprises of the day covering 'Plush' by Stone Temple Pilots, well!
Finishing this segment of the show was Country Swagg (CS), fronted by Mike Johnson (vocals/acoustic), with Tim Horst (guitar), Gabe Infantino (bass) and Rob Trout (drums). CS gets a bit rockier per say. They're heavier and more aggressive in a Blackberry Smoke kinda way. They're hometown boys, so their crew was out full-force, cheering them on through a very enthusiastic set. Their fans even bought them a sponsorship so their band name would appear on the event t-shirts, pretty cool stuff. Another staple of FF is not allowing the music to stop, so between each band, an acoustic performer takes the stage to fill during change-over. First timer Tommy Connors kept things moving during the first two breaks, Mike Schickling the next three, then JP Shaggy the final two. Each brought their own flavor and vibe, more than enough to hold the crowd's attention, nicely done by all, especially Schickling who was in on the surprise marriage proposal. Russ Lee was steadfast in his emcee role, not hesitating to give way to Mr. John Halko to introduce "his" band, Redline. John has been battling health issues and it was fantastic to see him onstage despite the absence of his trademark cigar. Redline is straight 70s/80s/90s party rock with Earl (The Pearl) Hamilton doing his best Tommy Lee (drums/vocals), Joe McSweeney (guitar/vocals), Mike Marzullo (bass/vocals) and Tony Campione (guitar/vocals). Hamilton and McSweeney are FF veterans having played with their former band Emerald City twice before. They rock, hard, have the chops and balls to cover Foreigner, Motorhead and Alice In Chains in their non-stop set. They were a bit "stripped-down" from their usual big production and special effects, but none were needed as the crowd ate up their performance.
The Barndogs Plus (TBP) came next with their Allman Brothers tribute show, something they've performed several times at big local festivals, this time with an extra twist. The "Plus" portion of The Barndogs pulls in several local luminaries to fill the A-Bros parts, Tim Robinson (acoustic/vocals), Jerry (JT) Tarolli (guitar), Chad Mac (guitar) and Susan Royal (drums). Here is where the biggest joy of the evening came in. Prior to FF, Susan had announced that due to illness she wouldn't be able to participate, it was heart-breaking as the second drummer is key to the A-Bros and most importantly, it's her, her soul, her spirit, her skills. Now just about the last thing a stage manager wants to hear the night before the show is that a big change is being requested, in this case, a message from Susan asking if there was any way she could play. She was feeling better and didn't want to miss it as there's no telling when or if they'd do this show again. A few phone calls, texts and Facebook messages later it was on, many thanks to Jon Arrigo and his guys, Sean (Doughnuts) Sterling, Dylan Spencer and Mike (The Terrorist) Fadel (so sorry for calling you Brian all day!) for making it happen. The Barndogs core group, Andy Comstock (bass/vocals), John Kapusniak (keys), Pete Szymanski (drums/vocals) and Mark Westers (guitar/vocals) have been together for years building a regional following through great rock and roll music, whether it be a Doors tribute, performances with Vinyl Albums: Live or their club shows, these Dogs can run. In this expanded version, they were downright magical, striding through the A-Bros catalog as if it were their own. Andy's commanding voice and stature lead them through the big hits, 'In Memory of Elizabeth Reed', 'Soulshine', 'Whipping Post' and 'Jessica' to name a few. They brought the crowd to a fever-pitch in anticipation of the headliners.
SAMMY Award winning Scars N Stripes (SnS) are one of Syracuse's heaviest rock bands, hands down, led by Bill Ali (vocals) prowling the stage and risers, Todd Stiles (guitar/vocals), Kevin Brennan (guitar), Joel Exline (bass/vocals) and Mike Waite (drums), they are indeed the premier modern rock band in our area. Each position overflows with skills, they balance and counter each other fluidly, steaming from song to song. The talent level oozes and Todd has become one of my favorite local six-string slingers. Their covers of Tool's 'Sober' and Queensryche's 'Jet City Woman" were highlights, but the whole set was crushing and they left the crowd wanting more. Always the way to go if you can. I highly recommend seeing all of these FF artists out whenever you can, they bring it big time. Check them out online through social media and their websites, you won't be sorry.
Congrats to everyone involved with Fox Fest 2015. The whole event ran on time with only a few bumps in the road, the weather held out and the crowd was remarkable. Thanks to all of the people who donated their time to make it all happen and to our own Onondaga County Sheriffs who kept the grounds safe for everyone. When all is said and done, Fox Fest has evolved into one of the area's best summer events and is clearly, "the biggest backyard party" of the summer.