Nine days. 31 club pass shows at eleven different venues. Tens of thousands of steps. A beer or two… maybe three. Distilled down for you here, are my 10 most memorable club pass series shows from the 2015 edition of the Xerox Rochester International Jazz Festival.
1. Antonio Sanchez & Migration at Kilbourn Hall (late set)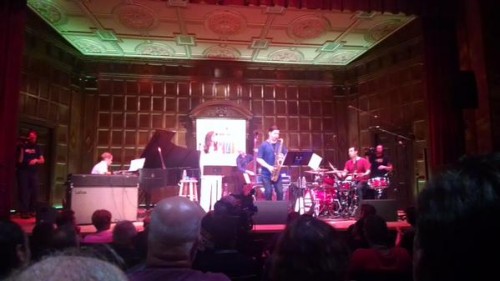 Antonio Sanchez has reached widespread fame in the past year as the composer of the much-lauded percussion-only soundtrack for Birdman. For this set, the Mexican drummer brought his band Migration, consisting of Seamus Blake on saxophones, John Escreet on pianos, Matt Brewer on basses, and Thana Alexa on vocals. Each member had electric and acoustic instruments, including Alexa who used some effects pedals to alter her voice. Her singing wasn't lyrical, but instrumental, often harmonizing with Blake. The band played The Meridian Suite, a recent release of Sanchez's which consists of one long piece in 5 parts. The band didn't stop playing for 65 minutes. It moved effortlessly from acoustic to electric and back. The energy ebbed and flowed, bursting forth and settling down moments later only to bubble back up again. Each member got a chance to lead the quintet but there were no true solos — save for one mid-set take by Sanchez himself. His playing was mechanical, intense and inventive without being heavy handed. His solo segment had me sitting statuesque, waiting on his every slap, and then the band exploded into a noisy dissonance while Sanchez relentlessly soloed on. I was rapt from then on, and by the time they were through I felt exhilarated.
2. Gogo Penguin at Christ Church (early set)
I like the Bad Plus. A lot. If you do too, you will like Gogo Penguin. A lot. This young piano trio from the Manchester, England sounds a whole lot like the Bad Plus if you hadn't guessed. They are influenced a bit more by electronic music which came through more clearly in some of their earlier compositions. The music is thoroughly melodic, not veering into traditional solos, and taking cues from both classical and pop music for a unique sound that isn't immediately identifiable as jazz. It was their first ever gig in the U.S. which they opened with a captivating 20 minutes worth of music, flowing 3 of their songs together. Though from then on every tune would end rather abruptly and somewhat unexpectedly. The music was so engaging and catchy it always seemed to end too soon. As did their set.
3. Troyka at Christ Church (early set)
Troyka is a London-based jazz fusion trio, featuring Chris Montague on guitar, Joshua Blackmore on drums and Kit Downes on keyboards. The playing was democratic, but it was still clear that Montague was the featured player. His sound was heavily filtered though without losing substance. It ranged somewhere in between Bill Frisell, Wayne Krantz and Marc Ribot. High praise indeed! Montague described an early childhood memory of digging a hole at the beach, tugging at what he thought was seaweed, but out came a decaying seagull, subsequently pulling down the walls and trapping him inside. The traumatic experience was the inspiration for their latest album, Ornithophobia. Much of the music had a teetering on the edge of falling apart quality that made it both fearful and exciting. Each musician played on what seemed like a completely separate thought, yet somehow it all came together to form a magnificent whole. Whether it be a blues, ballad or something entirely different, it had Troyka written all over it.
[FinalTilesGallery id='290′]
4. Nils Berg Cinemascope at Lutheran Church (early set)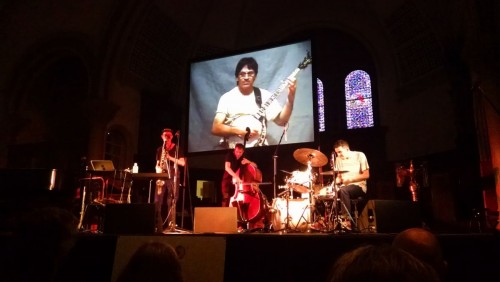 One of the joys of the Rochester International Jazz Fest is the 'international' aspect of it. So many bands from so many far away places that would be otherwise have no reason to visit the small city of Rochester. Nils Berg Cinemascope, themselves all the way from Sweden and playing their first North American show, took the audience on a journey around the world within their set alone. The band — Nils Berg on sax and flute, drummer Christopher Cantillo and bassist Josef Kallerdahl — was set up in front of a large movie screen. For each song, a video culled from the internet was played. It was edited and looped to fit their needs, and became the fourth musician of the group. Each video was a different musician from a different part of the world. There was an Afghani boy singing under a tree, a banjo instructor from Maryland, a student from Brunei improvising a song in the hall after her physics class among others. Each piece had a "guest performer" that gave it its own unique character. It had to be seen and heard to be believed, certainly something that couldn't be replicated in a recording.
5. Joey Alexander at Lyric Theater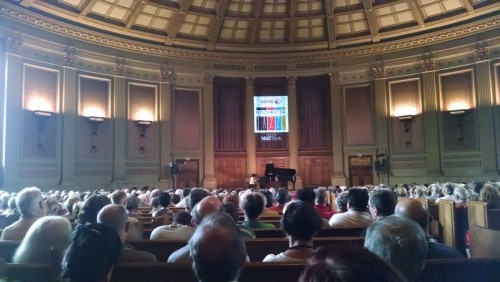 When hearing a young musician, I try very hard not to fall into the trap of being amazed simply by their age. Either it sounds good or it doesn't. For 11-year-old prodigy pianist Joey Alexander, both aspects were incredible. Behind the piano he showed a maturity lacking in players two, three and four times his age. This wasn't simply rehashing old jazz classics with aplomb, it was solo piano improvisations, using the classics as launching points more than destinations. It was until he stood up to the microphone to address the audience that his age became overtly apparent. With takes on Gil Evans, John Coltrane, Chick Corea, Thelonius Monk, Amazing Grace and Over the Rainbow, he had all the bases covered, before finishing on an original composition. Eleven or not, it was truly an amazing performance.
6. Eivind Opsvik Overseas at Lutheran Church (early set)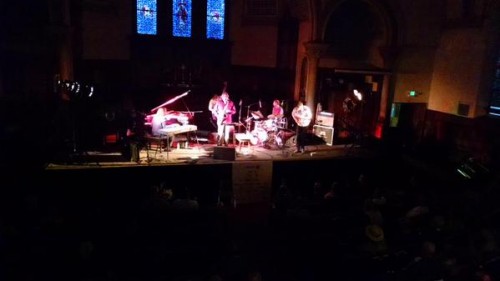 Eivind Opsvik — a Norwegian bassist who now resides in NYC — brought his band Overseas, who are Kenny Wollesen on drums, Tony Malaby on saxophone, Brandon Seabrook on guitar and Jacob Sacks on piano. The music can lack melody. It can lack direction. It can lack energy. And yet somehow, it had me on the edge of my seat for 60 minutes. A dissonant triad of songs opened the set, each musician scratching and screeching out individual noises, all coming together to form a greater and more exciting whole. Once they had cleared some of the pews at the church venue with this challenging music, they dropped into a more approachable slow blues number reminiscent of the Lounge Lizards which again flowed into a couple different compositions, finally building to a head with some rocking that almost got some fists pumping. They closed on a beautiful new song called "Troves," that featured both the bass and guitars being played with bows.
7. Wood Brothers at Harro East Ballroom (early set)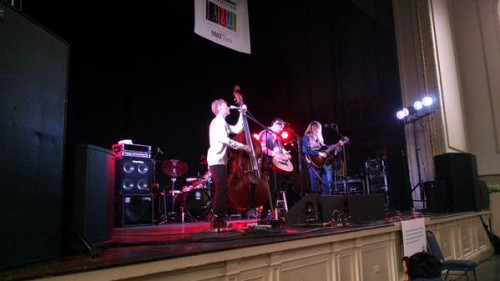 The Wood Brothers attracted by far the largest non-pass holding crowd of the festival. Fans stood out on an unseasonably cold and rainy afternoon for the chance to see Chris and Oliver Wood on their first visit to Rochester. The crowd was stacking chairs up to make more room for dancing and singing along to every word of every song. The crowd, combined with the top-notch Americana being played on stage, made it feel like on this final day, the festival had given up being about jazz. And instead of jazzing up their set a little, the brothers took it in the other direction, and continued to get more rocking until the entire crowd was on its feet. I can only imagine the late set picked up where this one left off.
8. Dave Douglas High Risk at Harro East Ballroom (late set)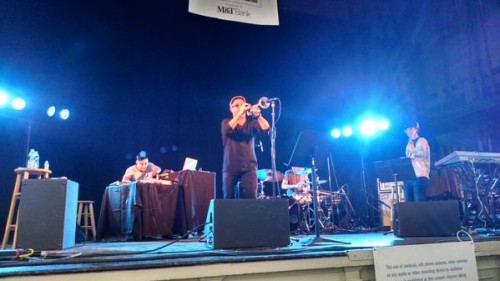 Dave Douglas, just two days after his new album High Risk was released, let the crowd know how unusual it was for his band to be all in the same place at the same time to be able to play there for us. And special it was. Douglas, a hot trumpeter in the avant-garde  NYC scene, was joined by popular electronic artist Shigeto, Jonathan Maron on bass, and Mark Guiliana on drums. Shigeto was a musical tour-de-force. The beats and sounds he was creating live on stage were remarkable and meshed perfectly with what the bass and drums were laying down. Step in Douglas blasting trumpet over the top of it all, and you had a refreshing and exciting new take on improvised jazz music that was exciting to hear.
9. Kat Edmonson at Montage Music Hall (late set)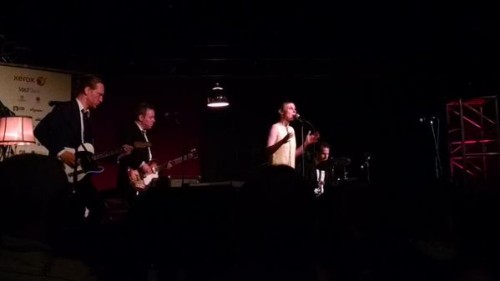 Kat Edmonson's latest album, The Big Picture, was inspired by classic movies, musicals in particular. The first track, "Rainy Day Woman," was the subject of a long story she told from the stage. Long story short, she wrote the song, tried to record it multiple times, put it away, re-approached it, put it away again, and maybe even another cycle or two through, before finally getting it to a place where she was completely satisfied. That story kind of typified her whole set. Each song seemed so simple, yet great care was taken to get to that point. Little surprises emerged, like a splash of xylophone here, or a taste of melodica there. Kat's sweet voice and great songs could carry the set on their own, as she proved with simple guitar accompaniment at her performance at the festival last year. But with the full band, her vision came more to life, in every detail.
10. Chatham County Line at Squeezers Roots and Americana Stage (early set)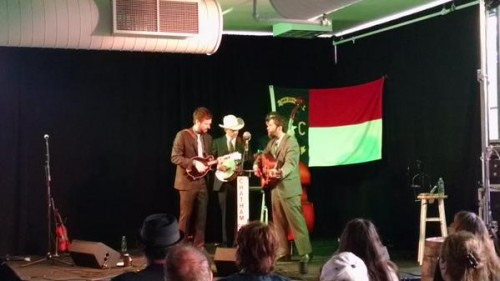 There was plenty of good bluegrass on display at the festival this year. But Chatham County Line rose above the fray. An old North Carolina flag hung behind them and a county line marker stood in front of their one mic. They played in the traditional style, with all four musicians huddling around one mic, moving around as needed to produce the proper mix of sounds. Traditional was met with some decidedly non-traditional playing, particularly on covers the Rolling Stones' "The Last Time" or Dick Dale's "Miserlou." But even more on original "Chip of the Star," which could pass as a rock ballad, complete with gorgeous guitar solo.