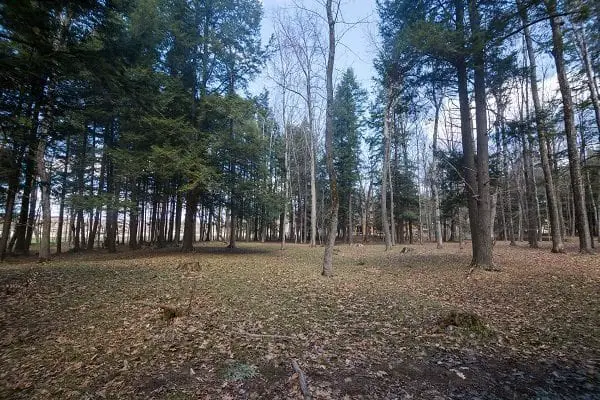 With Disc Jam quickly approaching this coming weekend, June 11 through 14, NYSMusic spoke with festival founder Tony Scavone to find out more about what makes the collaboration between music and disc golf so cool and also a little bit about what is to be expected.
This is a different experience from the other music festivals because of the on-site disc golf course designed specifically for this event.  More than five years ago, Tony had two weekend pastimes: Going to music festivals and playing disc golf with friends.  He aspired to combine the two.
Both events are similar in that they bring out people who like to have fun outdoors during rain or shine. The mindset is to welcome the idea of fun and community. The course welcomes beginners. It is set up on an eye level playing field creating difficulty somewhere in the middle of the skill set so that familiar players can have some challenge but at the same time new players will not be intimidated and can make some shots.
The construction of the lineup goes along with same mindset. With all the different types of music ranging from the funk and progressive rock of Dopapod to the organic electronic sounds of Phutureprimitive. The course is set up in harmonious location so that while playing the game all the music being played on the main stage can be heard. It can be played all day long for free, except during tournament time. Discs are up for loan courtesy of Explore Disc Golf, an Amherst, Massachusetts, based disc golf design firm. Tony has teamed up with Explore to design the official Disc Jam course.
The tournament is $35 per player and you will be playing for prizes such as festival merchandise, Vibram 5 Finger shoes, tickets for Disc Jam 2016 and everyone who signs up for the tournament receives a custom Disc Jam disc golf disc from Innova. When asked, in regards to the bands, if you compare disc golf skills to the skills someone has playing an instrument, Tony assured me, there was no comparison. So the challenge is out there for the featured musicians to come out and try their luck on the course.
The Cosmic Dust Bunnies play the opening set at 6pm on Thursday at Disc Jam. See everyone there. Tickets are available now.