This weekend New Jersey will put on its party beads and partake in some New Orleans themed eats while dancing to some of the southern music capitol's greatest sounds. Michael Arnone alongside his Crawfish Krewe has been putting on the Crawfish Fest in New Jersey for a soon-to-be 26 years. Sussex County's fairgrounds span 130 acres and will play host to four stages of funk, RnB, brass, rock and zydeco music.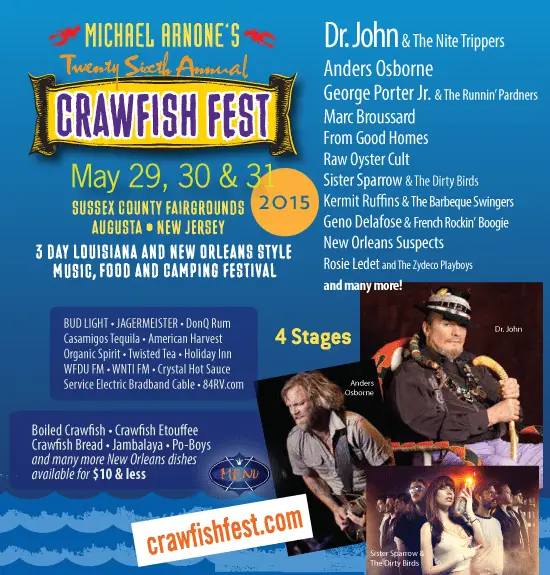 The lineup is topped with legends like Dr. John, George Porter Jr. and Kermit Ruffins, but also has newer artists like Marc Broussard, Anders Osborne, and Sister Sparrow and the Dirty Birds that keeps a variety of sounds churning out of this yearly melting pot. Local boys From Good Homes will play the festival for the second time since reuniting in 2009 after a 10-year hiatus and will be sure to pack some heat with their hick-pop sound. Campers will get private Friday performances from the Stooges Brass Band, The Lost Bayou Ramblers and the New Orleans suspects, while on Saturday they will enjoy late-night performances from Samantha Fish, John Papa Gros Band and The Heard.
Aside from the mouth-watering lineup, the food at Crawfish Fest is just as important. Every meal is under $10, and spans choices of boiled crawfish, (oyster, shrimp, catfish and hot roast beef Po-Boys), crawfish bread, jambalaya, crawfish etouffee and red beans and rice. When you're inside the gates, you'll be busy filling your stomach with food and ears with music you may or may not have encountered before. If you're looking for an authentic New Orleans music and food experience in the North, there's no competition.
Visit http://www.crawfishfest.com/ for more information