Festival season is upon us! It's time to get your plans in order, buy your tickets, get your crew together, and most importantly, PACK. If you've been to a music festival, you know what to bring – the basics like tent, ticket, change of clothes, cooler, those are a given – but what about the items that can make your festival experience that much better, that much more fun and create the ultimate music festival experience.
The staff at NYS Music, experienced festivarians for the most part, have come up with some items you should consider for your festival packing list and bringing along with your this summer as you head out in the world of music festivals, especially throughout New York State where there are far more festivals than any other state in the country.
Did we miss something? Let us know in the comments section what YOU consider a *must*bring*item* for music festivals.
Electronics
A cell charger like Jackery or go big and get a multiple port portable charger.
An external, battery-powered speaker.
Campsite
A flag to spot your campsite: add one of these high enough in the air and everyone near you will use your campsite as a landmark throughout the weekend.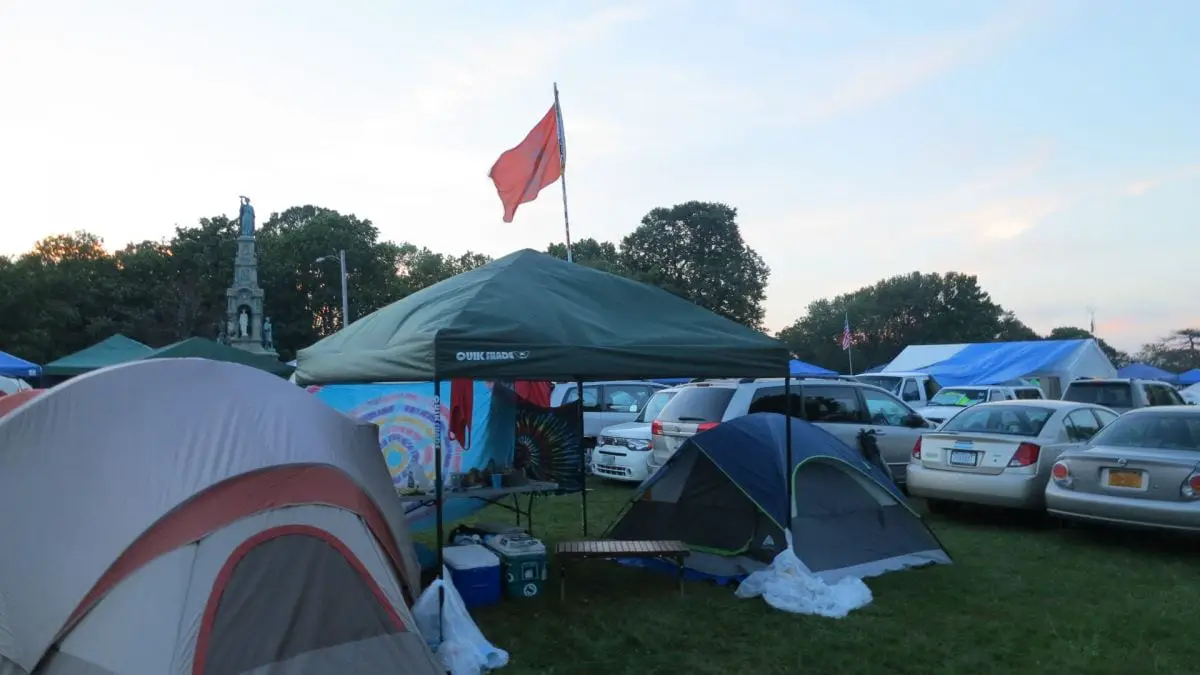 Solar powered lights to surround your tent and battery-powered lights that line the inside of an EZ Up.
Candles to keep away bugs
Headlamp for navigating back to your tent in the dark.
Portable tent fan
WD40 and Duct tape – if it moves and shouldn't, Duct Tape. If it doesn't move and should, WD40
Drinking and eating
A flask that turns a baby doll into a beverage container
Want to make friends at any festival? Bring copious amounts of extra bacon. Be the bacon fairy.
Liquor in plastic bottles with mixers clearly labeled
Bloody Mary supplies
Personal items
Extra set of car keys (save the headache of getting AAA to the fest)
Condoms
Extra toilet paper/tampons
Gold bond
Tall Wellies (aka rain boots)
Plastic grocery bags – So many uses. Great for the rain and if you need something to keep your socks dry. It can be used as a dirty clothes bag, garbage, and are great to bag sandwiches with if you want to make some for the trek.
Random fun stuff
A roll of Umph Love stickers and Walkie-Talkies
Arts and crafts and games for the kids
A wagon for lugging in gear and/or for the kids to ride in
Hoops, costumes, things for late night madness.
Collaborative clothing: "There was a guy at moe.'s Tropical Throe.down this year who brought a white T-shirt that had maybe like the name of the fest and one lyric line printed on it. He brought markers, and the day he wore it, he had everyone he talked to sign it. He posted pics of it on the group Facebook when we all got home, and it was cool to see how it ended up – there were a lot of dicks and other silly pics, of course, but there were a lot of cool signatures and messages on it, too." – Jess Collier, NYS Music Staff Writer
festival packing list