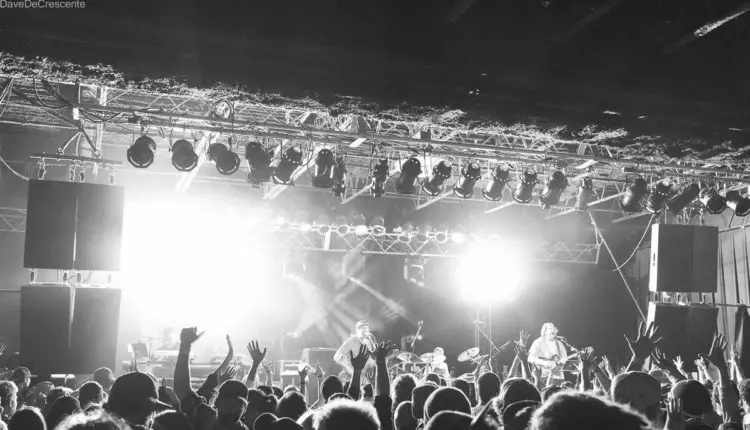 The Disco Biscuits officially set the record for the fastest sellout show at Higher Ground ever, when they announced a late night after party for their UVM Springfest show Saturday in Burlington, Vermont. They hauled all their gear a few miles across town for a late night show starting at 11pm and going all night. Given the small size of the venue and the fast sellout, anticipations were high and the band certainly did not disappoint the lucky few who managed to get a ticket.
The band wasted no time, jumping into a nice version of "Aceetobee" which segued into "Bombs". Bass player Marc Brownstein was really prominent, ironically dropping what some would call "bombs" during the song, before leading the band back into the end of "Aceetobee". "The Very Moon" followed, and was stretched to almost 15 minutes long, but remained unfinished. It was a rather standard version, but the segue into the Grateful Dead's "Crazy Finger's" must be heard. Guitarist Jon "The Barber" Gutwillig really nailed the segue and had the crowd cheering and singing along to the classic tune with a modern electronic twist. They ended the first set by finishing off their own classic song "Mr. Don" from April 16 in Denver,CO.
The second set started things off with fan favorite "Trucker's Choice". The time was after 1am, but nobody in attendance showed any signs of letting up, the band included. "Mindless Dribble" followed, and was almost 17 mins in length. The band jammed on several themes through this version, a nod to their older style of jamming, called "rotation jams." This was a common theme throughout the night, and the band was clearly enjoying it. "Mindless Dribble" segued into "Sound One" which features weird lyrics and a standard jam. The highlight of the night was next in "Crickets". This 20 minute version was a monster and featured some major jamming across different styles and themes.
Approaching 2am, the band closed the set with "Hope". A rather unique choice to close the night, but very welcomed by everyone in attendance, many signing along with the band. They quickly returned, and Brownstein gave a huge thanks to the crew for hauling all their gear across town and setting it up again with only a few hours to spare. "Pilin' it High(er)" closed the night off, and isn't played very often. This version was great and was a great end to an amazing day and night of music.
The Disco Biscuits. Higher Ground, Burlington VT. 4/25/15
Set I: Aceetobee-> Bombs-> Aceetobee, The Very Moon (unfinished)-> Crazy Fingers-> Mr. Don (completes 4/16 version)
Set II: Trucker's Choice, Mindless Dribble-> Sound 1, Crickets, Hope
E: Pilin' it High(er)
*Editor's Note: Check out Dave's coverage of the UVM Springfest Disco Biscuits show from 4/25/2015
[FinalTilesGallery id='165′]