To anyone inside the 53 square mile radius of the Denver International Airport, it was clear that we were going somewhere different. Everyone in an airport are coming and going from any number of locations around the world, but the arched eyebrows, piercing stares and gaping mouths clearly signaled that my finance, Greta, and I, weren't going to any of the places they all were. I was dressed in a Christmas tree bright full length, red and green, dashiki. The gown was emblazoned on the chest with an elaborate gold flower embroidered pattern. Greta, too, was dressed in a full length purple tie-dyed dashiki. And the stares were correct. We were headed somewhere different, the McDowell Mountain Music Festival. More accurately, the 2-hour plane flight, and following cab ride would drop us off at the hallowed grounds of an abandoned city lot in downtown Phoenix, Arizona that recently had been bulldozed and flattened to accommodate the blinky, LED light-covered, tie-dyed shirt wearing, hula hoop dancing music aficionados camping next to the Margaret T. Hance Park where the festival would be held.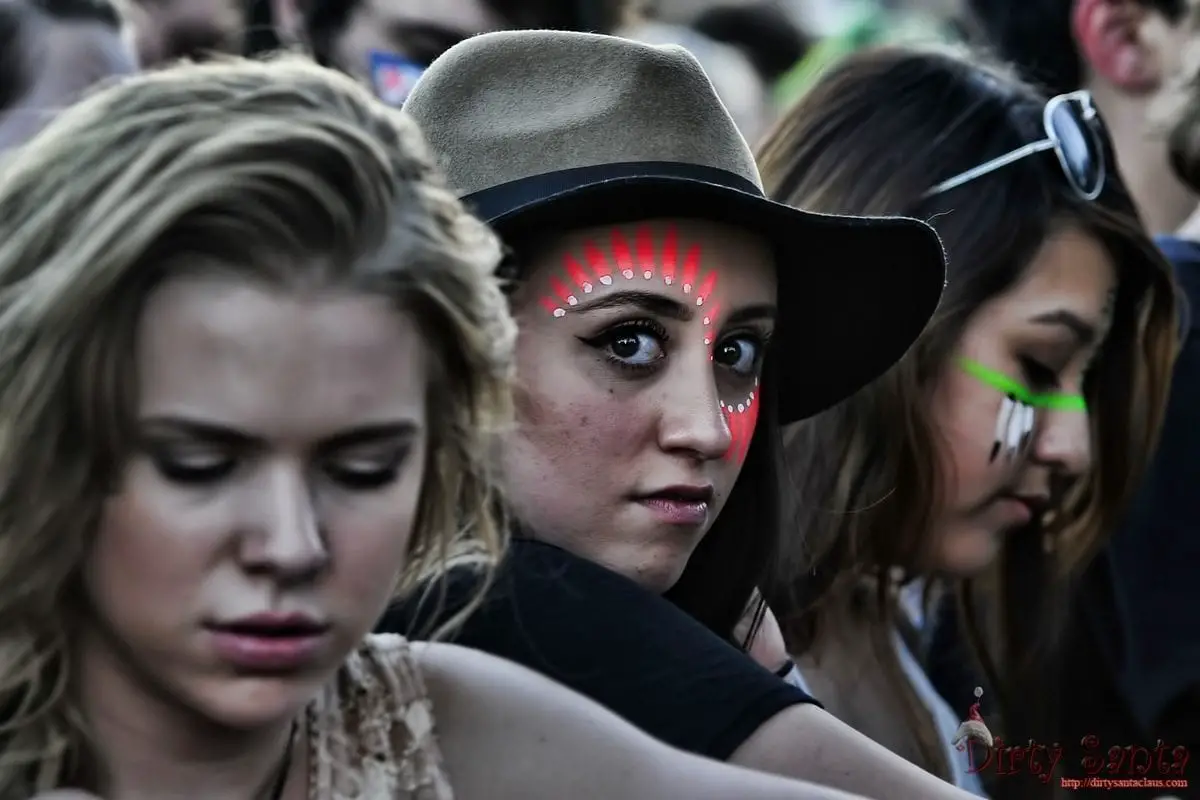 I had a number of reasons to feel Christmas tree bright. For one, I soon would be slipping into my red sequin Santa suit. It would the first time in two years that I would be donning my official work clothes at a music festival. It would be the first time in three years that I was handed a photo assignment to work a music festival. I may have been temporarily trapped in the serpentine purgatory that most people call an airport security line, but adrenaline shot through my limbs with fire hose force.
Still, I wasn't quite ready for liftoff. My return to the outdoor music scene bore more than a moment's worth of self-reflection. A week before one my favorite music festivarians active particularly in the Northeast music scene had accidentally died of an overdose. He was still in his 20s. His heart roared with the power of a V-8 engine and his dancing feet could outlast the Energizer Bunny. (He would die the last night of the festival.) So, as we entered the festival gates for the first time, I knew this return to the music festival world would be a wake-up call. Henry David Thoreau put it best, "Our truest life is when we are in our dreams awake." McDowell Mountain Music Fest would become a reminder to hold onto the music, the people, and the places I love.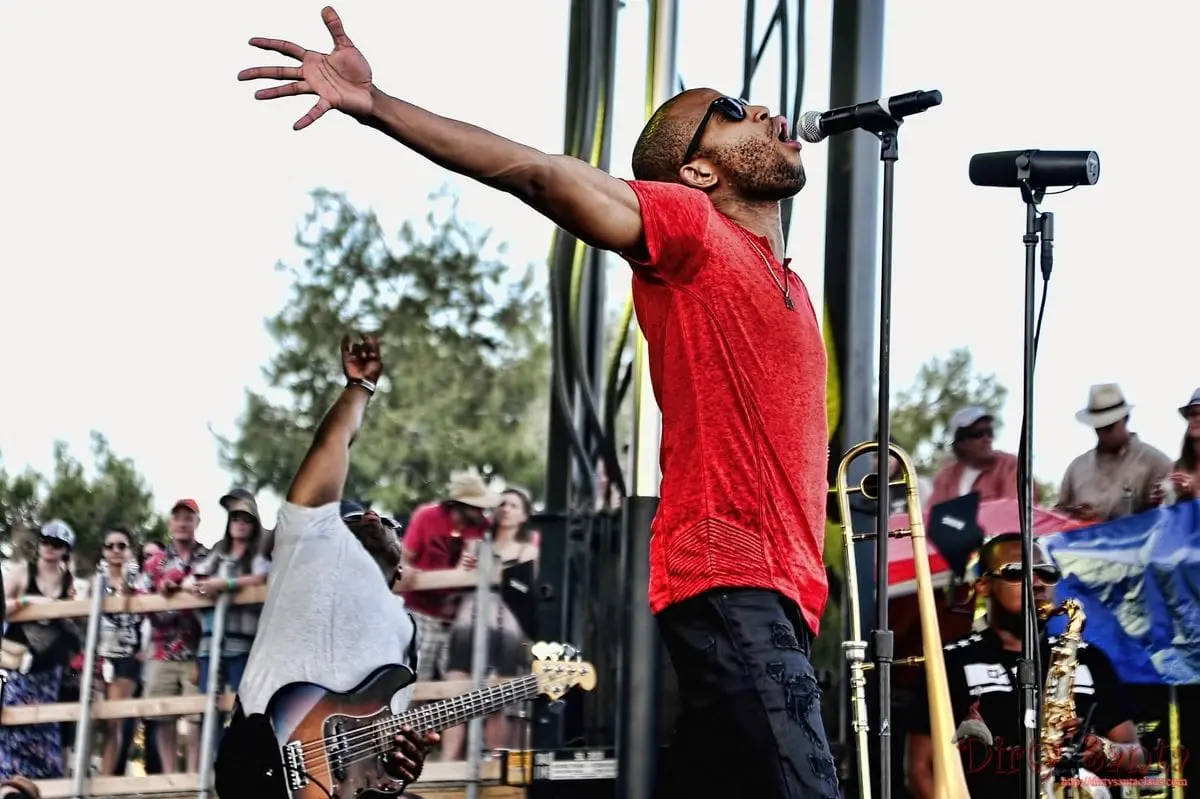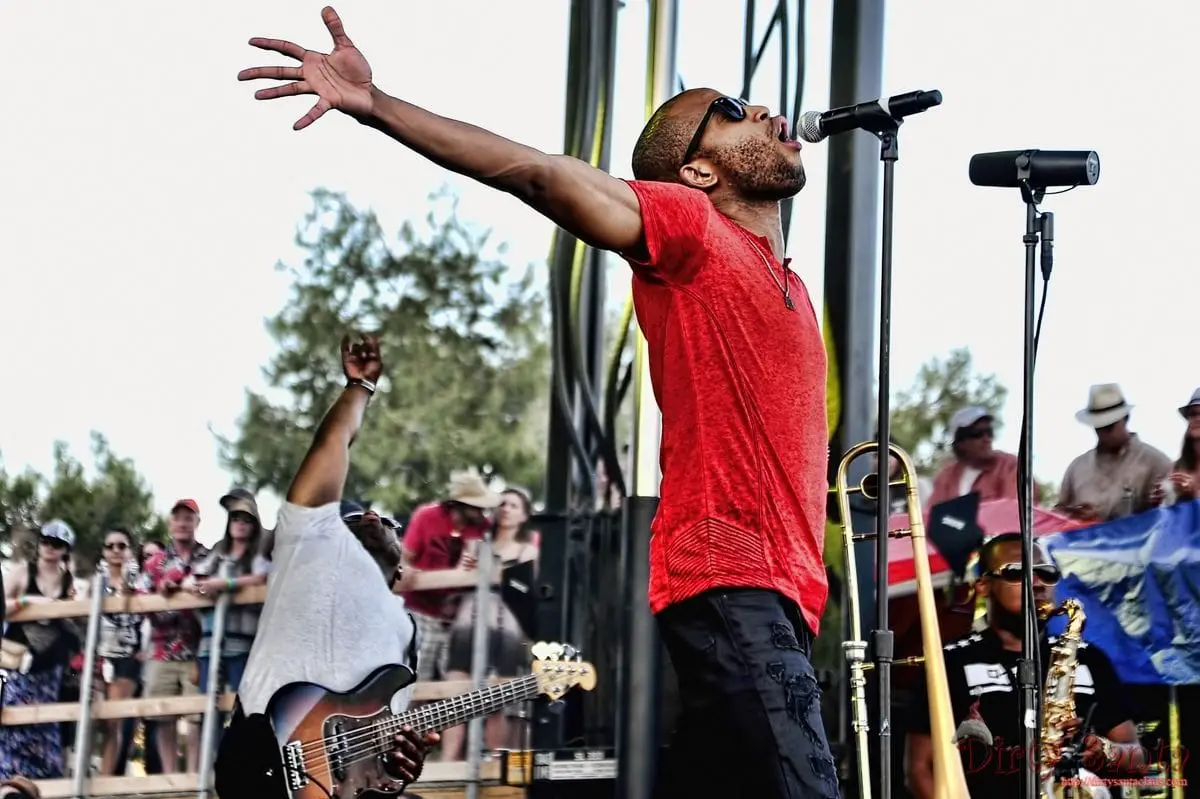 Many public places, like airport terminals, are difficult to love. In modern times there seems to many spaces where anonymous people are packed together, but no one feels like they are bound together. Music festival grounds are unique, in that, even in a space where few people may know each other by name, they seem to know each other by heart. McDowell Mountain was a quick reminder of this truth. As soon as the green taxi unceremoniously lurched away from Greta, I, and our lone duffel bag in a shadeless dirt lot, baked to 97 degree perfection, we were approached by new neighbors who offered cold beverages, food, air-conditioning, and even more cold beverages. In addition, they all were adorned in Christmas tree bright apparel brighter than ours. We were but two small fish in the middle of a desert swimming pool swirling in crimson, magenta, fuchsia, bronze, and vermillion. Welcome Home didn't become a festival cliché by mistake.
A key element contributing to the openness of the scene for musicians and fans alike, was that McDowell is a completely non-profit festival. Festival organizers were hoping to raise $100,000 this year for the Arizona Children's Hospital. Welcome Home, indeed. The steady parade of top-tier acts played with reckless abandon for modest sized crowds. Among the early night headliners Passion Pit and Portugal the Man spent the evening belting out songs that often hit notes on the Mariah Carey-like high register. Passion Pit's Michael Angelakos, in particular delivered wineglass-shattering falsetto notes while zig-zagging in front of his bandmates like a single kernel of popcorn jumping on a hot iron skillet stage.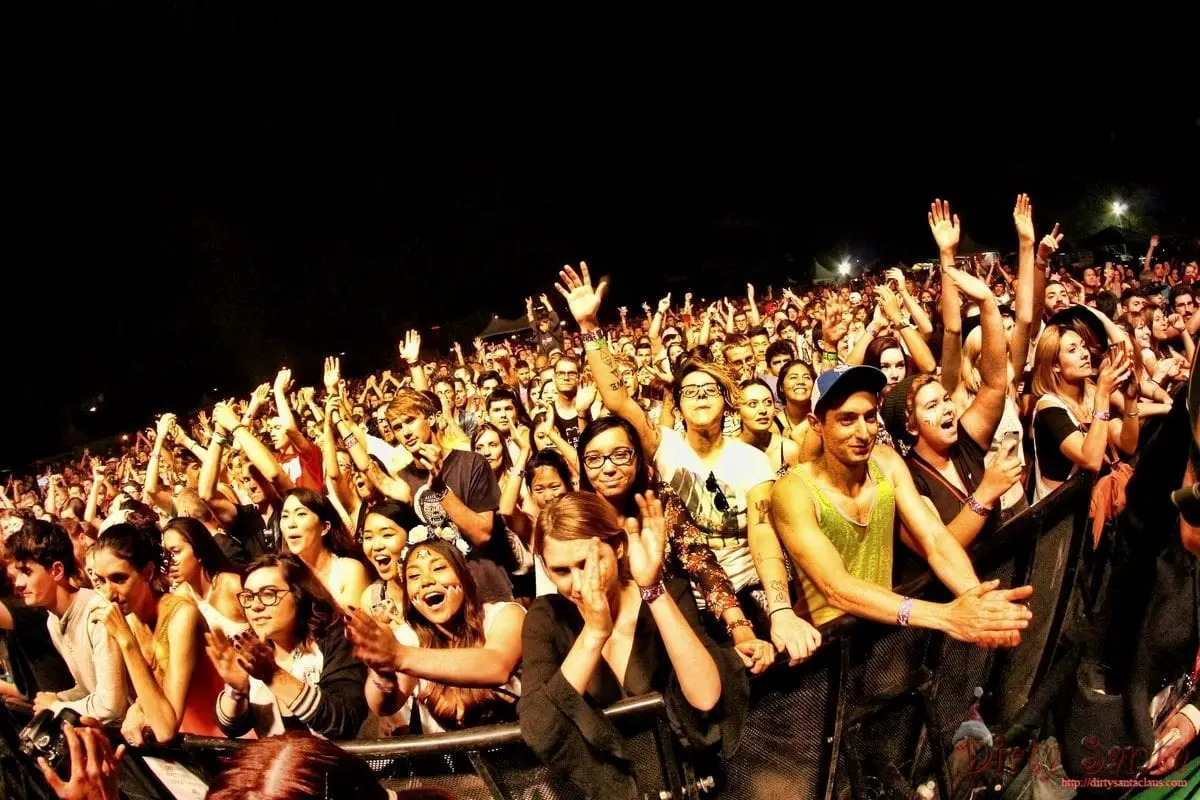 Saturday's music proved wildly eclectic, veering from the likes of Trombone Shorty's testosterone-infused New Orleans funk to Phantogram's ethereal guitar-driven electronica. Finally, Sunday's line-up delivered hippie friendly acts like the bluegrass Trampled By Turtles, and jam band favorites Widespread Panic. One Phoenix area reporter overheard a conversation about Panic's lead guitarist Jimmy Herring that went something like this, "That guitar playing is nastier than the lunch I just threw up." Even Panic's lead in, Beats Antique seemed to take a page from the Primus playbook by ending their show with a inflatable cyclops cat that was over 20 feet tall. A threesome from Beats Antique donned animal masks and enacted a ritual battle with the one-eyed cat till it was completely deflated.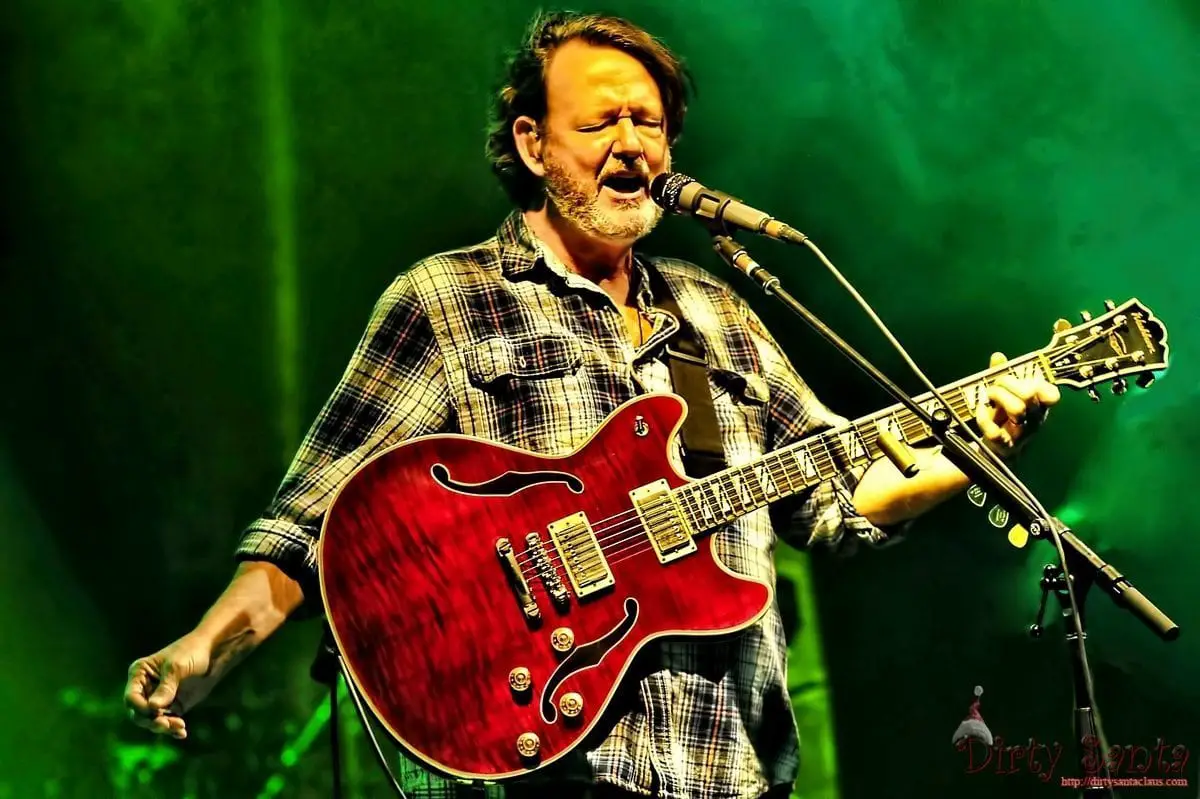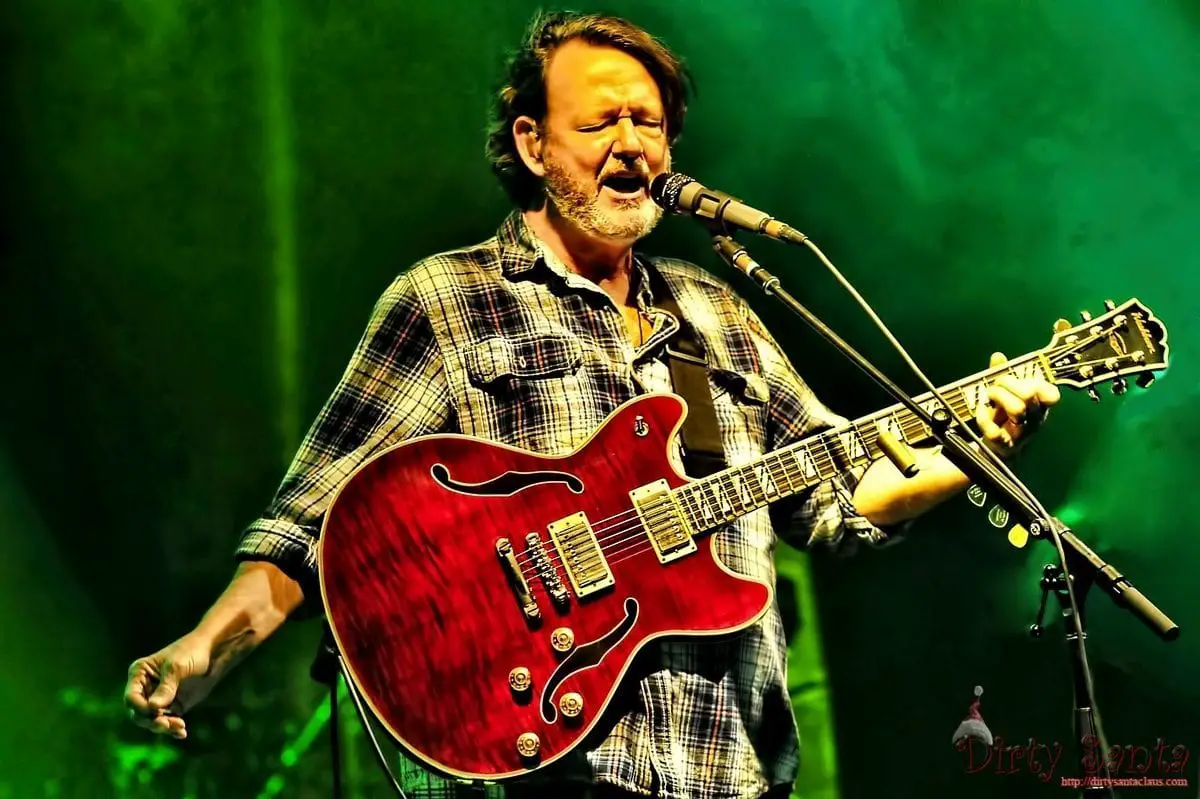 The cyclops creature may have been defeated, but the Arizona crowd was elated. And as Widespread Panic closed their set and the last of Jo Jo Hermann tinkling keyboard notes skittered into the night sky like wild mice, a new feeling began tugging at my sleeve. It felt like the bittersweet pang from the farewell of an old friend. I could almost hear the sinewy roar of a V-8 engine rise in my heart as it carried the rusty, dented dreams of my truest self and all my long lost friends into the infinite star-strewn highway over an ancient desert floor.