It was a calm, cool, April evening in Albany when Zappa Plays Zappa descended on The Egg in Albany. The show was completely sold out and the crowd was tame but one could tell it was full of die-hard Frank Zappa fans who remained seated all show and absorbed every single note.
The band featured Dweezil Zappa (guitar), Scheila Gonzalez (saxophone, flute, keyboards, vocals), Ben Thomas (vocals, trumpet, trombone, guitar), Chris Norton (keyboards), Kurt Morgan (bass guitar), and Ryan Brown (drums). The show was one long set with no breaks, which found the band play the landmark 1975 LP "One Size Fits All" in its entirety along with other Zappa and Mothers of Invention classics.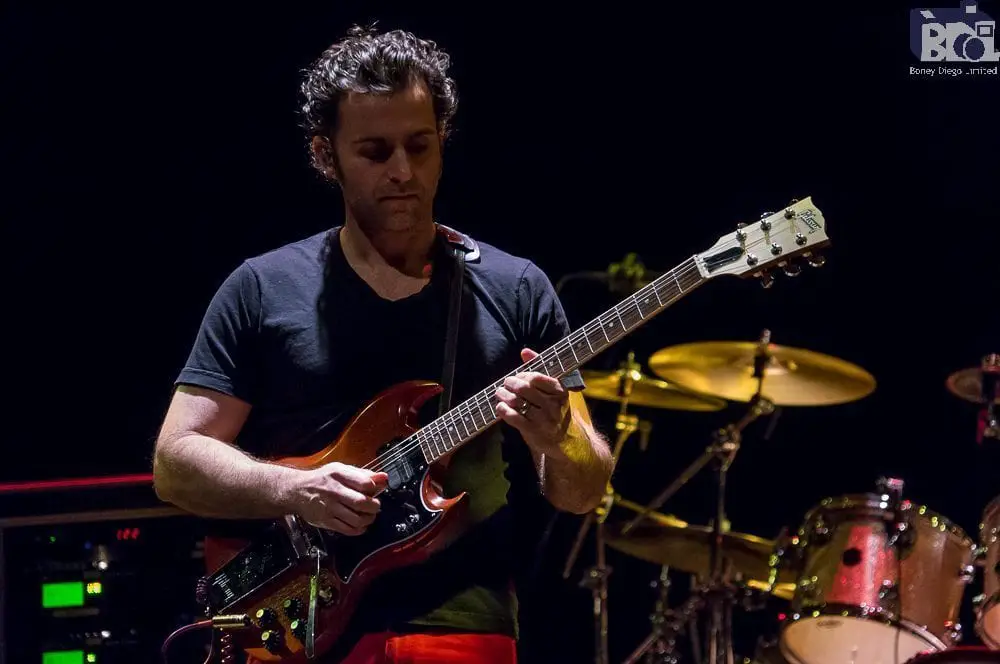 The show started with a small speech from Dweezil who explained how they were honoring the 40th anniversary of his father's iconic album "One Size Fits All". The band then wasted no time before diving into opener "Inca Roads", which features very unusual lyrics and tempo, but a soaring guitar solo by Dweezil. Next up was the prog rocker "Can't Afford No Shoes" and the instrumental "Sofa". The always weird "Po-Jama People" followed, with its lyrical satire and jazzy feels. Next up was the complex "Florentine Pogen" and the short, quirky, "Evelyn, a Modified Dog". "San Ber'dino" was next on the album, a tune about the recollection of staying in jail and true love. The band was firing on all cylinders during a nice jam of "Andy" before finishing up the album with "Sofa#2".
Dweezil gave a brief explanation of the next song "Status Back Baby" (Mothers of Invention), before leading the band through a slew of other Frank Zappa and Mothers of Invention songs. The band cruised through classic Zappa tunes "The Grand Wazoo", "Baby Snakes", and "Society Pages". With no setbreak and the show almost 1.5 hours in, some people were taking off already since the band had already covered the album. Those who stuck around were treated to a "Who Needs the Peace Corps?" and the rocker "My Guitar Wants To Kill Your Mama" which featured furious guitar work by Dweezil. The band finished off the night with a classic off the 1974 album "Apostrophe (')", "Cosmic Debris". The band also closed the night with the well-known "Carolina Hard-Core Ecstasy" and "Muffin Man." The room acoustics are absolutely amazing, and no matter where you were in the room, every band member was loud and crystal clear. This added to the experience making it a truly intimate evening for the many Zappa fans in attendance,