moe.! It was a close one, but moe. eeked out victory over Eastbound Jesus to take the 2015 NYS Music March Madness crown!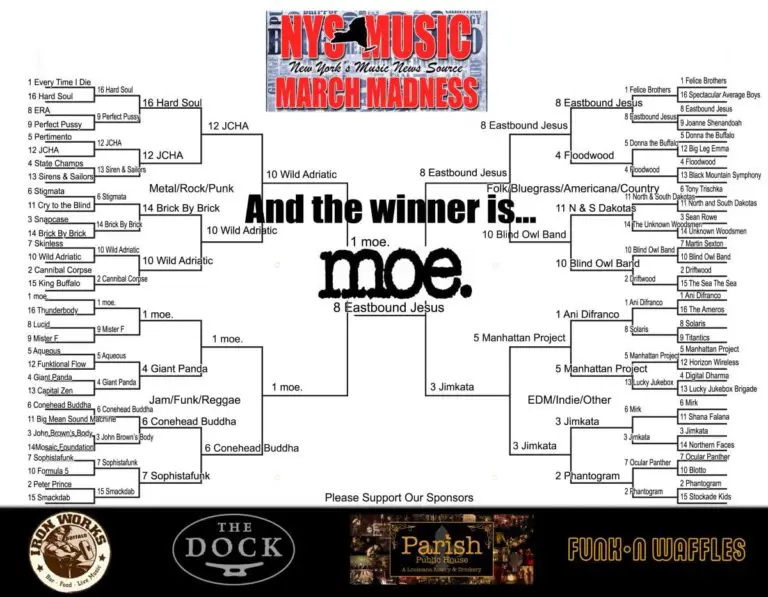 How they got there:
moe., the #1 seed from the Jam/Funk/Reggae region started in the first round beating out #16 Thunderbody by a total of 111-50. From there, the second round saw moe. beat #9 Mister F 130-68, followed by besting #4 Giant Panda 583-378. Moving into the Round of 8, moe. met up with old friends Conehead Buddha, the #6 seed and beat them by a total of 463-345, their closest match yet.
Moving into the Final Four, moe. met Rock/Metal division winner #10 Wild Adriatic and beat them handily 469-243. It was onto the finals where moe. met Eastbound Jesus, the winner of the Folk/Bluegrass/Americana/Country, who snuck out victory over Jimkata by a total of 391-321. The finals resulted in moe. beating Eastbound Jesus in a squeaker that came down to the last minutes: 659-631
Congrats to moe. on their victory! This contest is meant to give exposure to all of New York's excellent bands and venues. Thanks to all our readers and the participating bands for being good sports and having fun with our "madness". Keep coming back to NYSMusic for coverage of all these great bands and venues – they are all winners to us.