On Friday March 20, the Buffalo metal scene came together at the Rockin' Buffalo Saloon in West Seneca, NY, to raise some money for St. Jude Children's Hospital. The event was called "Metal Fights Cancer" and it was hosted by Brian Pattison, a longtime Buffalo show promoter and supporter. Six bands took the stage that night, playing to a packed house of other musicians and show goers. Each act put on a killer set and added to the Buffalo metal scene's already sterling reputation for excellent musicianship and charitable contributions.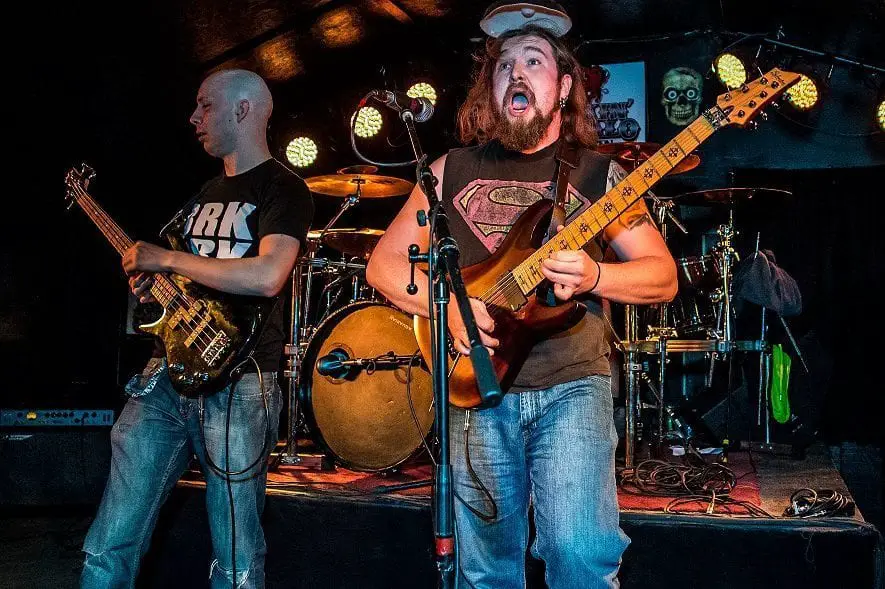 The night kicked off with Tyranitar, a Viking themed metal band from Rochester, NY. They ascended to the stage in full Viking attire, paying homage to the Nordic gods while playing flawless Euro-influenced melodic death metal. I'd recommend this band to any fan of Amon Amarth or Kings of Asgard. Tyranitar's set ended with a great Amon Amarth cover, which set a nice mood in the audience for the next act.
Armageddon, Buffalo's 'young thrash attack' took the stage next. This three piece ranges ages 12-18, but don't let that discourage you. They can hold their own with the best of the best and put on a fantastic performance. Armageddon audiences are never disappointed. I like to think of their sound as being a rejuvenated Death Angel.
Following Armageddon, was Weaponex This band features guitarist, Mike Willard, a local idol in Buffalo's guitar world. He's a master of all styles and his riffs and leads are well complimented by a stunning rhythm section. Weaponex reminds me of a very progressive Megadeth, with song structures and dynamics that will keep you guessing until the very end.
Enthauptung
(ent-owpt-oong) appeared shortly after, under haunting blue lights in an otherwise dark and silent room. It was my first time seeing them, but I can already tell you they are a true black metal authority in WNY. Their songs are long, symphonic and hypnotic with guitar work and drumming that resets the black metal standard. Fans of Emperor, Mayhem, Burzum or other local black metal lords, Hubris, will appreciate Enthauptung.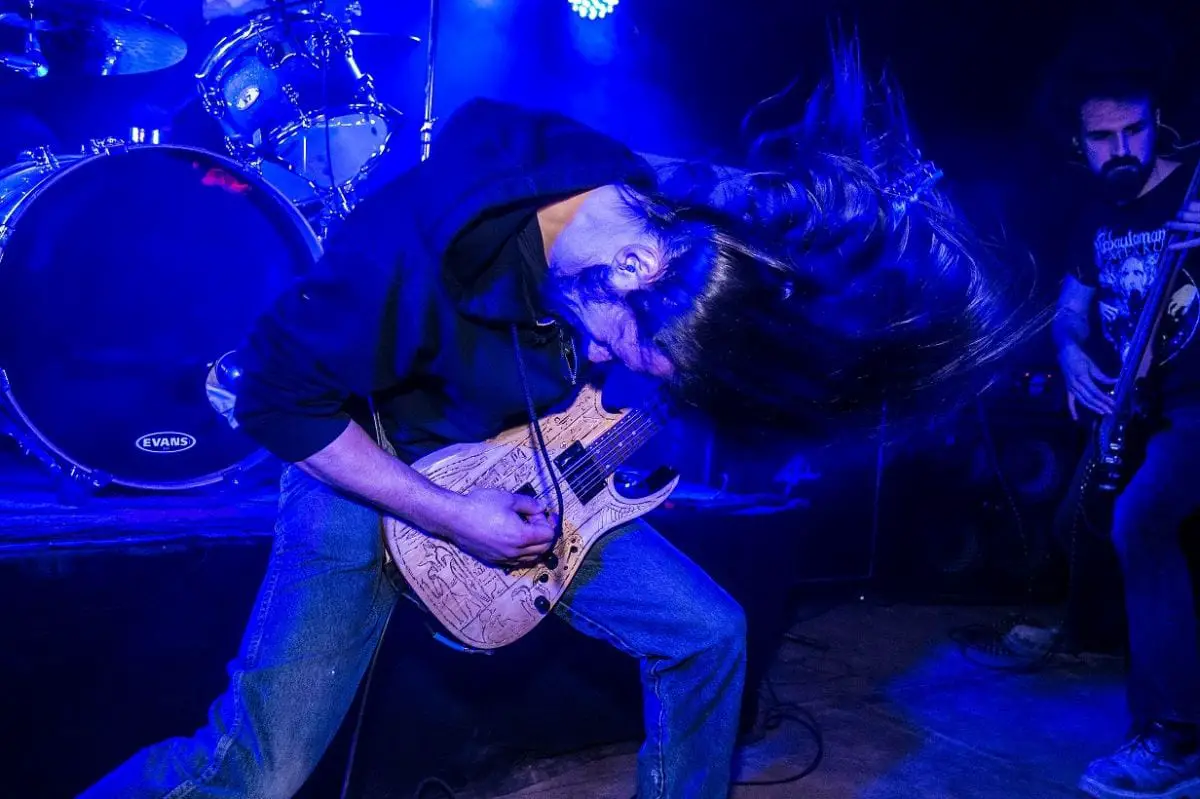 Seven Faces returned to the stage in Enthauptung's wake, just in time to calm things down before the night could become too evil. They're a solid rock metal band, with tight heavy riffs and clean singing, reminiscent of the great radio rock bands of the mid-late '90s. A few songs reminded me of Alice in Chains's heavier material. I give them 5 out of 5 stars for great musicianship and making me feel nostalgic.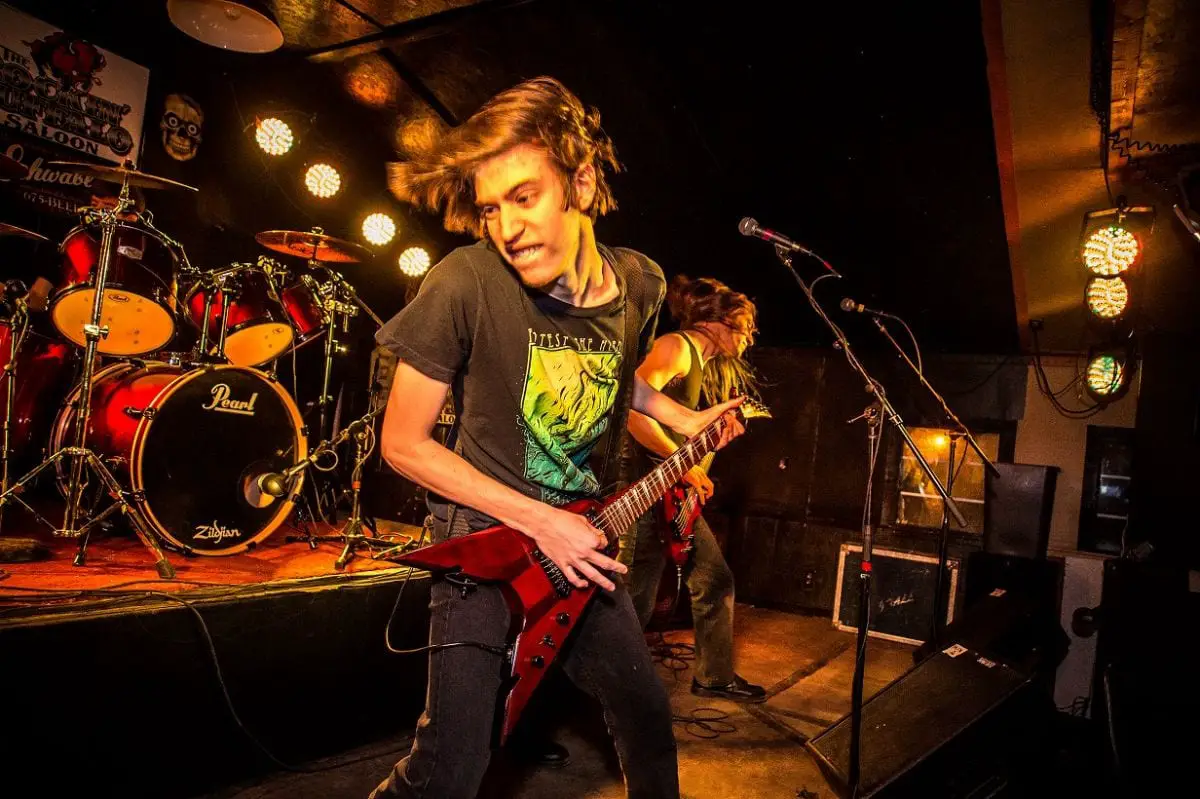 The night concluded with Aspired Infliction, melodic thrash with breakdowns from Buffalo. They've been on the scene the last four years, only you'd never know it because of repeated hiatuses and a briefly spun carousel of guitarists. They came out with their usual heavy and gave those who came to mosh a reason to. The pit erupted during the first song and intermittently continued until the end of their set. It was a truly fitting end to a very successful night.
Brian Pattison ended up raising a good chunk of change for young cancer patients that night, and further upheld the Buffalo metal scene's good name. Then, on the following night, Saturday March 21, he put on a second cancer benefit for the family of Jennifer Rinaldo, a dear friend of his who died of cancer a few years back. Regretfully, I was unable to attend.
Here are some links for donations to both causes:
glorioustimesdeathbook@gmail.com- Paypal for Jennifer Rinaldo's family
www.stjude.org– St. Jude Children's Hospital
All photos taken by Lee Hoffman- www.buffalo24.com