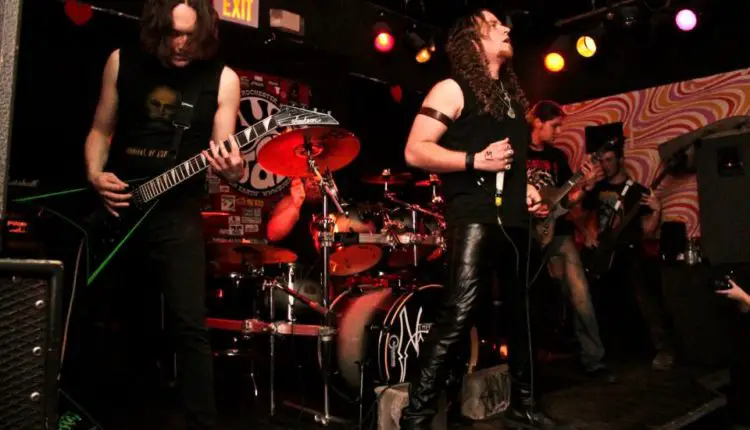 Theatre Nocturne: Horror. Melancholy. Metal.
Founded in September 2011, Theatre Nocturne has been a force to be reckoned with in Buffalo's underground metal scene. They're influenced by bands like At the Gates, The Black Dahlia Murder, Dark Tranquillity, and other authorities on dark melancholic riffing; so you know what you're getting yourself into just a few seconds into your first listen. But they aren't your typical euro-influenced note fest. Theatre Nocturne proudly stands for horror, melancholy, metal and a dash of teeth grinding death riffing of a style all their own. Having just recently parted ways with vocalist Justin Foley, their lineup is currently comprised of Erik Wagonblott (guitar), Kenny Zotara (guitar), Justin Herzog (bass) and Mike Paquette (drums). These boys have really raised the bar for other locals pursuing similar sounds in this already prevalent genre, having already shared the stage with bands like Arsis and Skeletonwitch. They've also already recorded two EPs, which more than secured their seats among Buffalo's local metal greats. Anhedonia was recorded in August 2012 and Depictions of Life and Death followed in January 2014. Now, they're on the hunt for a new vocalist, having just finished recording their first full length with Doug White at Watchmen Studios in Lockport, NY. The new album is currently untitled and features ten tracks that are said to be, "heavier and more diverse" than anything they've written to date. Every song is brand new and is being kept a closely guarded secret, until the band returns to the stage at Stamps Bar in Tonawanda, NY – April 22.  It's been a prosperous and groundbreaking ride for Theatre Nocturne thus far, and with their new vocalist (whoever that turns out to be), they're bound to keep on dominating Buffalo and beyond for years to come.
You can check out their recordings and merch at www.theatrenocturne.bandcamp.com.