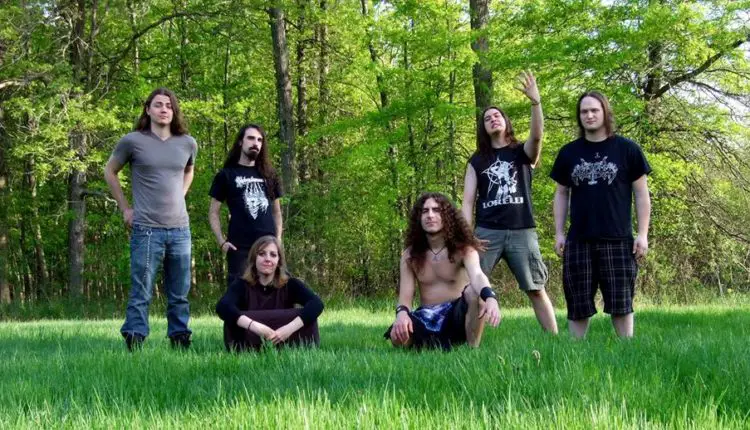 Folk metal has never really had a strong foothold in the WNY music scene, but all that changed when some talented musicians from Buffalo and Rochester decided to get together in April of 2013 and craft their own brand of it. The band is called Throne of Wilderness and they produce a sound reminiscent of the bands that started folk metal in the first place.
Big European acts like Ensiferum and Korpiklaani are widely regarded as being authorities in the genre, but Throne of Wilderness takes an honest approach to early folk and early thrash. This makes for quite a dynamic and with a collaboration of talent like this, it's pretty hard to leave one of their shows disappointed, regardless of what kind of metal you're into.
The band is made up of Allana Sturm (vocals, whistle), Kevin Murphy (guitar, vocals), Josh Mason (guitar), James Hallenbeck (accordian and keys), Jason Roman (bass) and Eareckson Murray (drums). Allana has a fun way of working the crowd like no other I've seen. She commands the audience with stories of mythical creatures and enchanted forests, while leaving no excuse to not be a folk metal fan by the end of the set. Kevin's vocals compliment her's perfectly, giving the classic folk metal choir sound to their songs. Josh Mason, already a well established metal musician in Rochester with his other band, Nazgul, brings his own array of crushing guitar skills to the table, while James keeps the folk alive with his accordian skills, and Jason and Eareckson provide the perfect rhythm section to back the entire group.
Furthermore, it's hard to be a part of Buffalo's metal scene without having heard of Eareckson Murray. He's a longtime supporter and promoter of shows, and also lays down sick guitars and vocals for local thrash 3 piece, Cain. All this being said, if you're a fan of any kind of metal and you haven't heard this band yet, don't sleep on your next chance to check them out. Your next opportunities to see them are Saturday March 21 at the Rockin' Buffalo Saloon and Saturday April 18 at the Tudor Lounge.