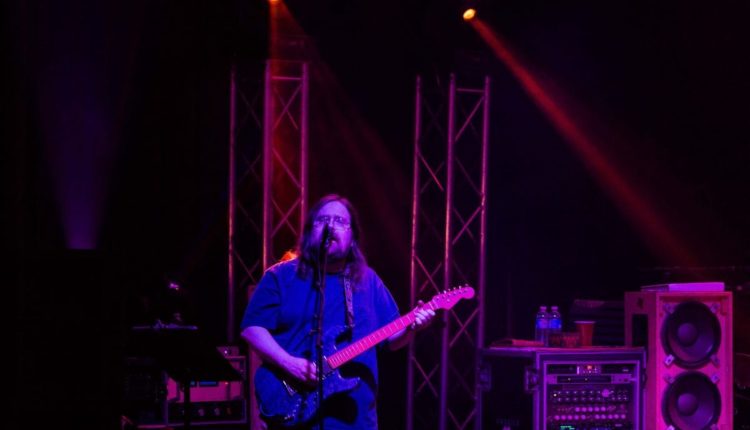 photos by Alex Hamer
In my entire college career, I can't say I've witnessed the Westcott Theater to its full, maximum capacity. Sure, they bring in big names every week that bring in hundreds of people in to listen, but this concert was my first time experiencing difficulty locating my entourage through crowds of dancing bears…I mean, people.
Dark Star Orchestra has quite the reputation for delivering vast glory through their extensive tour history, with shows ranging from The Palace Theatre to the Best Buy Theater, and the creation of their own music festival, Dark Star Jubilee, in Ohio. Somewhere in between a tribute band and the Grateful Dead themselves, this seven member masterpiece consisting of Rob Barraco on keys and vocals, Rob Eaton on guitar and vocals, Dino English on drums, Lisa Mackey on vocals, Jeff Mattson on lead guitar and vocals, and Skip Vangelas on bass and vocals, have combined forces to create a clean, vibrant, and expressive sound that kept your whole body moving as you jammed to songs of your earlier years.
Based on my little knowledge of past Grateful Dead setlists (sorry guys, I'm a baby), I guessed that either "Casey Jones" or "Alabama Getaway" would kickoff the show. That's why when "Casey Jones" started things off, I freaked out for a second. In a yelling cheer, the whole audience commenced as a choir to sing along to the Dead's hit tune, and the energy from the band was ever so present to match. To make me even more excited, DSO played my favorite Dead tune, "Hell In A Bucket" right after, making my jaw drop once again. There's no doubt that this group has been around for a good long while, with their almost second-nature musical blend, incorporation of solo instruments, and attention to detail. I also kept watching Barraco, wishing that I could master the art of piano rhythmic syncopations between hands that he clearly has mastered.
Finishing up their fall tour, Dark Star Orchestra has interesting tour spots ahead, including Jamaica. Luckily, if you live on the East Coast, you can see them live at the 89 North Music Venue in Patchogue on December 11, Garcia's at the Capitol Theatre in Portchester on December 17 or at The Paramount in Huntington on December 3o and New Year's Eve. Be sure to also check out their Facebook Page and follow them on twitter @darkstarorch.
Set 1: Casey Jones, Hell In A Bucket, Jack-A-Roe, El Paso, Loose Lucy, Tom Thumb Blues, When I Paint My Masterpiece, West L.A. Fadeaway, My Brother Esau, Rubin And Cherise
Set 2: Keep On Growing, Victim Or The Crime, Crazy Fingers, Saint Of Circumstance, Terrapin Station, So Many Roads, All Along The Watchtower, Tangled Up In Blue
Encore: Overseas Stomp, New Orleans