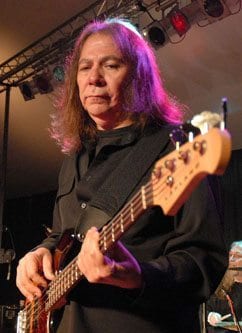 Rick Rosas who had a long career playing with the likes of Crosby Stills, Nash and Young, Joe Walsh, Jerry Lee Lewis, Ron Wood and most notable being part of Neil Young's long time career, passed away today at the age of 65. The cause of death is uncertain at the time.
Rosas most recently was on the Crazy Horse tour last summer after Billy Talbot had suffered a Stroke where Rosas assumed duty.
Rick Rosas, nicknamed "Rick The Bass Player"  worked on several of Neil Young's albums which included Prairie Wind, Freedom and Living with War and was also part of the controversail music video, "This Note's For You" which was banned on MTV.