The jazz scene in Western New York lost a legend last month, with the passing of vocalist Mary McMahon. A staple of the jazz community in Buffalo, her family's music background, her years as an educator and her presence are eulogized here by JazzBuffalo Executive Director Tony Zambito, who shares the following tribute to McMahon.
When the endearing and lovely jazz vocalist Mary McMahon became part of a performance, you can always count on lots of smiles, pleasantries, joy, a gathering of friends and family, and her warm encouragement to bandmates. These characteristics are what always accompanied her exceptional talent and qualities as one of the finest jazz vocalists in the Buffalo region. Mary succumbed on March 30th of this year to the battle of facing cancer at the age of seventy-four.
Mary's effervescent smile became a staple for the community. Especially during the seven consecutive years of JazzMondays on the Tappo Rooftop Patio that featured My Cousin Toné. Where Mary took the microphone in her hands as the jazz vocalist for the jazz ensemble. We simply do not have enough fingers on our hands to count the many occasions of joy and outstanding performances by Mary in the seven-year run.
Mary McMahon was part of My Cousin Toné for nearly a dozen years. Serving as a platform for her return to performing after a hiatus of teaching and raising a family. In addition, Mary performed in special projects with several of the region's most notable jazz musicians such as Dave Schiavone, Tim Clarke, Rick Strauss, Bobby Jones, Wayne Moose, Bud Fadale, Abdul-Rahman Qadir, Stu Weissman, and John Hasselback, Sr.
Mary McMahon came from a robust musical family. Her mother was a classical pianist and organist. Her father sang for musical theaters in Michigan, and one brother played the jazz organ. At one point, all members of her family were playing at various clubs in Buffalo. One of Mary's favorite things to do was to reminisce about these times in conversation with others.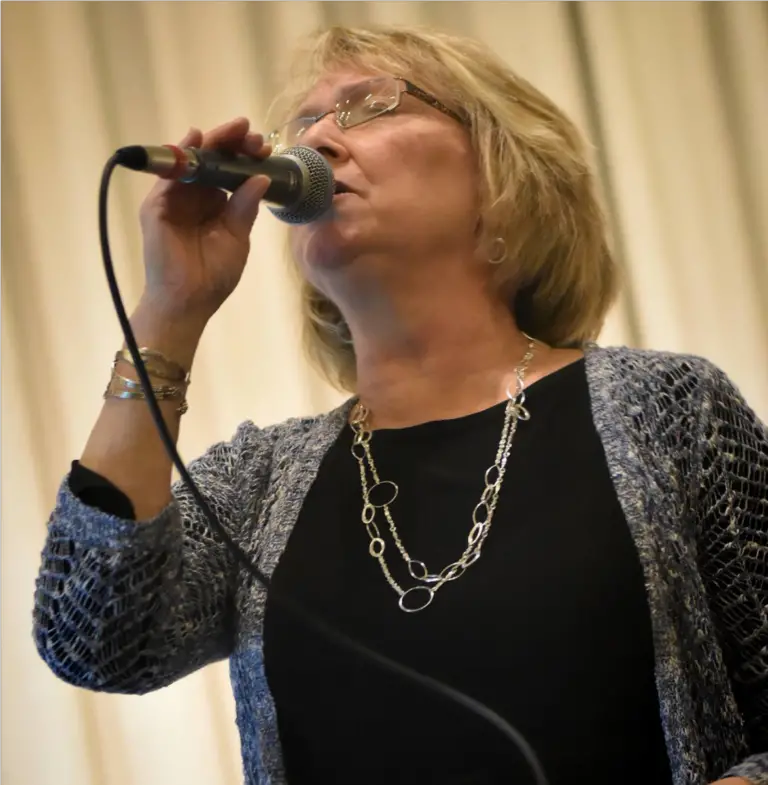 After earning degrees in Music and Elementary Education, and before teaching in Buffalo for 25 years as well as raising a family, Mary played in a Top 40s group with jazz pianist Tom Paladino and jazz guitarist Ralph Fava. She then joined jazz pianist legend Bobby Jones for a long engagement with his group, Things To Come. Several can attest to the many times someone might evoke the "remember when" phrase about Mary's time as a young woman singing in these groups.
After Mary retired from teaching, she began singing classic jazz standards with the jazz ensemble group My Cousin Tone', which became her most prominent presence in the last dozen years. Mary's love for the jazz standards was deeply passionate. She poured her heart into rehearsing and making songs by the likes of Cole Porter and Gershwin uniquely her own with warm tones and captivating storytelling. She was well known by audiences for at first mentioning the song, the composer, the year, and any little story she may have gathered about the jazz standard she was about to sing.
In addition to singing with My Cousin Toné, Mary performed special themed shows. Such as appearing at MusicalFare Theatre for a show devoted to the Great American Songbook and Quiet Nights – The Music of Jobim. In addition, The Mary McMahon Project performed at Pausa Art House, the Hotel Henry, and the Northwest Jazz Festival in Lewiston, NY. Mary performed at the jazz festival in Lewiston, NY with My Cousin Toné, including a memorable performance by her on the Main Stage.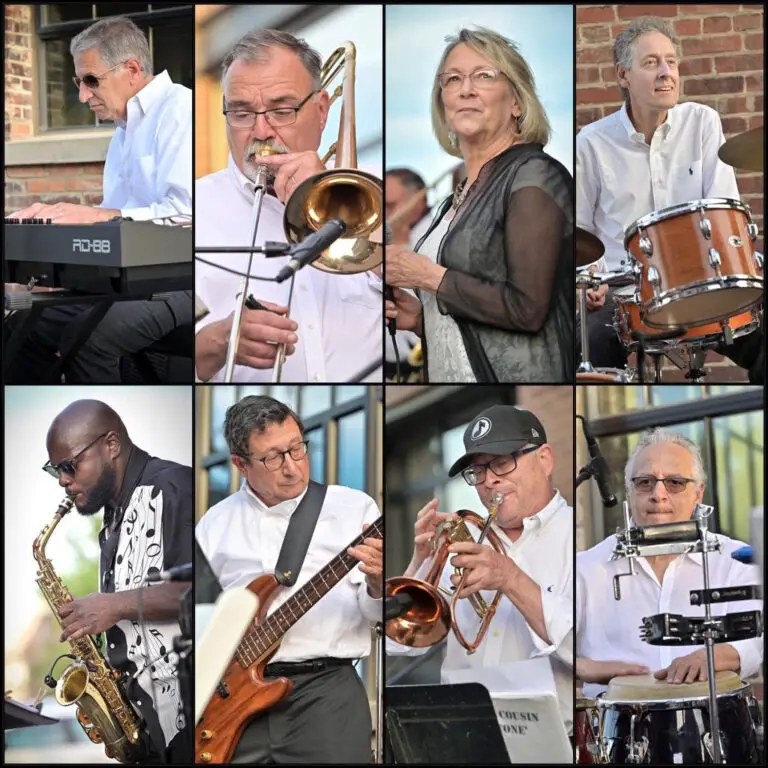 In the early days of the newly launched JazzBuffalo Poll, Mary was a favorite to the emerging jazz audiences beginning to support jazz anew. Winning in 2014 as the favorite in the nascent JazzBuffalo Readers and Fan Poll for Female Vocalist of the Year. At the same, giving of her time generously to help mentor the up-and-coming young vocalists during that time and in the past few years. She was especially fond of mentioning the band named, My Cousin Toné, and how the band earned similar recognition in the JazzBuffalo Poll for Favorite Large Jazz Ensemble of the Year.
To Mary's bandmates in My Cousin Toné, which include previous and current members Jim Matteliano, Bill Basil, Bill Savino, Pete Dauphin, Andy Peruzzini, Dalton Sharpe, Tony Zambito, Karen Russo, Tim Martin, and Tom Marinaro, her loss will be profoundly felt. Especially, when the music and the joy on the Tappo Rooftop Patio return once again.
Mary's loving presence, we are assured, will be felt by bandmates and audiences alike.
Mary was the cherished companion for 10 years to Paul Guglielmo; adored mother of Kevin D. McMahon and Katie (Mitch) Grennell; beloved grandmother of Molly, Clara, and Rosalie McMahon, and Charlotte and Jacob Grennell; loving sister of Thomas (Natalie) and the late Skip (late Kathy) Beiring. A constant ray of light and love, Mary leaves behind a tremendous and diverse community of family and friends.
In lieu of flowers, donations may be made in Mary's memory to two causes that were near and dear to her heart: The Special Olympics of New York and St. Jude Children's Research Hospital. Fond memories and expressions of sympathy may be shared at DenglerRobertsPernaKenmore.com.
Originally published by JazzBuffalo.